The Florsheim Imperial Kenmoor 93605 is the most sought after vintage Florsheim shoe on eBay. The Imperial was one of the best American made shoes in its day and this model's Shell Cordovan leather was a step up from the more common calfskin Imperials. The shoe has the classic "gunboat" long wing style that was very popular in the USA during the 1960s and 1970s and remains somewhat popular today. It's goodyear welted double leather sole and armored heel means its a very durable shoe.
The 93605 is also a good value for someone looking to buy a Horween burgundy Shell Cordovan long wing. While not cheap, they are more affordable than paying $740 for a new Alden 975 or $650 for an Allen Edmonds MacNeil.
There are other options for used Shell Cordovan long wings on eBay. A used Alden 975 is fairly common but will regularly sell on eBay for $450. Used Allen Edmonds MacNeil shoes (models 9187/9097), are also common and have a similar price point as worn Florsheim 93605 shoes. Hanover LB Sheppard Shell Cordovan shoes are infrequent but not rare. Nunn Bush, Bostonian, Johnston and Murphy, Nettleton and French Shriner all made Shell Cordovan long wings but they are very rare so good luck finding one.
I have bought and sold a lot of pairs of Florsheim Shell Cordovan 93605 shoes. I definitely don't need another pair (or do I?), but I thought I would pass along some of my experience to others looking to buy or sell a vintage pair.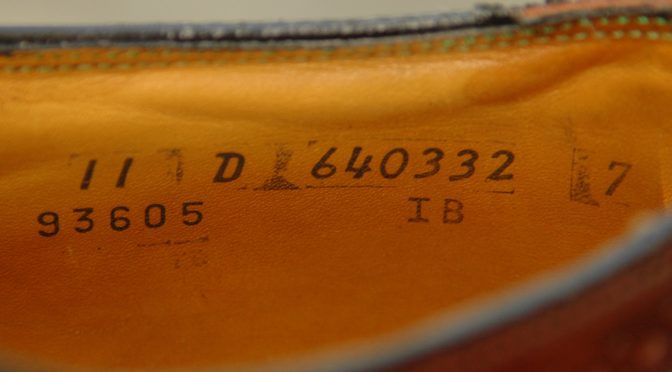 History
The Florsheim Imperial 93605 was made from about 1957 to 1988. It was preceded by a similar model called the S-1724 Viking. Outside of the heel change in 1973 (v-cleat no longer flush with the edge of the heel), the model materials and design largely stayed the same over the years. Pre-1973 examples are fairly rare though.



This was one of Florsheim Shoe Co's premium models and was an all leather shoe with full glove leather lining. It featured a double leather sole accented by 5 nails and a leather heel with v-cleat and 50 to 80 nails. The heel is essentially a steel heel held together by leather. This limits traction and is why some call it a "suicide heel" due to wearers slipping and falling on smooth surfaces. If you find a pair with a rubber heel, the heel was replaced at some point (and probably by someone who fell). The Florsheim 93605 was eventually replaced by the almost identical Royal Imperial 97626 in the 1990s.
Below is a 1961 ad for the 93605.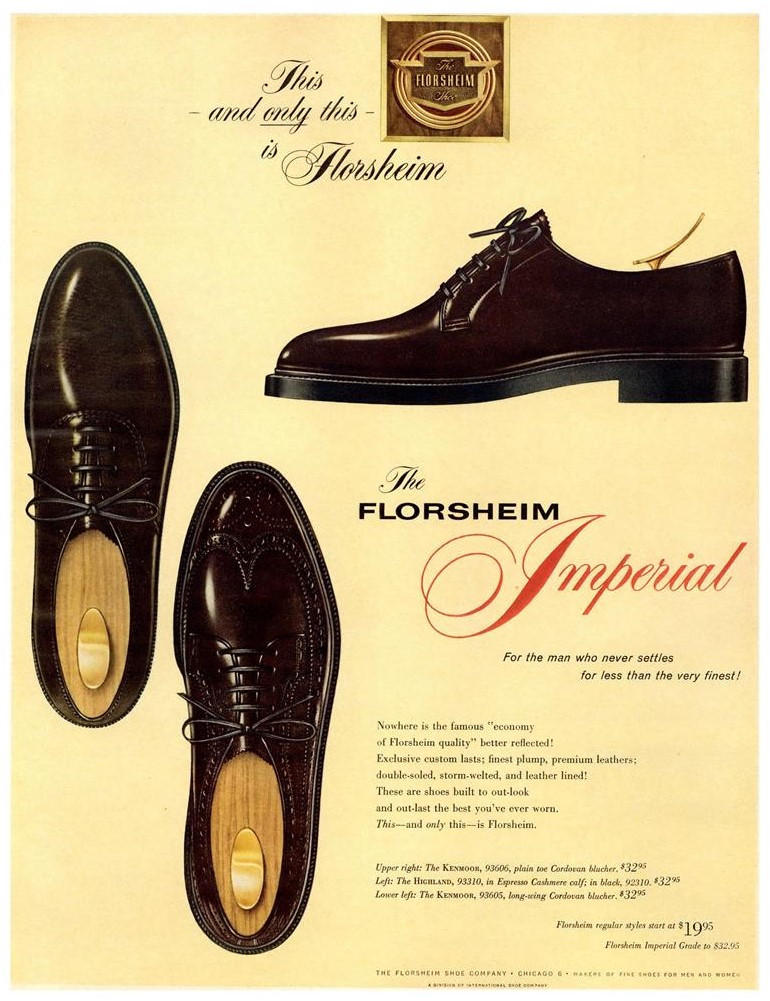 Color
Shell Cordovan long wing Imperials came in two colors: brown (93605); black (92612). For the Florsheim Imperial 93605, the color of the leather can vary from a darkish eggplant (see photo below), to almost a Coca-Cola cherry red. For a single pair of Florsheim shoes, both shoes will have the same consistent color. From what I know of the manufacturing process, each shoe was made from a single "shell" and Florsheim did a very good job matching the shells so the left and right shoe look the same. The shell color on other manufacturer shoes is sometimes not as consistent. I have a pair of Johnston & Murphy shell shortwings and a few pieces of leather on the shoes have a somewhat different color than the other pieces. I believe this is due to the use of multiple shells for a single shoe.
According to this Ashland Leather post, Florsheim used Horween color #4 for this model.
Sizing
In my experience, the Florsheim 93605 runs true to size but I have found less size consistency in 1960s models. Compared to a similar size AE MacNeil, the Florsheim will have a bit more room in the toe box. The Alden will be a half size off because of the Barrie last. 11C and 10.5D are the most common sizes for the Florsheim 93605 on eBay. These charts breakdown eBay listed 93605 sizes and widths during the past year.


The size of vintage shoes can be hit or miss. If the shoes don't fit or you find your feet hurting at the end of the day, don't wear the shoes. You can usually resell the shoes for a similar price to what you paid for them.
Most eBay sellers are not the ones who wore the shoes. They bought them at estate sales, goodwill etc. Most don't know how they fit. This is their job: Phase 1) Buy; Phase 2) Sell; Phase 3) Profit.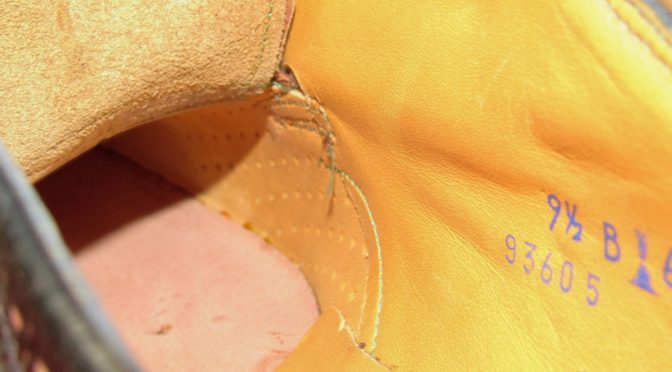 Buying
When buying used Shell Cordovan, watch for damage in the heel counter or tears near the eyelets. Once the Shell rips or tears, it can't be fixed. Some damage will likely lead to more damage, so I avoid shoes with even minor deterioration.
Another issue is over waxing which can be difficult to remove. If the broguing looks like it has burnt orange highlights, then minimal or no wax/polish has been applied to the shoes. The lack of wax/polish also means the shoes have likely received minimal conditioning.
If the listing photos are poor, old shell is a bit of a gamble so prepare to be disappointed.
After buying a pair, they will likely need some reconditioning. I usually start with wiping the pair down with a damp cloth and then giving them a vigorous brushing. You will usually see a huge improvement from just doing that. Then, depending on the condition, I will use Saphir Reno Mat to clean them. If the shell is very old and dry, I give them an application of Lexol NF Neatsfoot and then Bickmore 4 for conditioning. For regular maintenance, I use Venetian Shoe Cream or Saphir Renovateur which will both condition and shine them. I typically don't use hard waxes on Shell Cordovan but I have used Allen Edmonds Cordovan Cream when there are dull areas. Collonil 1909 Supreme Creme is a high shine product that I have used.
Disinfect the interior of the shoes. You never know. I use an alcohol spray but there are many commercial disinfectant products.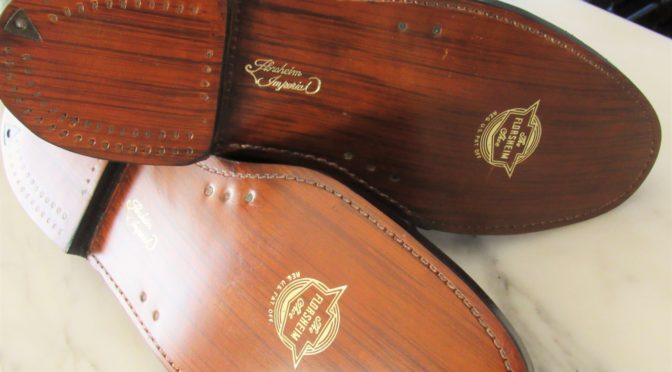 Pricing
Below is a rough pricing guide for Florsheim Imperial 93605. The estimated price is based on actual eBay auctions and is in USD. Buy It Now prices were not considered. While the price is meant as a guide for buyers and sellers, an auction determines the actual market price. The more popular sizes (8.5 to 12 D) will have, in general, more bids. There is significantly more demand for wide sizes than narrow.
New – with box: $500

New – without box: $400

Worn – Excellent Condition: $275 (Upper is like new. Minimal wear on sole and heel)

Worn – Very Good Condition: $175 (Upper has minor scuffs and/or scratches. Original heels and sole with moderate wear

Worn – Good Condition: $125 (Leather in good condition. Very worn sole and heel or replaced heel)

Worn – Fair Condition: $75 (Mottled shell. Insole logo not visible, sole and heel replaced, worn shell)

Worn – Damaged Condition: $50
The quality of the photos and preparation of the shoes will also have a large influence on price. The following photos are of the same shoe in two different listings. The first listing sold for $40 and the second listing of the same shoe went for $180.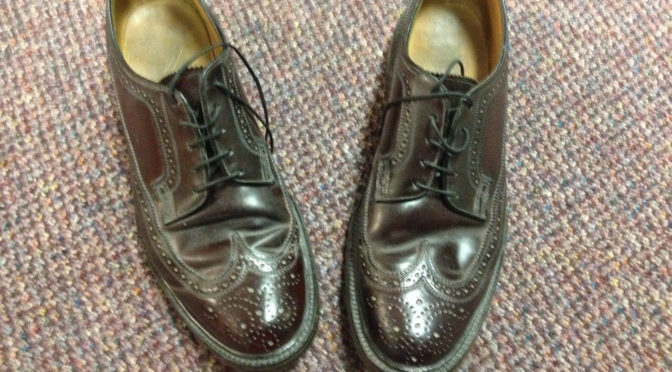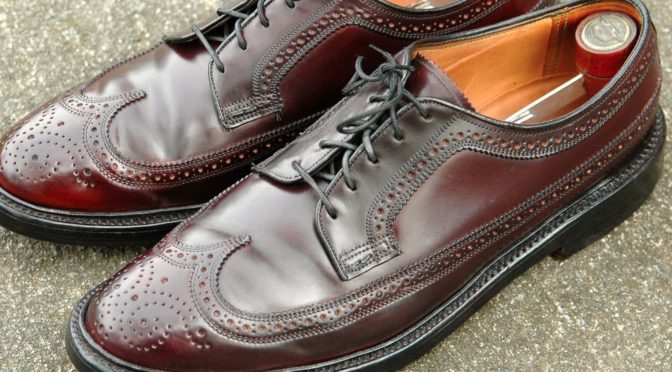 Examples
I went through recent Florsheim 93605 listings and below are a few examples of the good and bad that I found.
Nice patina. Should clean up well. Buy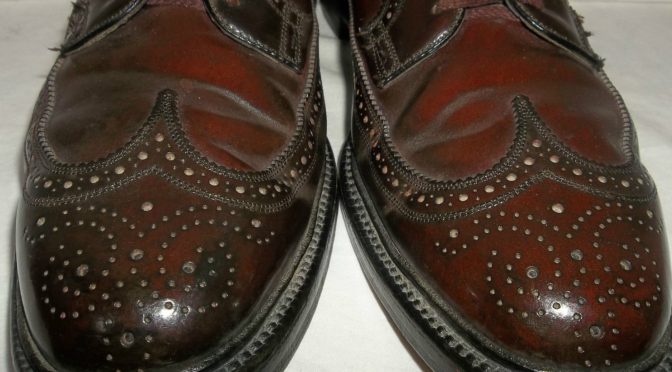 These ones have been over waxed or polished or something. Skip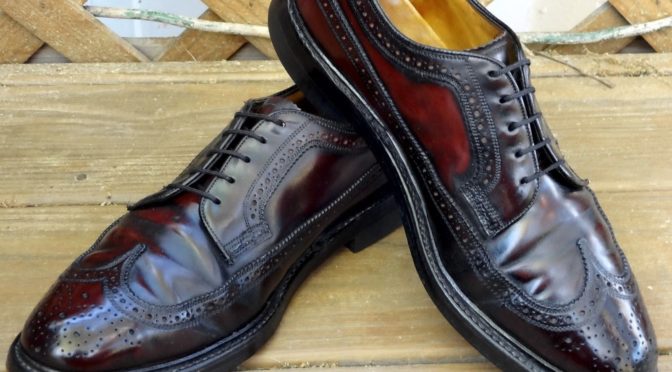 Cracking by the eyelets. Pass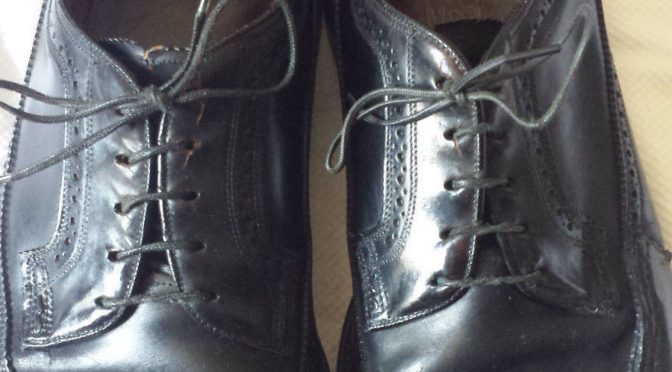 This heel is in excellent shape. Buy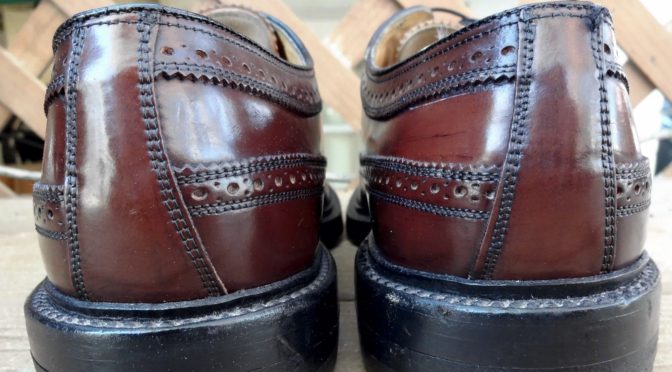 Significant deterioration near the heel. Skip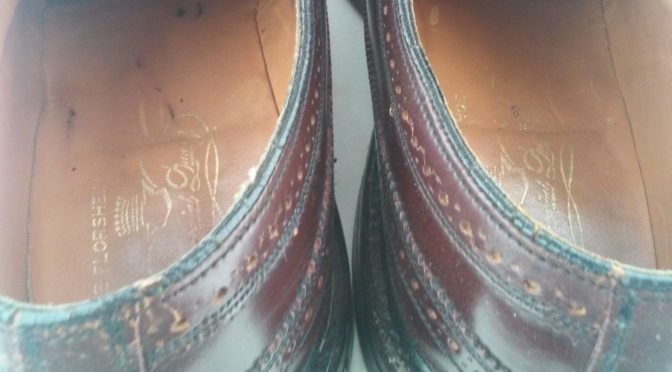 Dirty but in near new condition. Buy!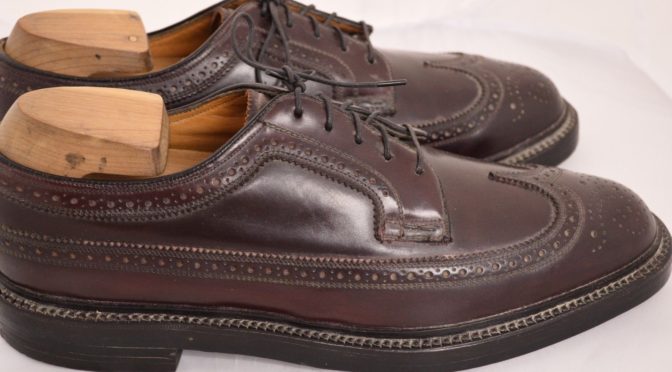 Great color. Surface grim will likely wipe off easily. A good buy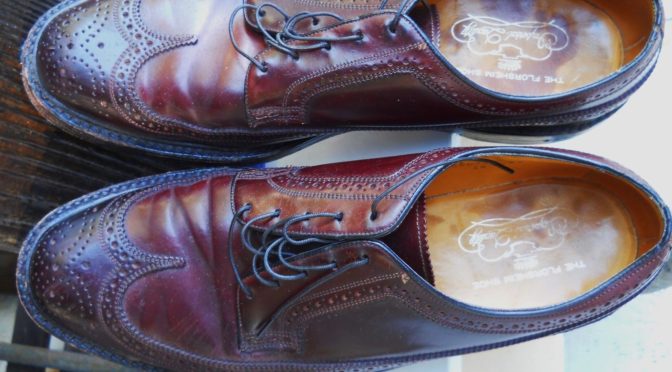 Too much wax or polish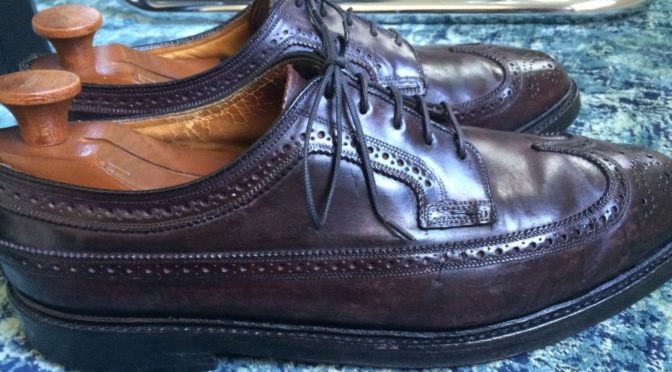 Like new. Great condition. Buy them!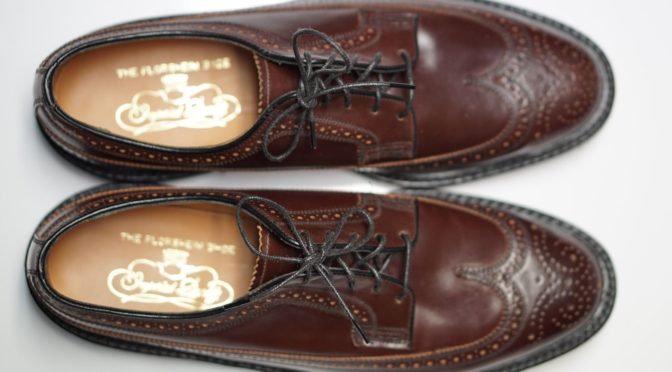 Nice patina. The shoes look like they need conditioning and cleaning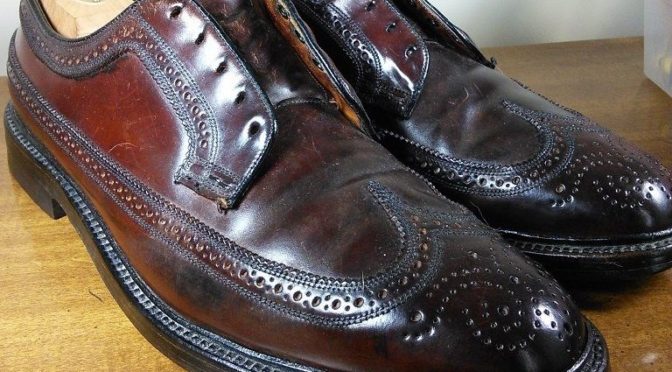 Heel counter damage. Nope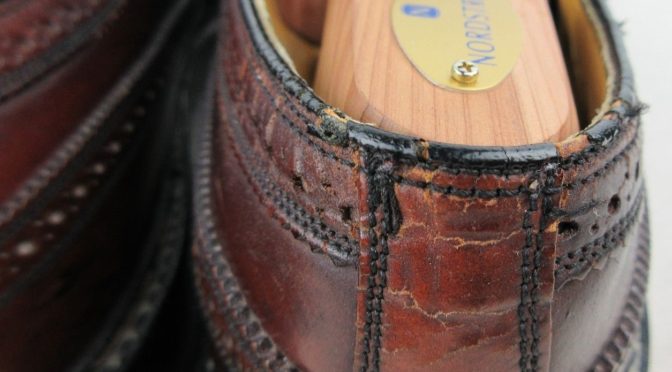 Very worn shell that has seen too much wax/polish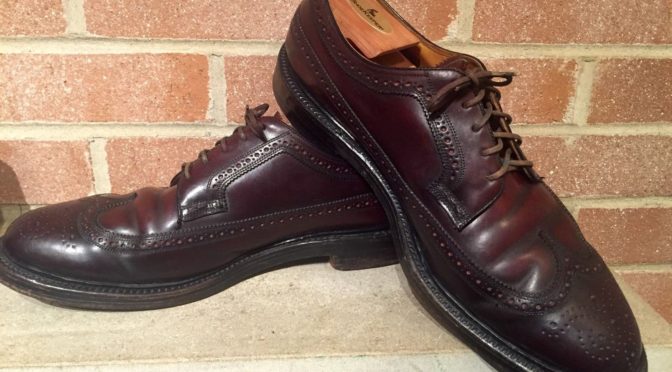 These need to go to the bin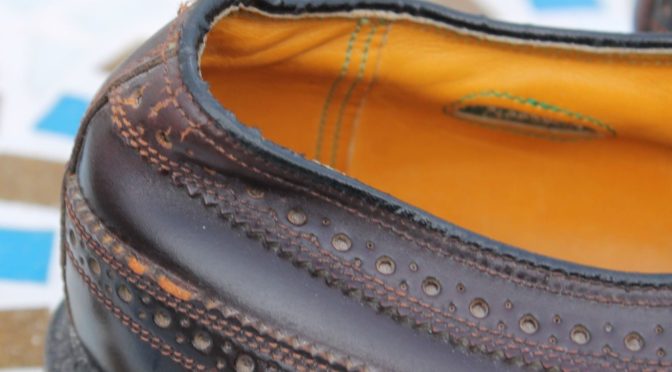 These shoes have likely had minimal wax/polish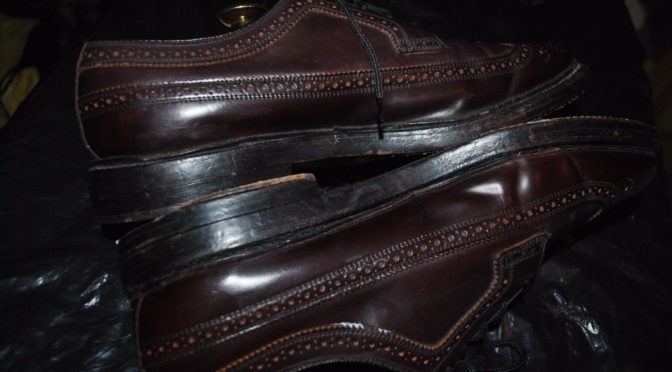 Awesome. Overpay for a pair like this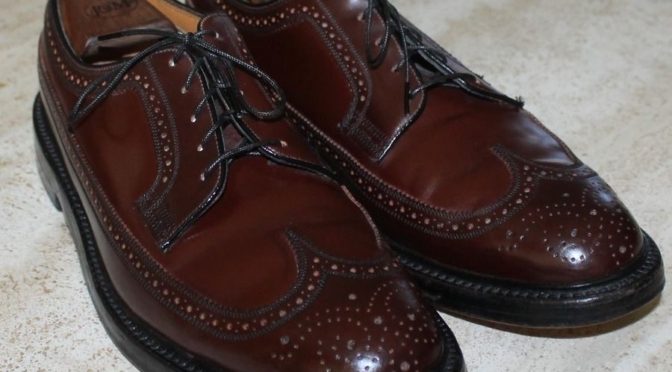 Project shoe. This will likely look good after a few rounds of cleaning and conditioning

The vamp has had too much wax and polish. Pass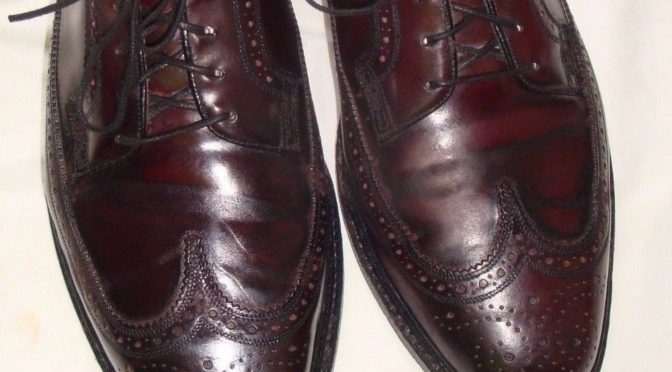 The start of trouble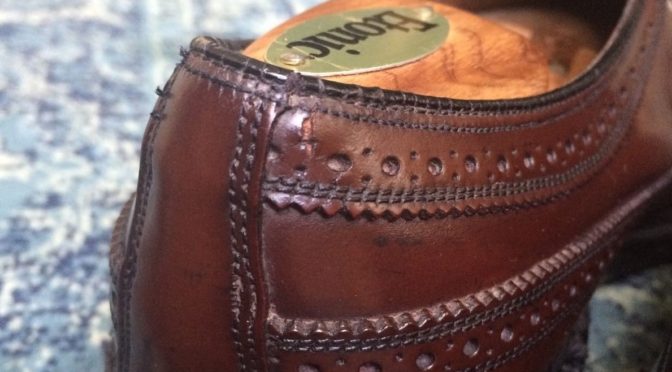 Original pre 1973 heel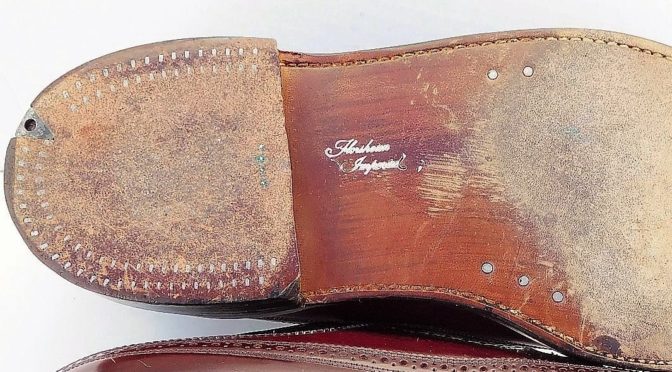 Vamp cracking. Avoid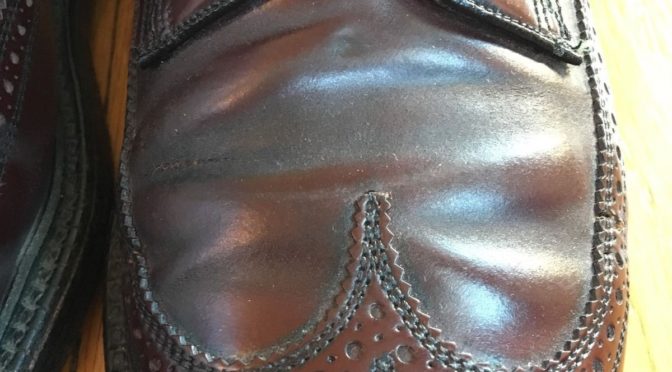 Dry. Tired. Cracked. Skip