As we come to the end of this 18 month US election cycle, we are left with the two finest candidates in the nation. The process has obviously worked. No doubt about that. But there a couple also-ran candidates in the race – Jill Stein and Gary Johnson. Gary Johnson gets more press of the two and was asked the other day to name a foreign leader he admired. In a bit of a senior moment, he couldn't name one.
Let me answer for Gary – Justin Trudeau. I am not an expert on Canadian politics but he is energetic, talks physics, surfs, has a fine looking family, and of course, his hair. Sometimes it feels like Canada zigs when the USA zags. When the US elected a youthful Obama, Canada had charisma challenged Stephen Harper. I can't even remember what Harper looked like. And my memory is better than Johnson's memory. I think. What am I writing about again? Mmm, cheese tastes good.
Does my man crush on Trudeau have anything to do with my choice of two septuagenarian candidates for President? No, of course not. It just means that I like Canada. The Jays. Dill chips too. But not those awful ketchup chips. Or Bieber. They can take him back.
I was going to write this week about burnishing shoes but my photos were terrible. It would have helped too if I took a few "before" shots. And photos of the burnishing process. But I didn't. vcleat.com may appear to be a well-oiled machine but it has issues. Deep, troubling issues. I will get to the bottom of them in the next staff meeting.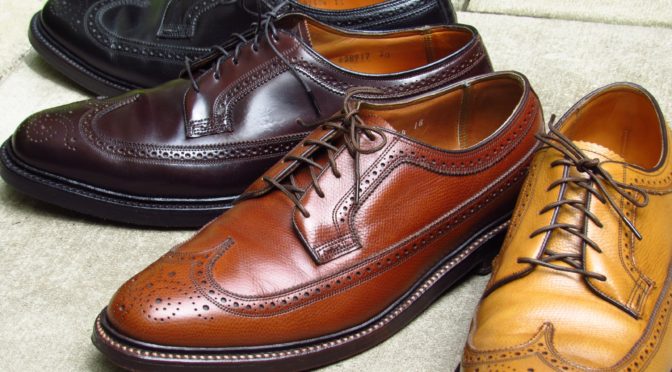 Instead this week I will offer up photos of four Florsheim Imperial long wings. A rainbow of long wings. These are models 92604 (black), 93605 (brown Shell Cordovan), 93602 (brown), and 93631 (golden harvest). These are the four most common Florsheim Imperial long wings you will find on eBay.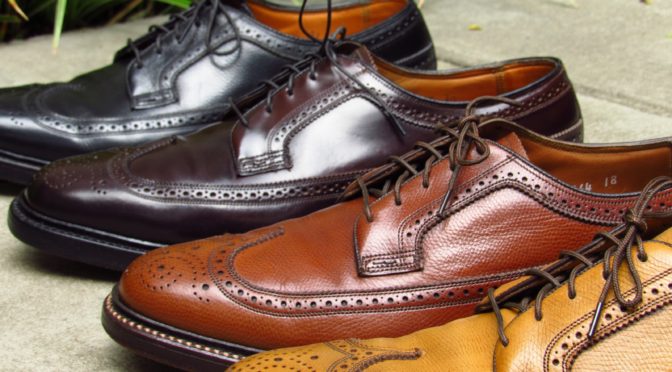 I see many eBay sellers list these shoes as made in the 1940s or 1950s. The shoes shown here were made in the 1970s and 1980s. Its very uncommon to find any Florsheim Imperials from the 1960s on eBay. And super rare to find a pair from the 1950s. Florsheim made the 92604, 93602 and 93605 from the late 1950s to 1989.
Do you have a pair? If not, you need a pair. Or two. I need some poutine.