My daughter read my last post and told me that I am a terrible writer. That I don't know how to use a comma. And that many of my sentences are fragments. They lack verbs. Ouch. Apparently I violate many of the rules of the written English language. She is in high school.
There are a couple positives that came out of the conversation: 1) the Seattle Public School District is teaching her something; 2) I am annoying her. Good job David. Anyway, why is my writing worse than her texts? She sent me this message: "Where r u".
So you are reading the blog of an illiterate. Which should be impossible.
Another impossiblity is me blogging about a shoe style that isn't a long wing or plain toe blucher (PTB). I know. Sorry. This PTB model is the Leeds by Allen Edmonds. Allen Edmonds has been making this model since the 1960s. I am not sure what year this pair was produced but I emailed a photo to Allen Edmonds customer service (which is great), and they said the pair was made prior to the start of their records (2008).
I have worked on a lot of Shell Cordovan shoes and each pair is a bit unique. Ron Rider on his blog once commented that there is no "best way" to condition and shine Shell. It depends on how the shoe manufacturer finished the Shell and if vintage, what has happened to the shoe since it left the factory. The Mac method might work well for new-ish Alden pairs but I have found most older shoes need moisture … and chemical cleaners.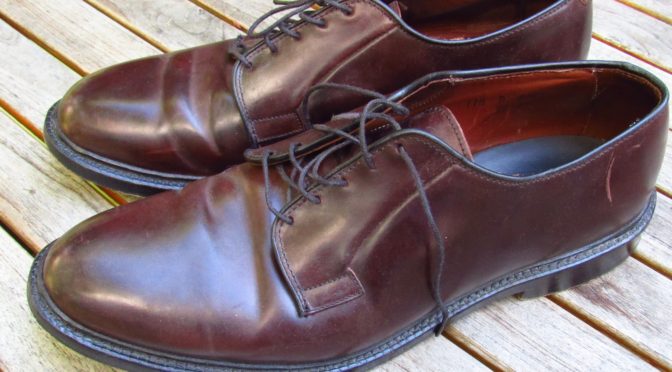 Looking at this pair, I could see the leather was dry. The factory finish (?) on the Shell was wearing off in some areas. There was also a deep scratch on the left shoe.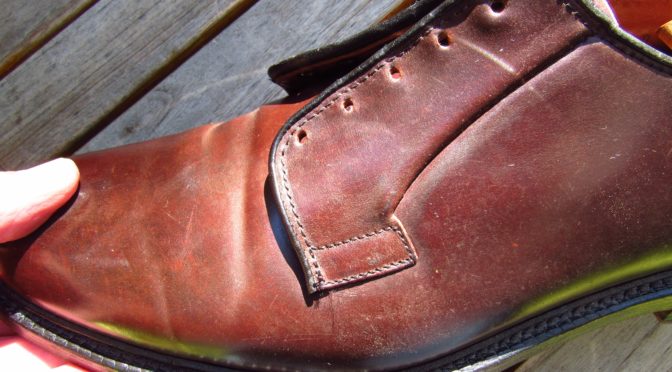 I gave the shoes a wipe down with a damp cloth and a good brushing. I then decided to treat the left shoe first and started with gently applying Saphir Reno'Mat. The leather was still a bit rough so I did a light, wet sanding using an ultra-fine grit sanding sponge (3200 grit) and Lexol NF. This made the Shell very smooth. In the photo below, the lower shoe has been sanded and the upper shoe has only been brushed and wiped.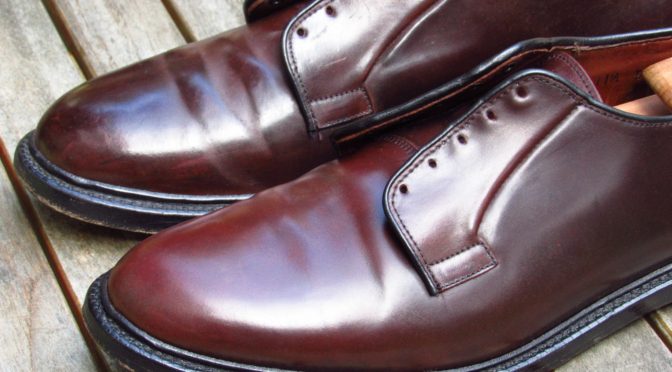 Lexol NF leaves the shoe feeling a bit tacky so I used Bickmore Bick 4 to remove the tacky feeling and to give the Shell a bit more moisture. The conditioning and sanding greatly reduced the deep scratch on the left shoe.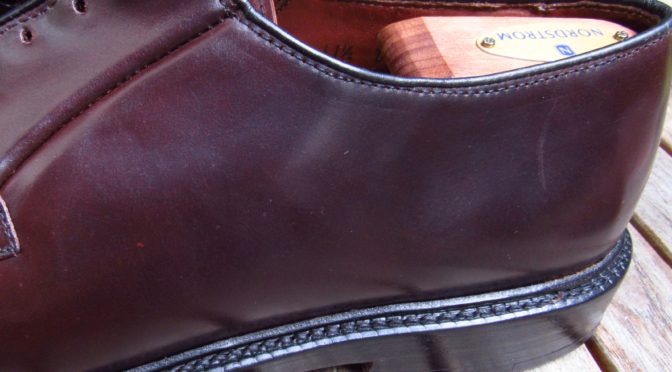 The Shell was now somewhat raw. The conditioning made it feel moist and oily. In this state, it was like a pull up leather in that it would scuff or scratch easily but you could rub the scratch out by rubbing your thumb on it.
I thought about keeping the shoes in this raw state but just handling the shoes was leaving some scuffs. Which was annoying. I decided then to finish the shoes with two rounds of Collonil 1909 Supreme Cream Deluxe in Neutral. Collonil 1909 is a great product and is a bit like Venetian Shoe Cream or Saphir Renovateur but with a higher shine. After two applications of Collonil 1909, the shoes resisted scratches. And looked great.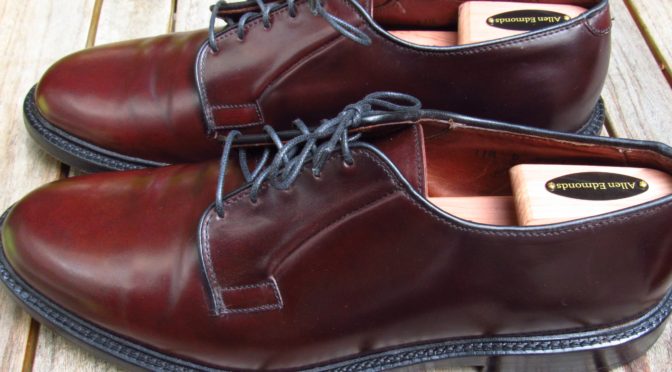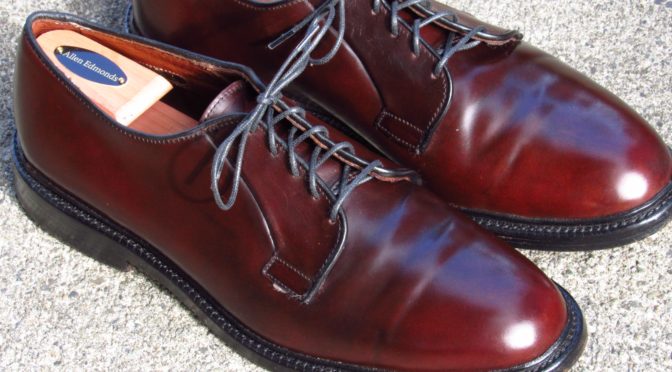 The wet sanding of the leather was a technique that I hadn't done before but a Japanese blogger wrote about success doing it in a recent post. Since they were PTBs, it was easy to do versus a heavily brogued long wing.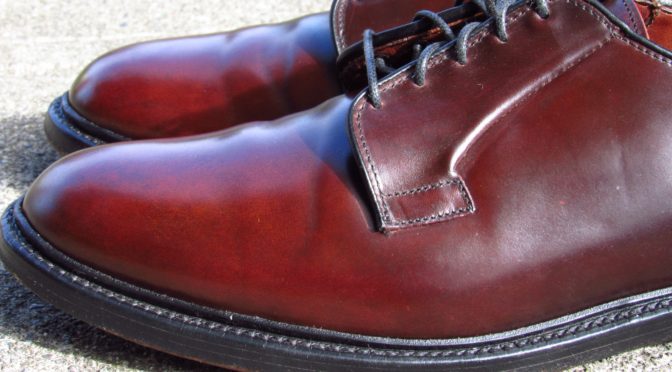 I am done with this post. In the next post, I might improve my grammar. Or I could make it worse. Maybe. I. Will. Write. With. A. Period. Between. Each. Word. That would annoy someone I know. Yes.