I went to the Emerald City Comicon this past weekend. It's a big convention here in Seattle for comic related pop culture. It was my first time attending the event. My daughter is big into Japanese Anime and she went with her friend and cousin and thousands of other people. I was a good dad and took them. I can't say I have ever been into comics but I have plenty of friends that are. When I see a superhero movie, I know just what is told on the screen. I don't know the backstory so some of the inside jokes go past me ("Deadpool broke through the 4th wall? And that is what?.").
There were some great and not-so-great costumes (a short Darth Vader?). People have considerable passion for the characters they dress up as. Which they refer to as cosplay. They work hard on their costumes and want to show them off and be recognized for their work.
I like to think that many of us have a similar passion for shoes but we likely come up short in comparison. Which is probably good and healthy. Still this shoe passion can cause some anxiety when it comes to shoe care. Which is surprising since most men don't care about shoe care. But I do. And you do. Or you should. The anxiety often plays out in online shoe forums. Do this. Don't do that. Don't don't do this. Don't do what you shouldn't not do. Oh whatever. Read this thread on someone asking about using saddle soap. That sure clears things up.
Almost all the shoe damage I have seen is from wearing the shoes. I believe it's actually fairly difficult to destroy your shoes by using shoe care products. Especially if you follow the directions on the product. Even if you don't read the directions, your shoes will likely be okay. At least until the next time you wear them.
I am not a leather expert. Any advice I give on my blog is based on use of methods I describe. I can't guarantee you will be successful or that in 10 years down the line, your shoes won't (or will) fall apart. I can say (and will say (or will write)), that I have cleaned and conditioned far too many shoes and have a cabinet full of products which I have tried. So I have some experience.
I have written about conditioning shoes with glycerin in the past but in this post, I will cover it in more detail. Glycerin treatment is a method used by a number of the Japanese shoe bloggers with good success and where I learned the technique.
Glycerin is a non-toxic, sweet liquid that is used extensively in cosmetic creams. It penetrates the skin and leaves your skin with a cool, soft feel. It is also present in many shoe care products for the same reason. There a large volume of online information on glycerin and leather. Apparently the Smithsonian uses it for leather restoration.
For this effort, I am working on a pair of vintage Florsheim "Antique Gold" 31786 Beacon shoes. The pair was made in 1968 and is made from a heavily textured leather that Florsheim called "Walnut Calf". A number of people online have described the leather as bison or buffalo. It could be. Or might not be. It is thick and the grain of the leather has an east-west pattern. The leather is the thing that gives this pair of shoes their character.
This is a summary of how I treated the pair:
This is a photo of the shoes before any treatments. They were dirty and the toe had some curl but not too bad.
After cleaning the shoes (described above), and conditioning them with Lexol NF, I let the shoes rest a day before treating them with the glycerin solution. The glycerin solution is watery so I apply it by dipping cotton strips into the solution and applying the strips to the surface of the shoes. I left cedar shoe creams in the shoes during the treatment.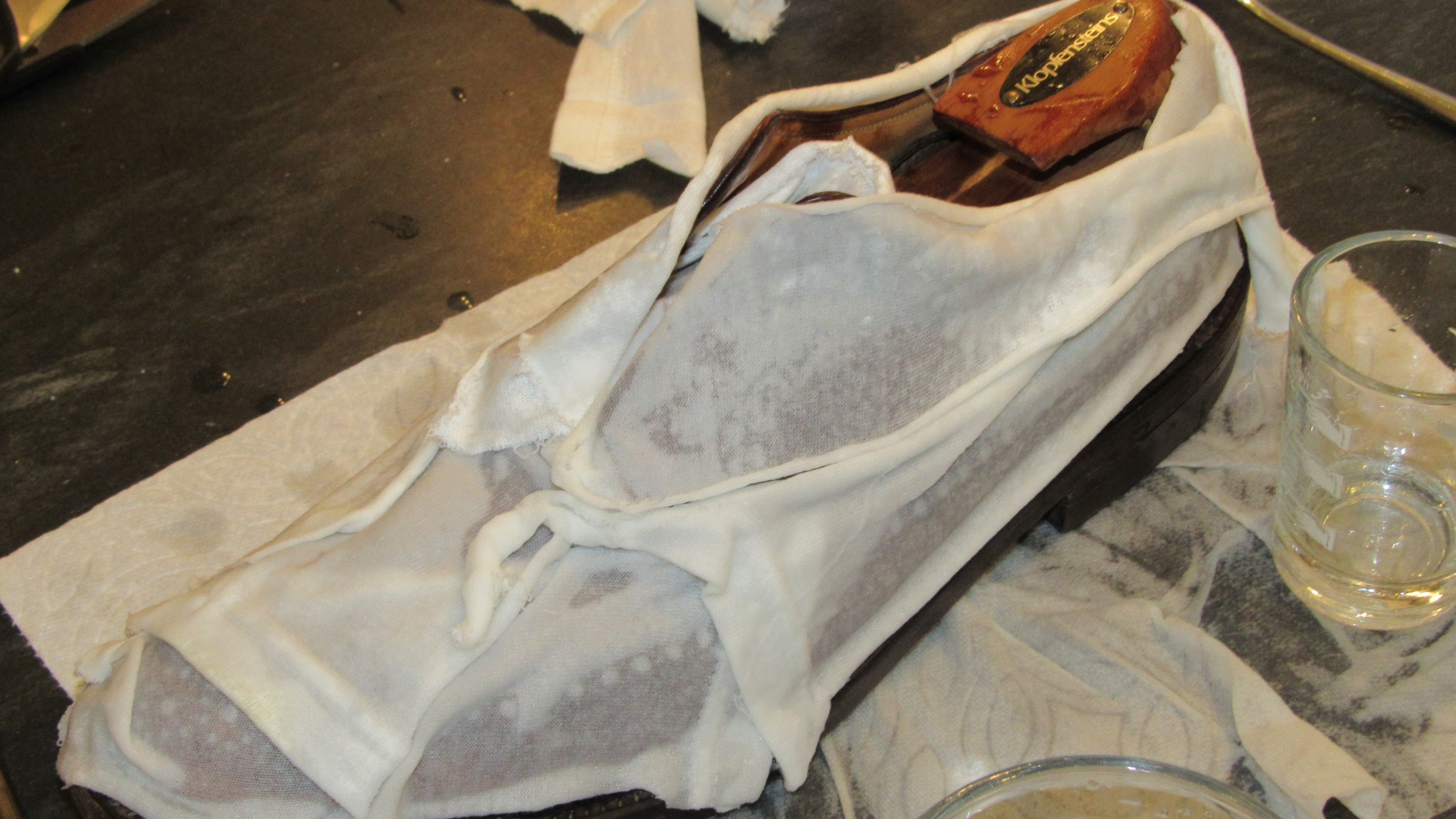 I wrapped the shoes in plastic wrap to keep the cloth tight to the surface of the leather. The shoes were left in this state for six hours. When I took off the cloth strips, the leather was saturated with the solution and was significantly darker.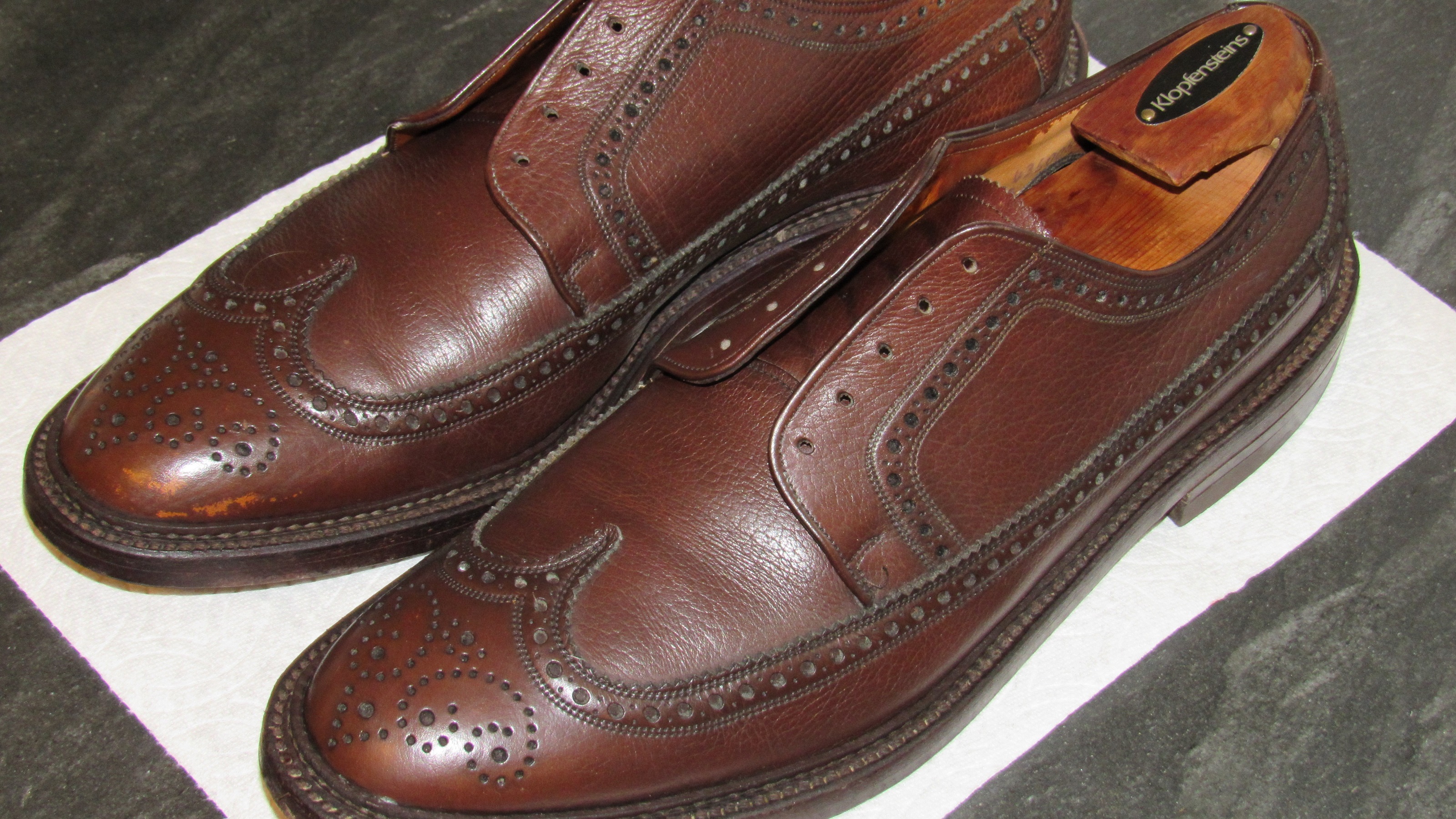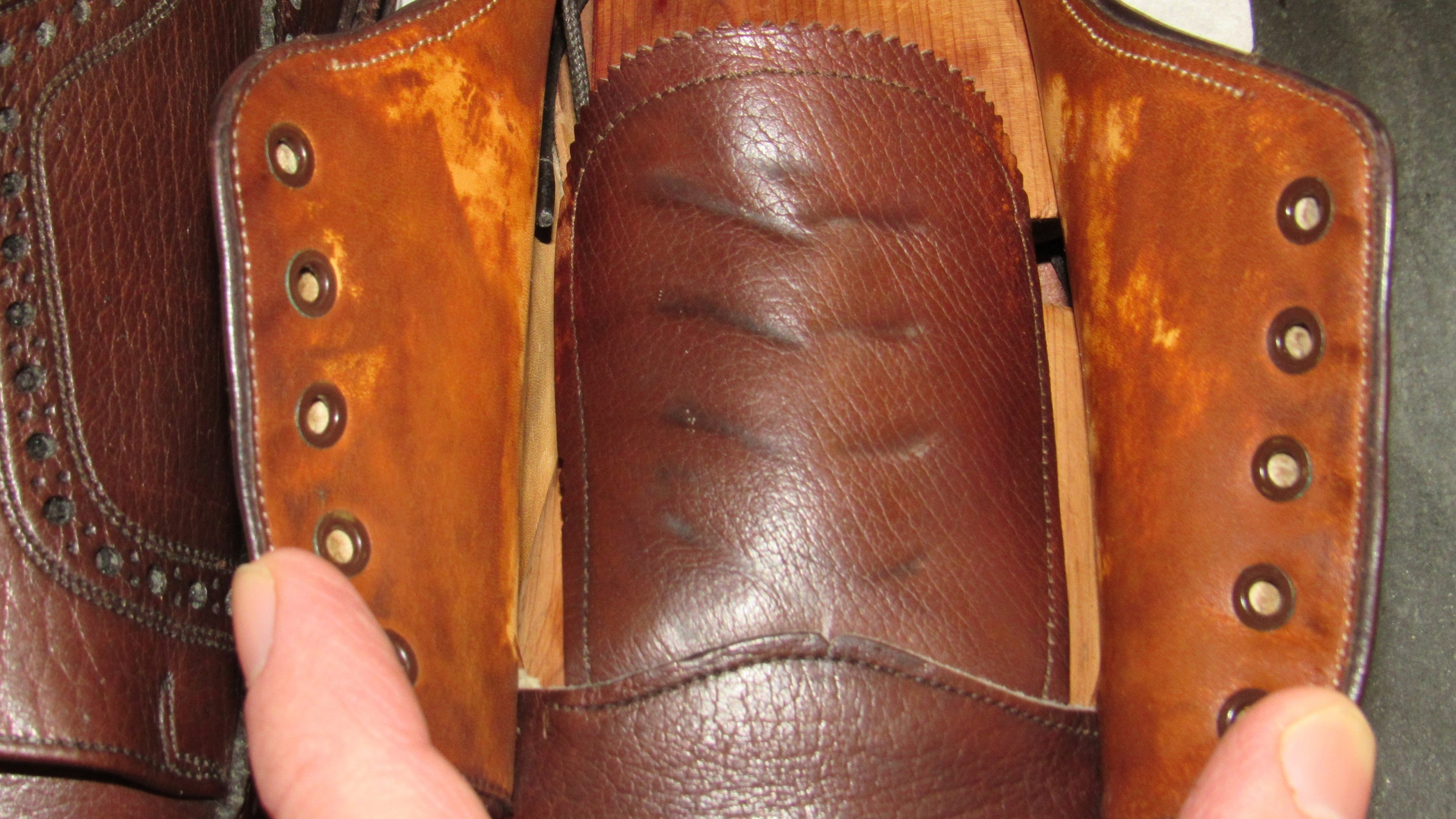 The leather darkening was likely due to the water being absorbed into the leather. As the shoes dried out and the leather lighthened up. Below is a photo of the pair the next day.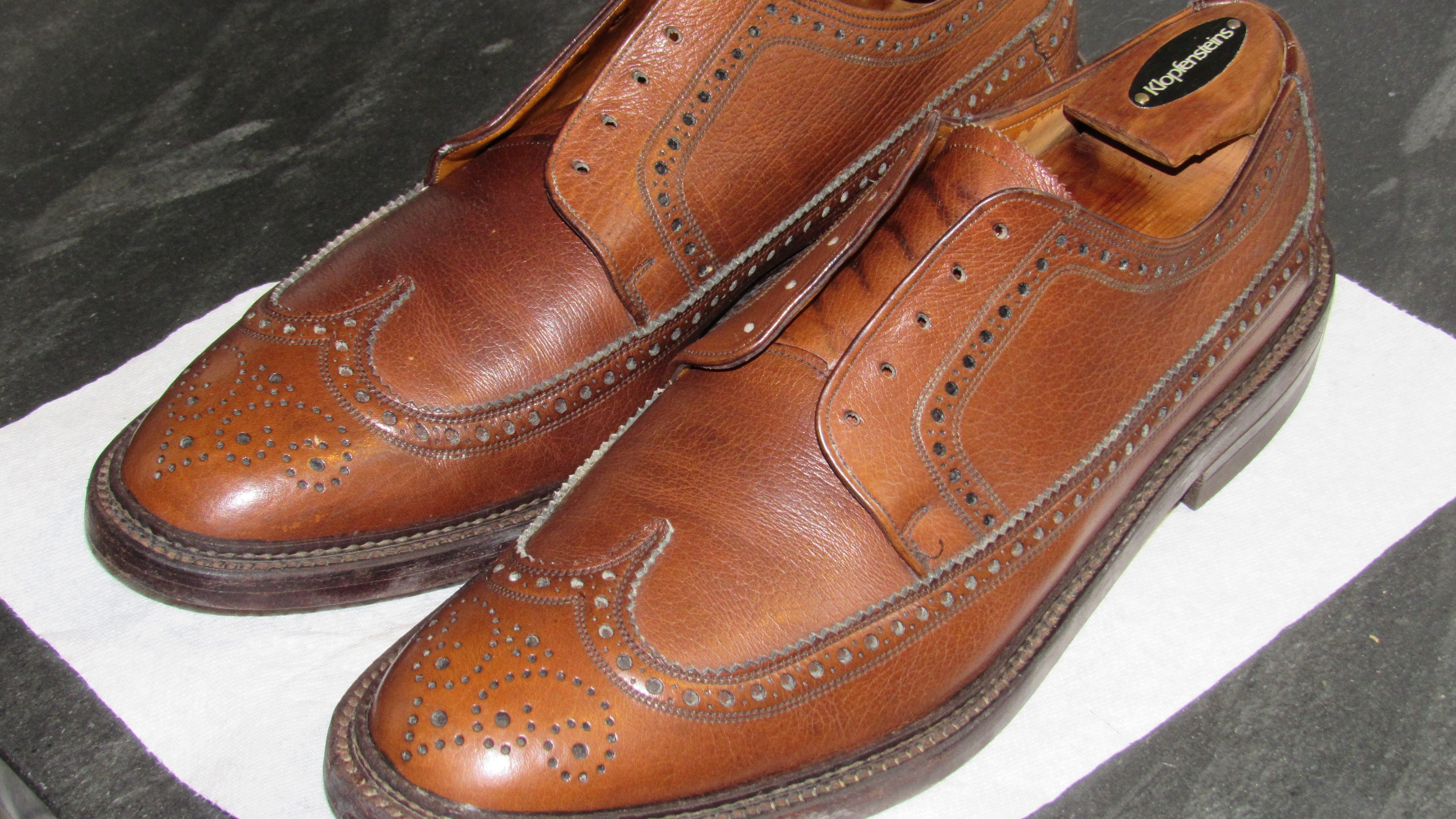 I allowed the shoes to rest for about a week before doing any further treatments. The leather felt soft and cool to the touch like your hands would after using a moisturizing cream. The pair was completely dry after a few days.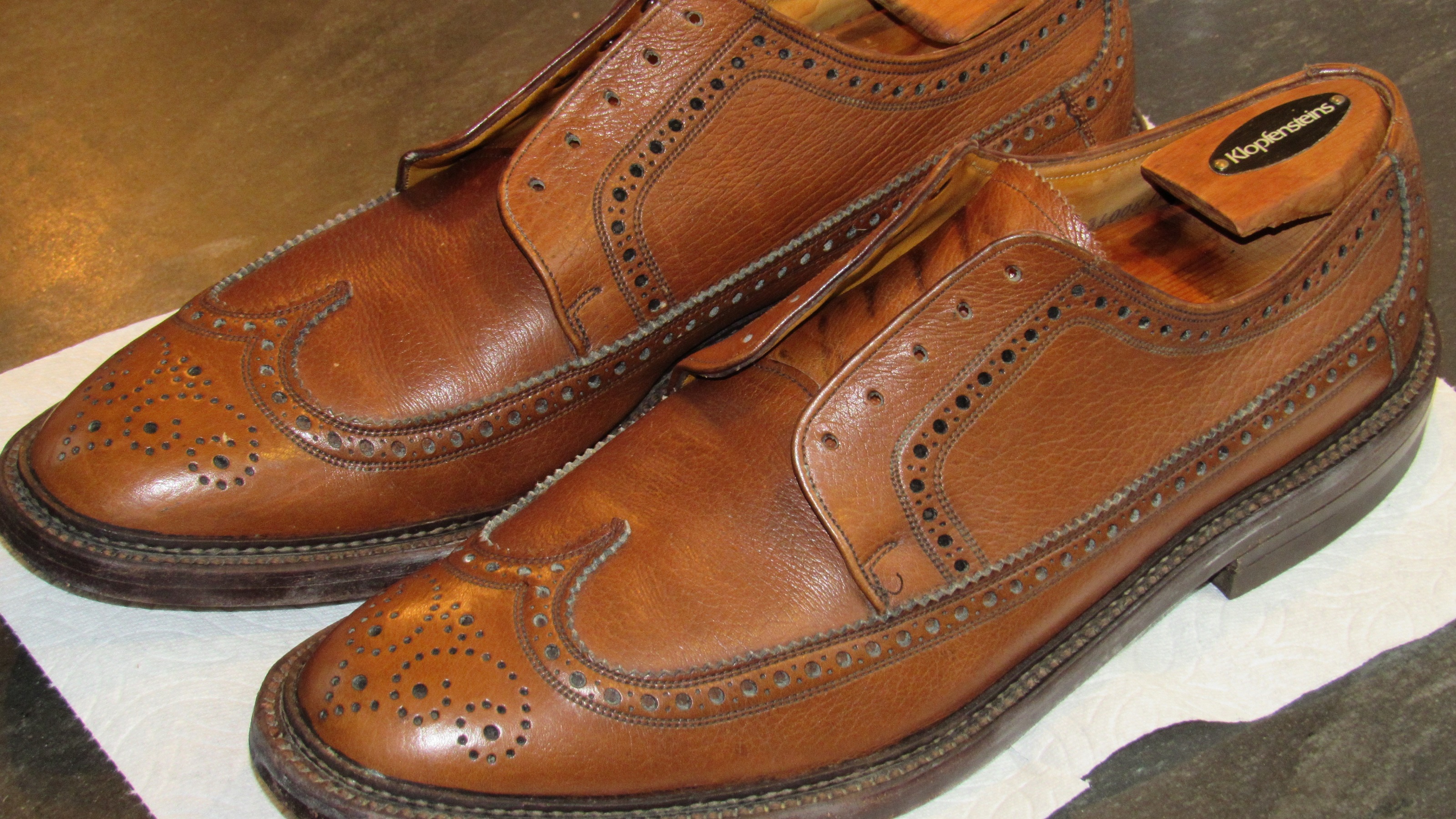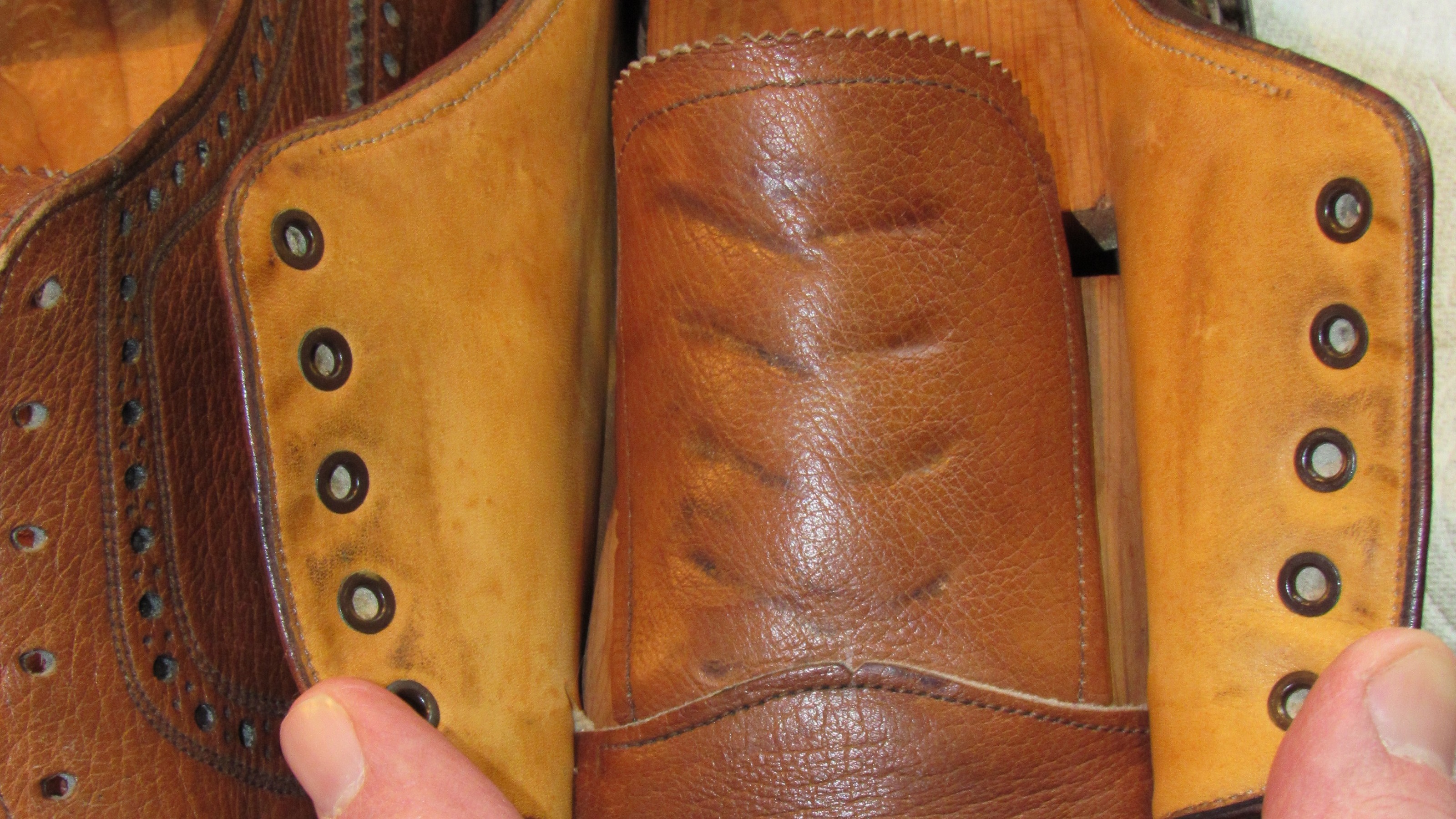 The following weekend, I gave the shoes two rounds of Bick 4. Why two rounds? Isn't two is better than one, right? I like Bick 4 quite a bit and have been giving most of my vintage shoes multiple rounds of Bick 4. So why break habit?
I debated a bit on what cream and color to apply to the shoes and decided on Allen Edmonds Light Brown shoe cream. Its a high pigment shoe cream and a little goes a long way. I wanted to keep the color of the shoes light. Below are photos of the finished product.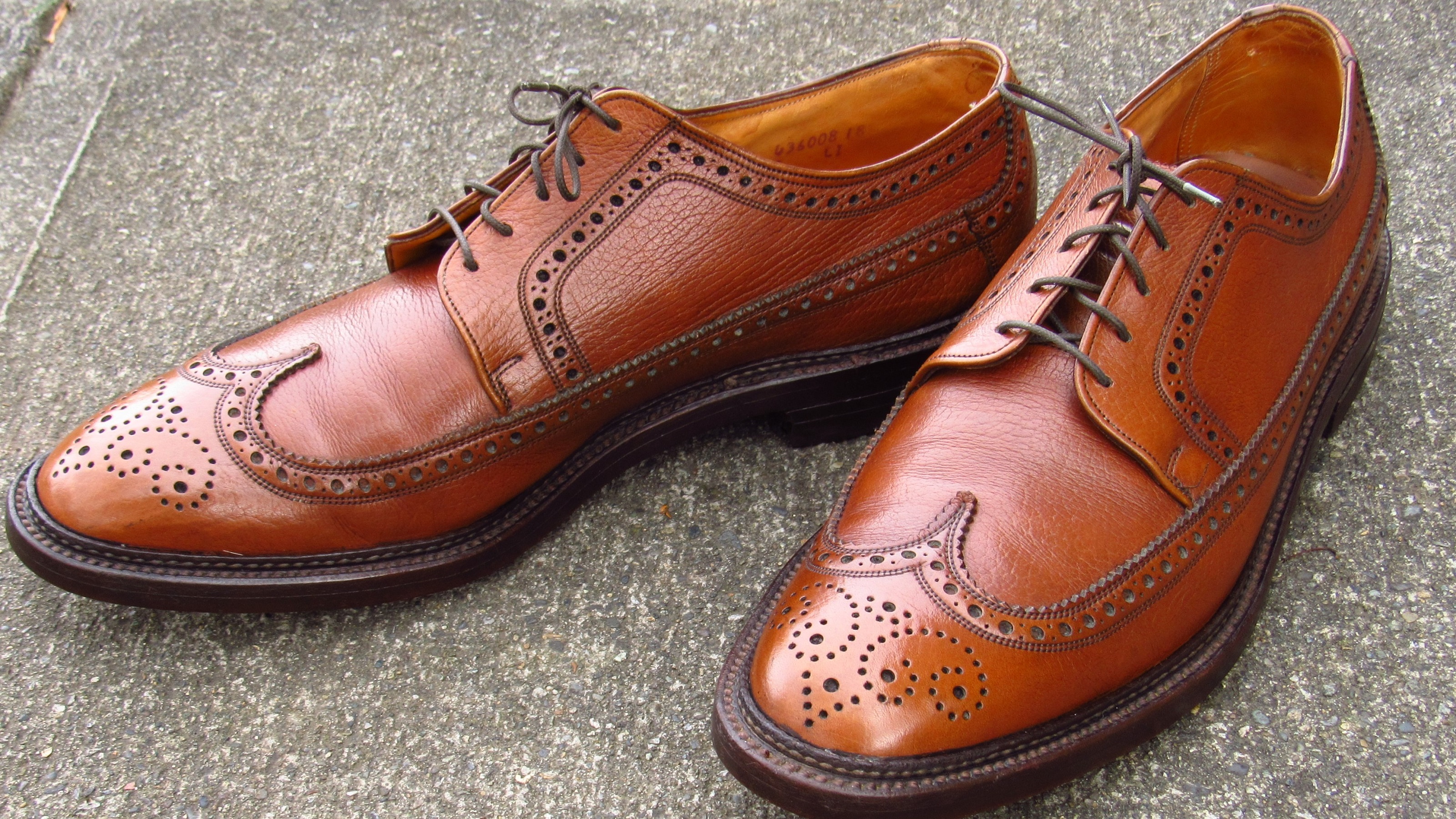 The shoes are narrower than my other Florsheim Imperial Kenmoors of the same size. The shape of the shoe appears a bit more pointy as well. So they might use a different last.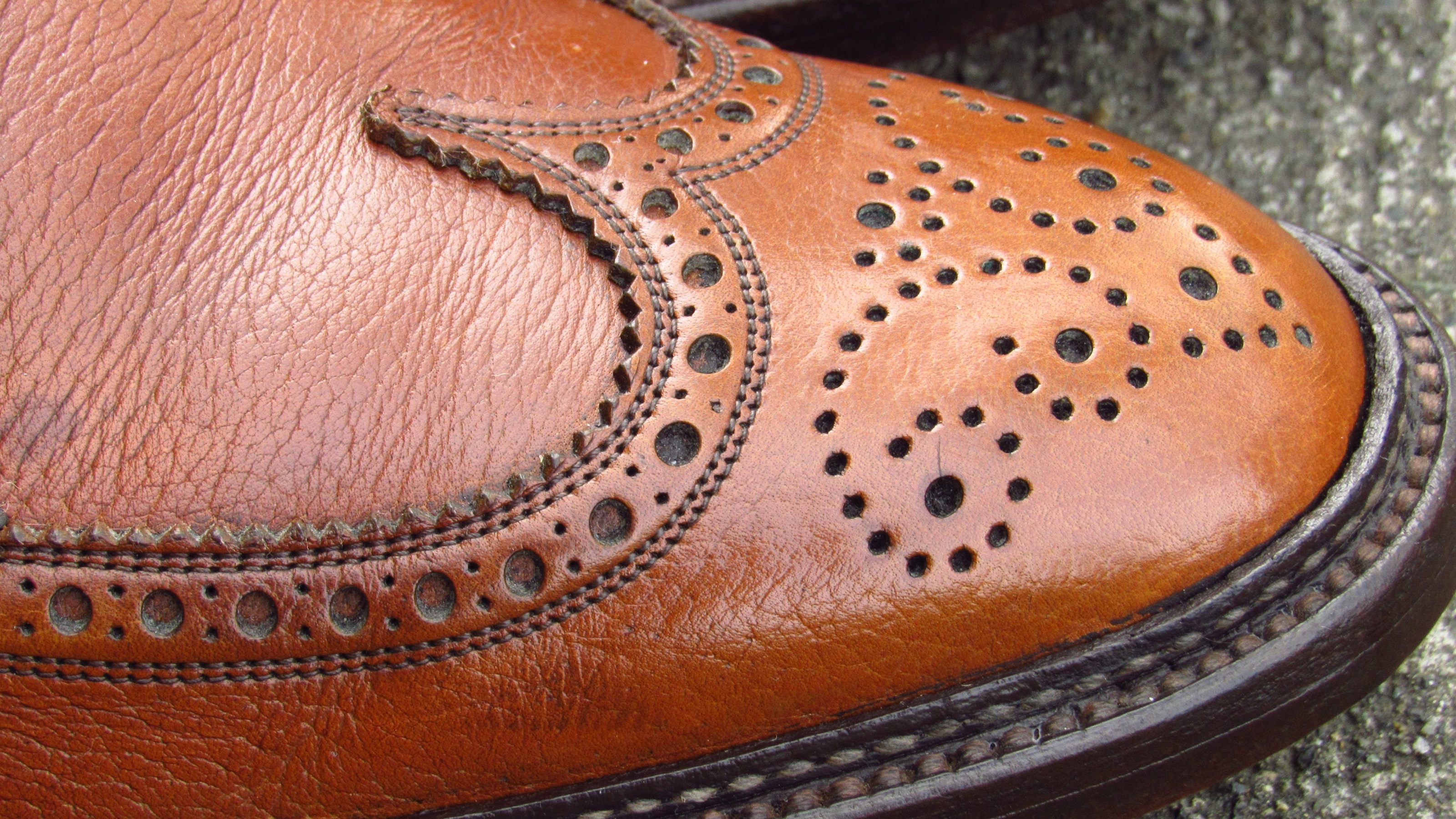 The shoe is partially leather lined and has a rubber sole. The reverse storm welt has an upper band of stitching like you find on Alden shoes. This is an unusual feature for a pair of vintage Florsheim shoes.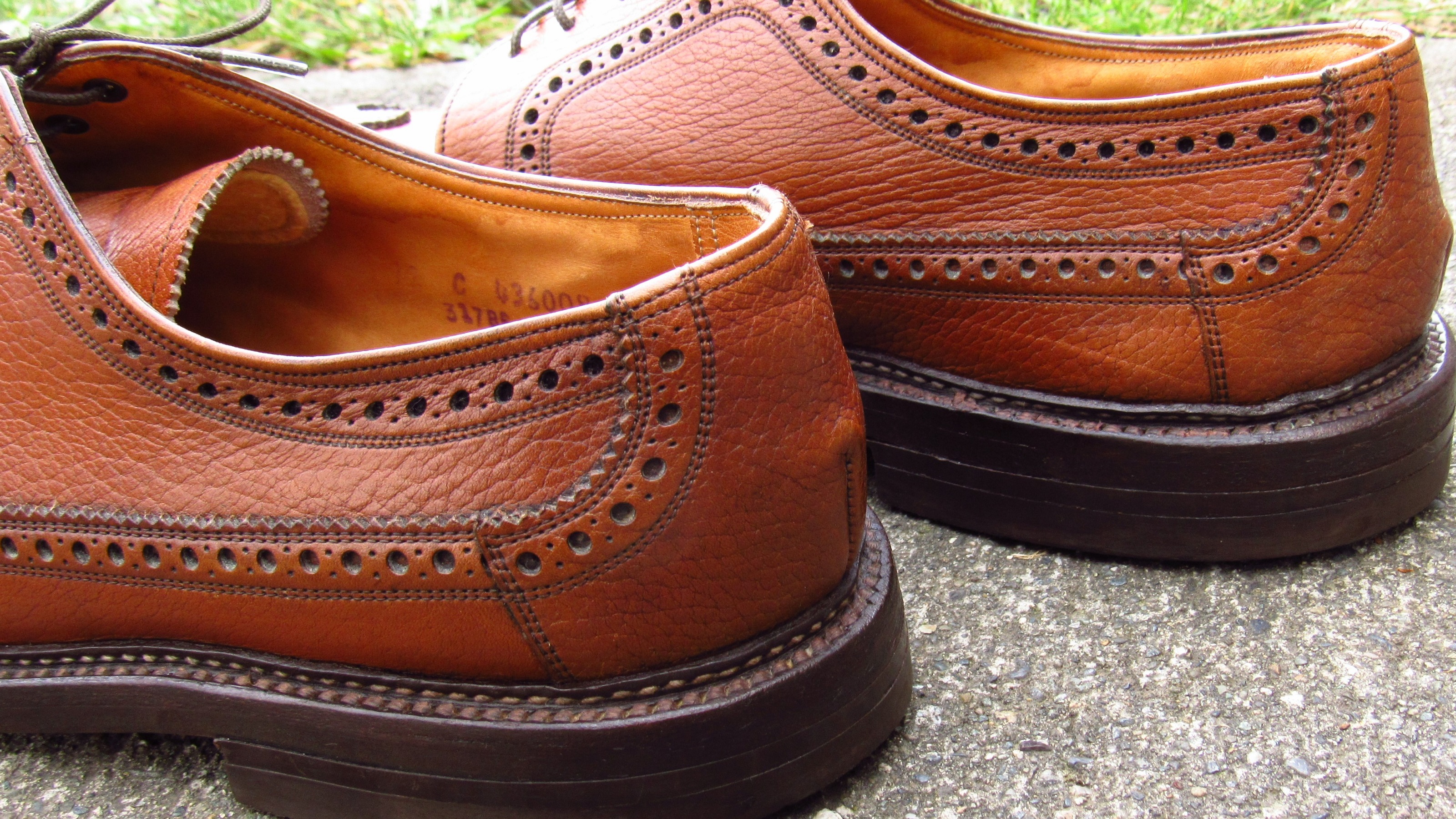 The right shoe has a stain on the vamp that I tried to get out using Saphir Reno'Mat but it didn't pull out the spot. Oh well.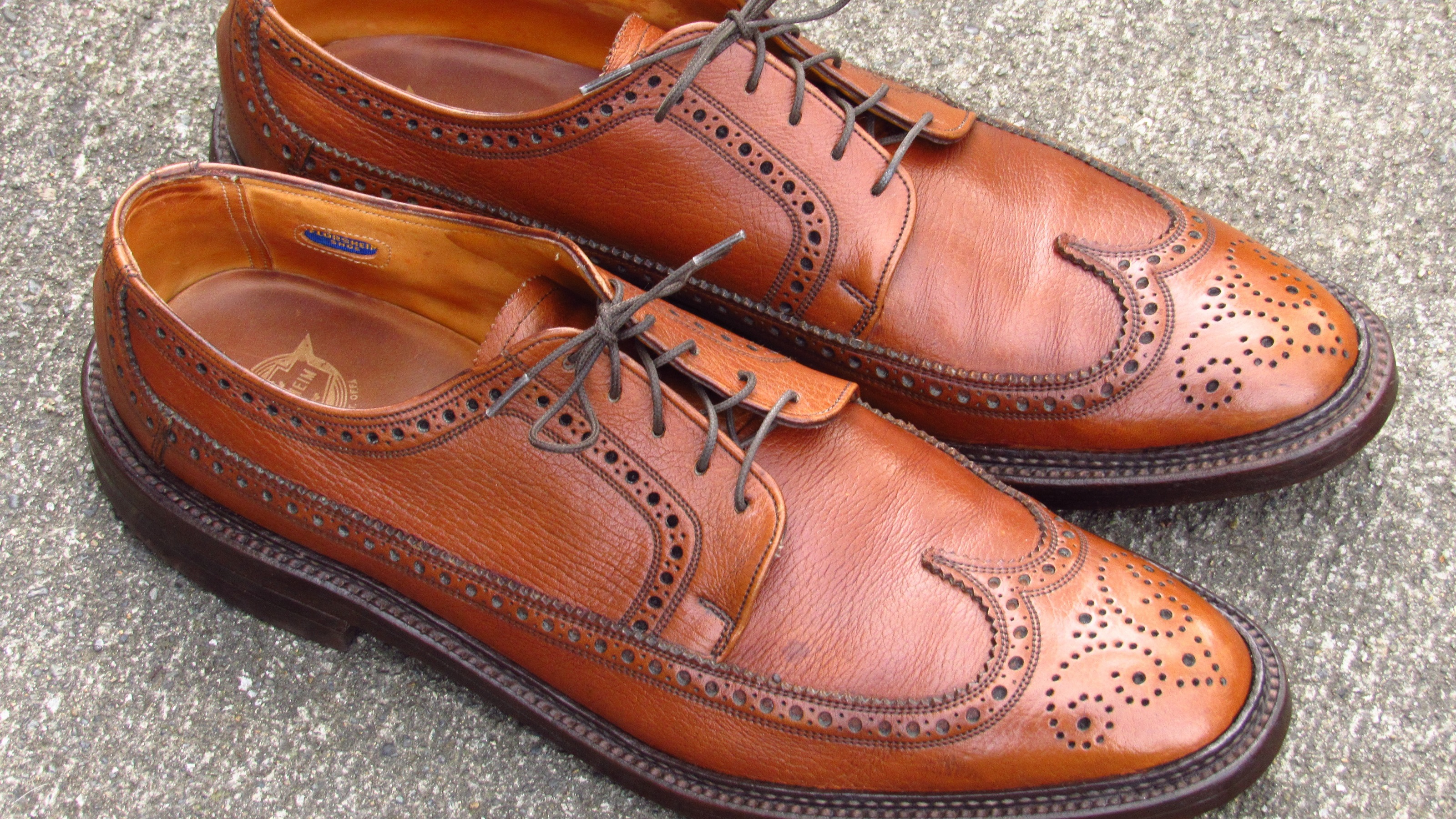 I wore the shoes around on Saturday. They fit fairly well. The heel counter area felt a bit low. They looked great. Well, at least I thought they did.
Now I need to start working on my Chewbacca outfit for next year's comicon. Either that or Yoda.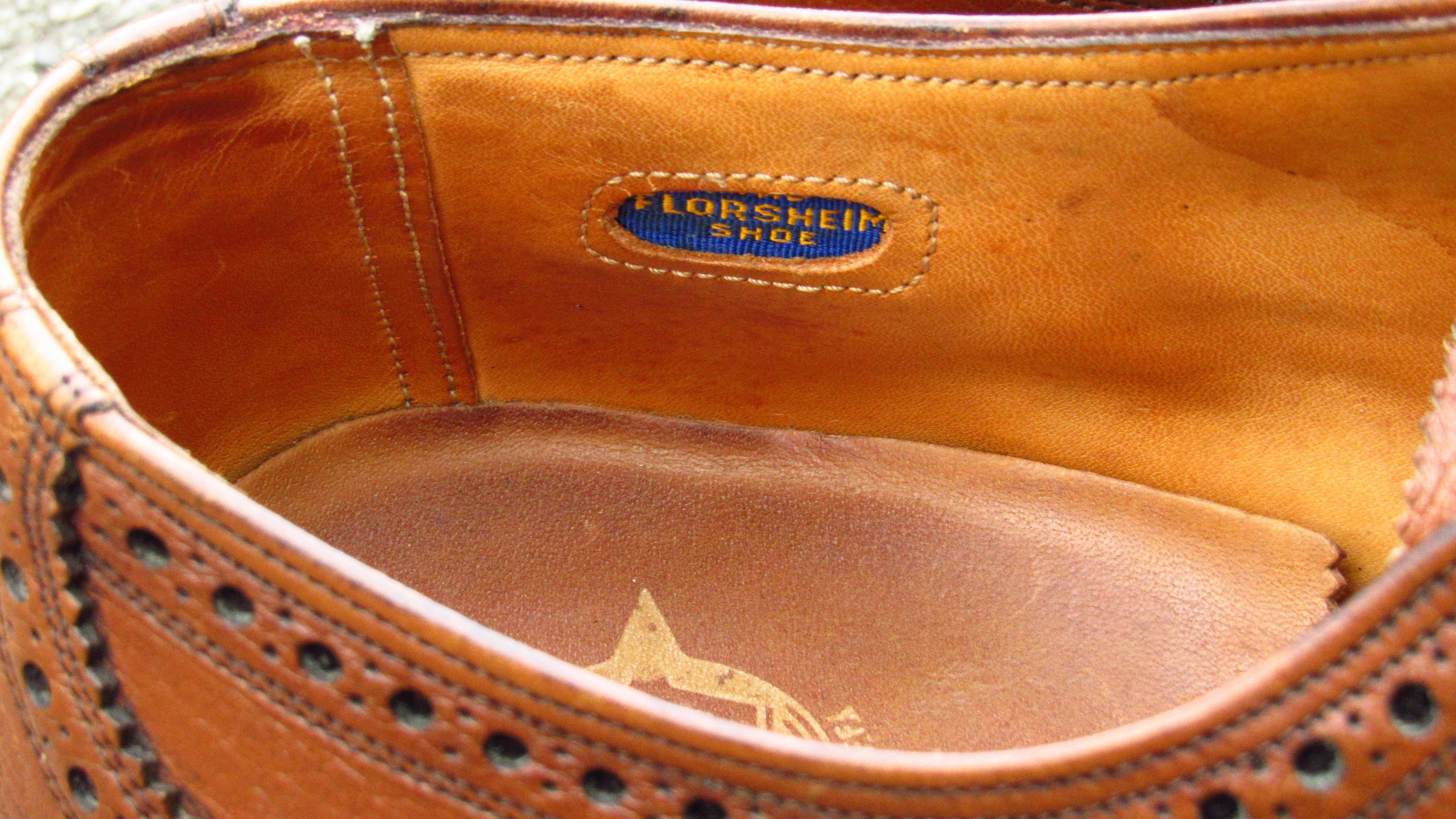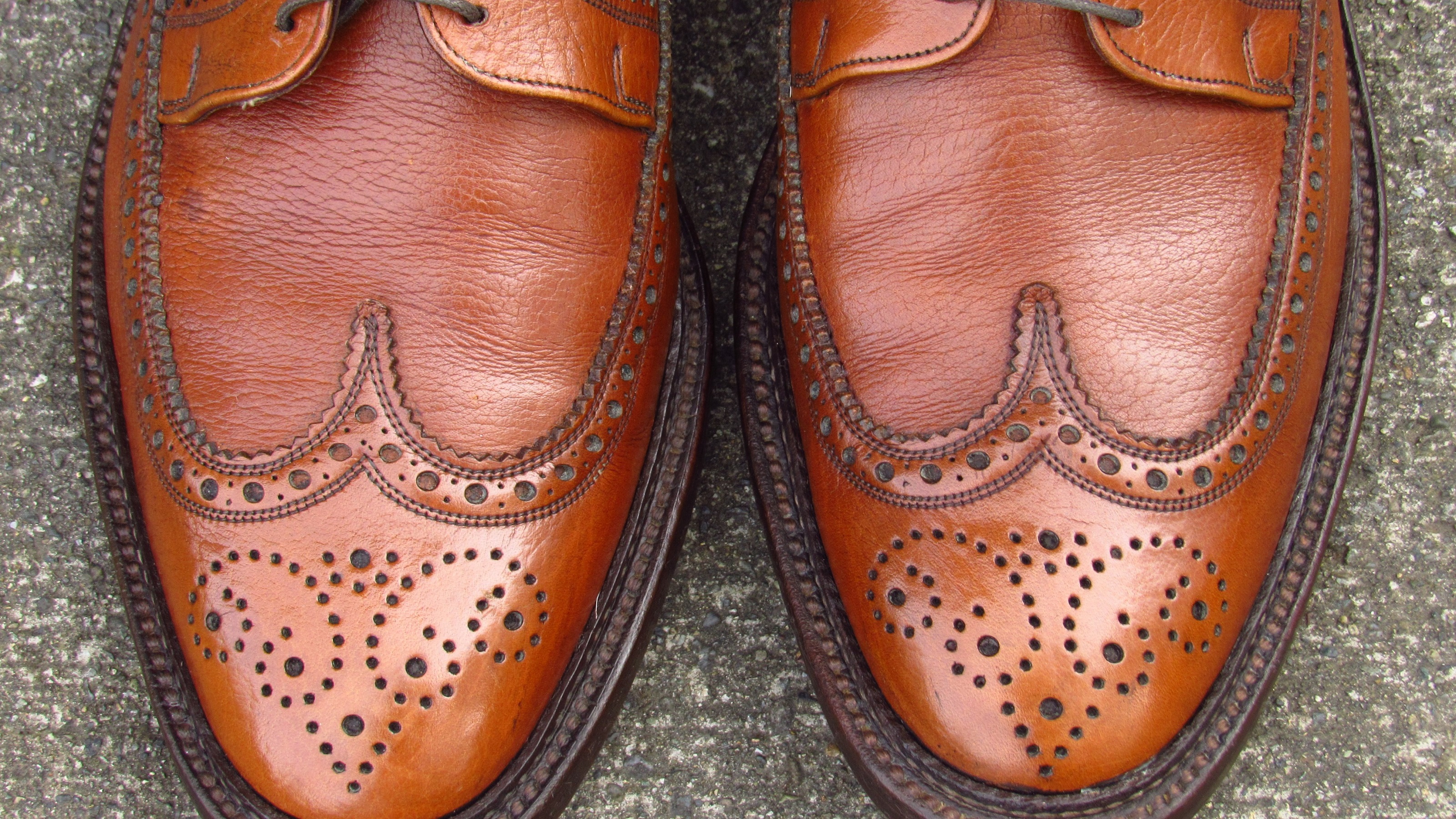 See an update on the pair in this post.