Short story: wipe the shoes with a damp cloth, follow with Venetian Shoe Cream
and buff with a soft, cotton cloth. I have tried a number of methods and I have found this to have the best results.
The longer story is about my search for a pair Crown Aristocraft wingtip shoes. Crown Aristocraft have been Johnston & Murphy's top production shoe line for decades and their last "Made in USA" model. They are somewhat uncommon on eBay but not rare. They are also somewhat unloved since their average eBay resell price is only $58. But I wanted a pair in my size and finally found ones for sale.
When the shoes arrived, I noticed a couple things about the shoes when I open the box: 1) their heft and quality construction; 2) they weren't calfskin like I was expecting but rather bookbinder which is another name for corrected grain. This is what they looked like: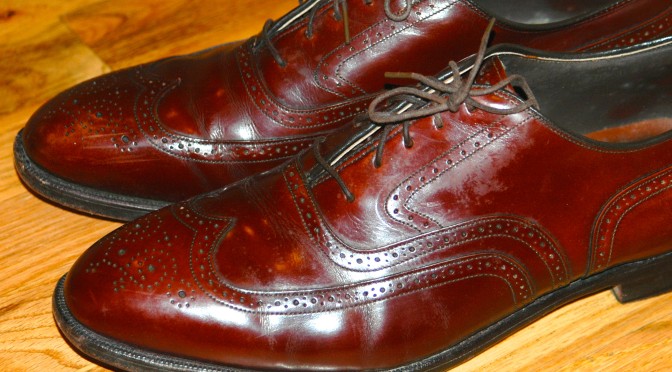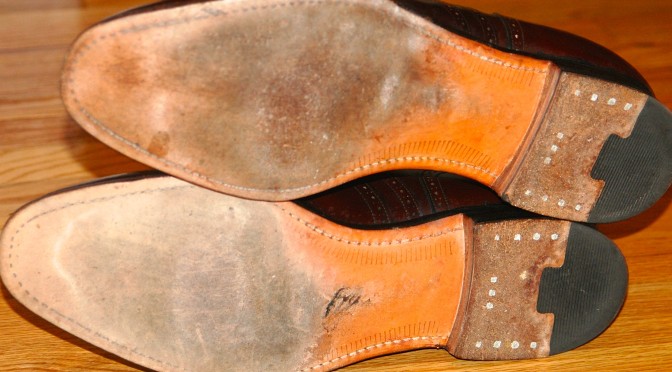 What is corrected grain? Its leather that is coated/fused with an shiny, acrylic top layer. Many of the internet shoe forums warn about corrected grain leather. The leather looks great brand new but it quickly develops noticeable creases that can't be removed. But there is high and low quality corrected grain. Low quality corrected grain leather is made from cheaper, top grain rather than full grain leather. Some shoes are made from leather that is bonded to fabric. It's a step lower than corrected leather. This wingtip from Florsheim's dark period (not a Crown Aristocraft), is a low quality bonded leather pair: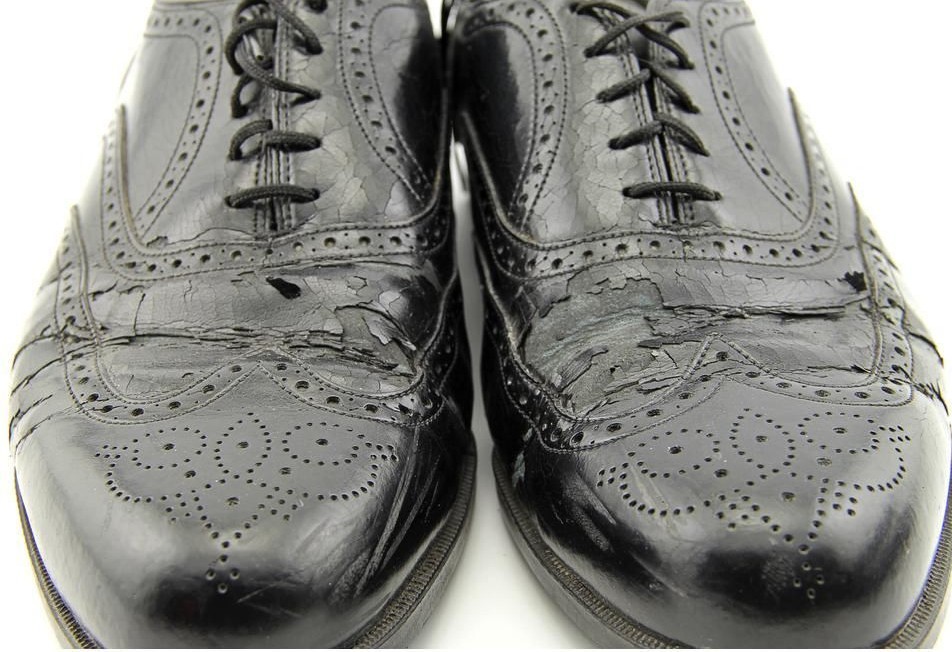 I have had some experience with higher quality corrected grain shoes. I once owned a pair of Allen Edmonds MacNeil 9147 in "polished cobbler" burgundy. The MacNeils developed minor creases but never flaked and in general, looked good. While I had them, I learned that they were impervious to leather conditioners, polishes and waxes that you might put on calfskin. Any applied product could be rubbed off the acrylic finish of the leather. But since shoe care products could be rubbed off, so could dirt and grit with just a damp towel. They were very easy to maintain.
After some trial and errors, I found Venetian Shoe Cream (VSC) would get off the gunk that water couldn't. VSC contains turpentine and I believe that removes non-water soluble grime from the shoe surface. It also gave the leather a higher shine.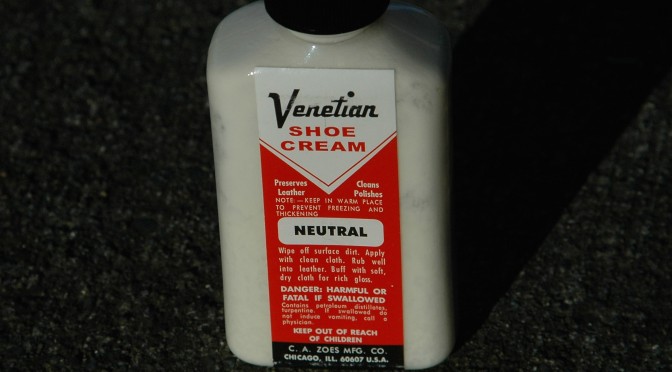 Here are the Crown Aristocraft shoes after cleaning with VSC: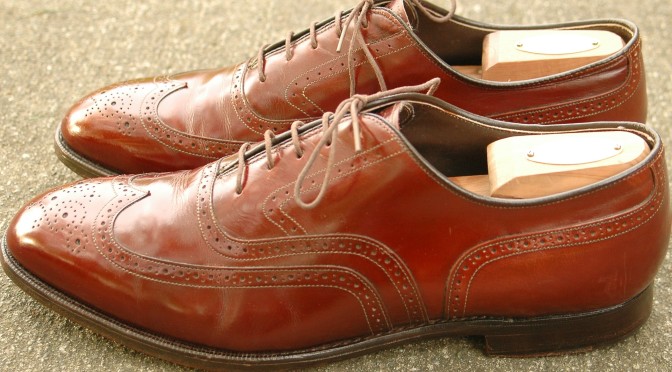 Another issue with corrected grain leather is that the leather surface can get abrasions that can't be removed. The acrylic coating is tough and doesn't scrape easily but when it does, you just need to live with it. I don't believe heat can repair/remove the scrape although I haven't tried that method due to worries of a shoe Chernobyl. The next photo shows some scrapes I found on the Crown Aristocraft shoes. The sun angle makes the scrapes more noticeable: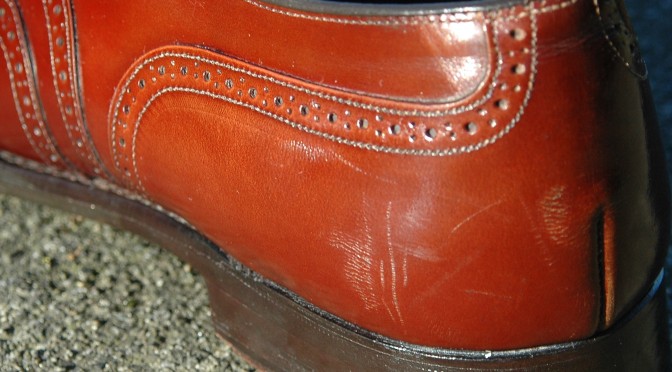 Corrected grain issues aside, the shoes are well made and they fit well. I am guessing these shoes are 10 to 20 years old based on the logo. Looking online, Johnston and Murphy doesn't make this shoe in this leather anymore.
I am still not sure I like them. They have a bit too much bling. They have been sitting in my closet for a few months. That's not a good sign.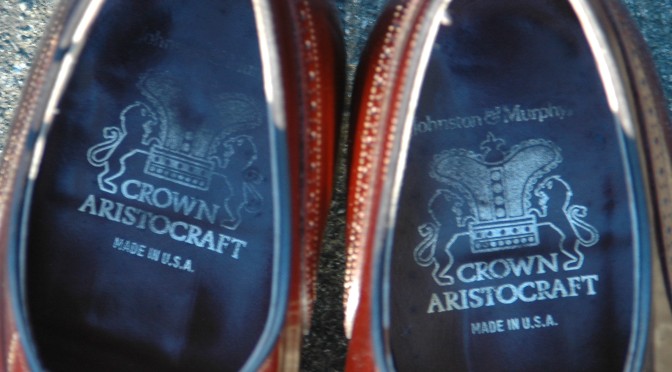 One more thing to note about corrected grain is that it isn't always a smooth, shiny leather. I bought a pair of vintage Nettleton shoes years ago that have a corrected pebble grain finish. They perplexed me at first because normal calfskin polishes didn't work on them. The color was also strangely consistent. But the shoes have been great and are sort of indestructible. The leather hasn't creased much and they resist scrapes and water well. I wear them very regularly. See photos of them below.
Hope you found this post interesting. I am not recommending you buy corrected grain leather but in case you have pair (or two (like me)), care for them is pretty easy.