Do you remember the Cold War? The world and politics seemed clearer back then. Sure, we could get nuked at any time and Vietnam turned out to be a poor idea but we all rallied around the Lake Placid Olympic hockey team and cheered on Mary Lou Retton. I grew up toward the end of the "War" so my experience during the period was limited. I could be wrong. Still, I don't believe people spent 2 to 3 hours each day reading basically the same news article from multiple sources like we do today. We did other things like shopping at a record store or talking on a telephone. How quaint.
Like me, you can still wear shoes made during the Cold War. These are made in the USA shoes from an era when shoes were made in the USA. Big, masculine shoes in classic styles. These were the shoes your dad or grandfather wore. Everyday. To work, to church, to your baseball games, and in good or bad weather.
Where to find
I buy many of my shoes on eBay. eBay has the lion's share of shoes, about 4 million men's shoes at any one time. Which is great but I usually don't want 3,999,900 of them. eBay's search tools have been improving recently but it often seems like they are built to the lowest common denominator. Sellers on eBay can misspell brands or miscategorize a shoe (is this a casual or dress shoe? vintage or not vintage?) which can frustrate searches. And you. Check my Watch List to help find the best listings.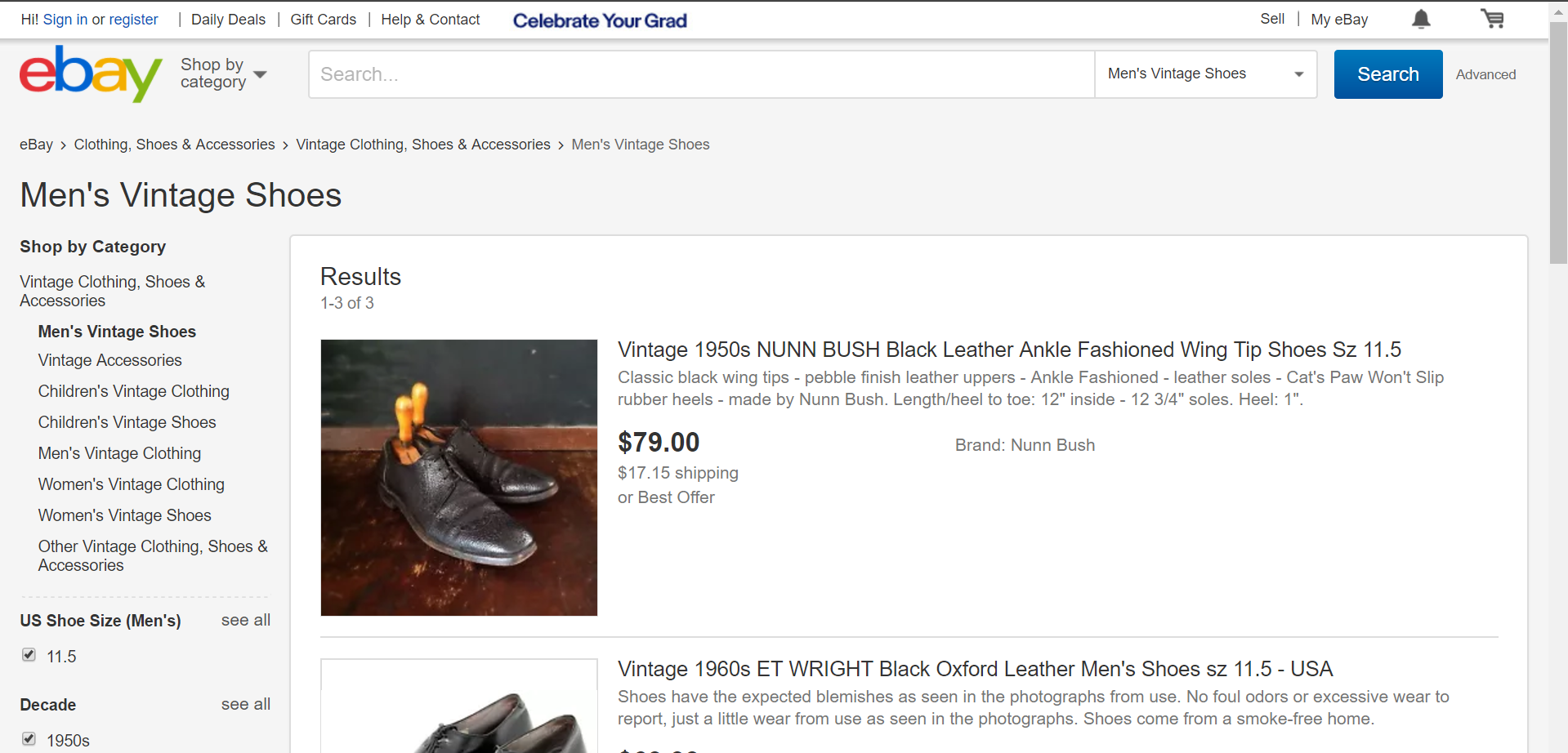 eBay isn't the only online marketplace, I have also bought shoes from:
Locally, I have occasionally found nice shoes at the Goodwill or a few of the various vintage stores in Seattle. But these searches are hit or miss. And mostly misses. I search infrequently on Craigslist Seattle but that has resulted in zero purchases thus far.
There are a couple shoe websites specializing in vintage, quality shoes: Classic Shoes for Men and Super 8 Shoes. Both have a great selection of new and used premium shoes. Its sometimes fun (for me) just browsing the impressive array of shoes on those sites.
Brands
Most shoe manufacturers of the era made shoes for all price points, cheap entry level shoes to premium models. Sort of like GM or Ford had a car model for any income level. While vintage shoes can be higher quality than modern shoes, many are lousy. Just like the cars of the era. Who wants to drive around a 1975 Ford LTD every day?
Like GM had Cadillac, the big manufacturers had premium models such as the Florsheim Imperial, Hanover LB Sheppard, Bostonian Crown Windsor, or Johnston & Murphy Aristocraft. These shoes generally featured higher quality construction and materials.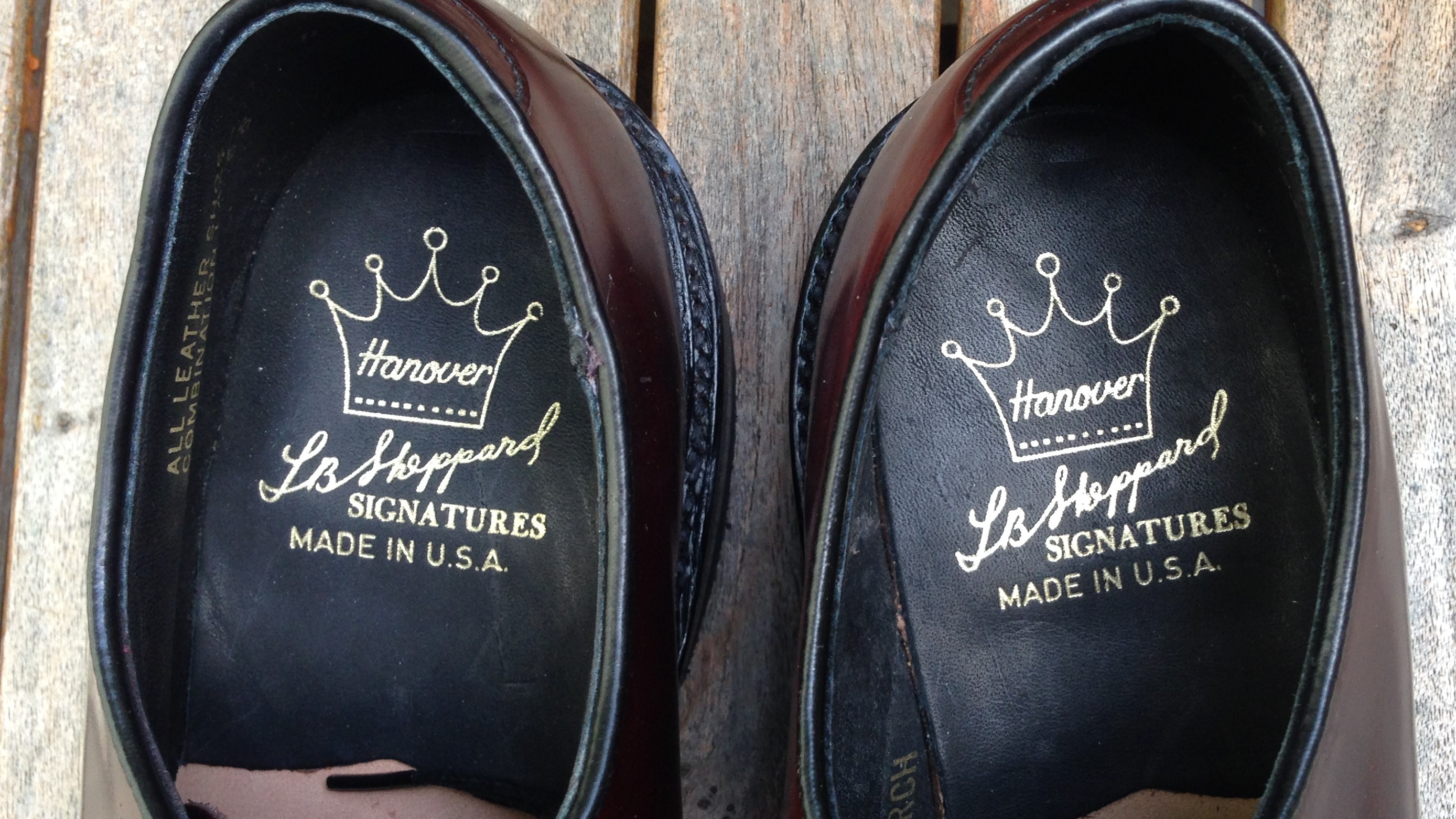 Below are some of my favorite vintage brands of the era that you will commonly find on eBay.
Sometimes you can find a good pair from Freeman, Nunn Bush, French Shriner, and Bostonian. Other brands like Stetson, Banister and Edwin Clapp are great but very rare. Quality Canadian brands include Hartt, John McHale and Dack's. You can find a more comprehensive list of brands on my brands page.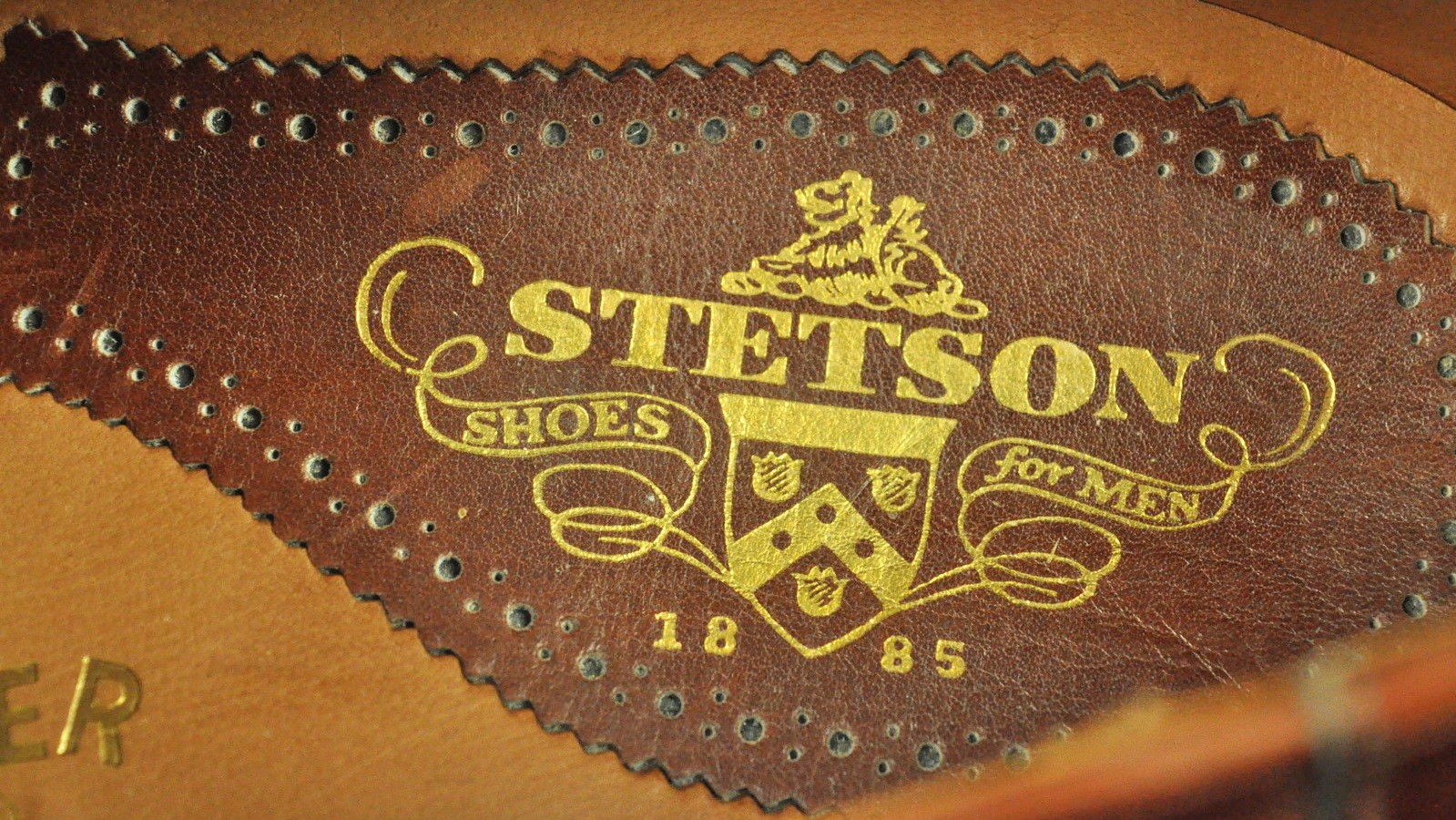 Buying
When looking for vintage shoes, I try to find new old stock (NOS) or new-ish pairs. The shoes often come from estate sales or adult children clearing out Dad's aging closet. Sometimes Dad had a nice pair he bought for a special occasion but never wore again. They have been gathering dust in his closet.
Like much of eBay, prices are all over the board for vintage pairs. They can range from $10 to $1000 USD. Typically, the bargain pairs will go quickly. Wider sizes are more in demand than narrow sizes (AAA, A, B). For a NOS pair, expect to pay twice as much as you would pay for a lightly worn, used pair.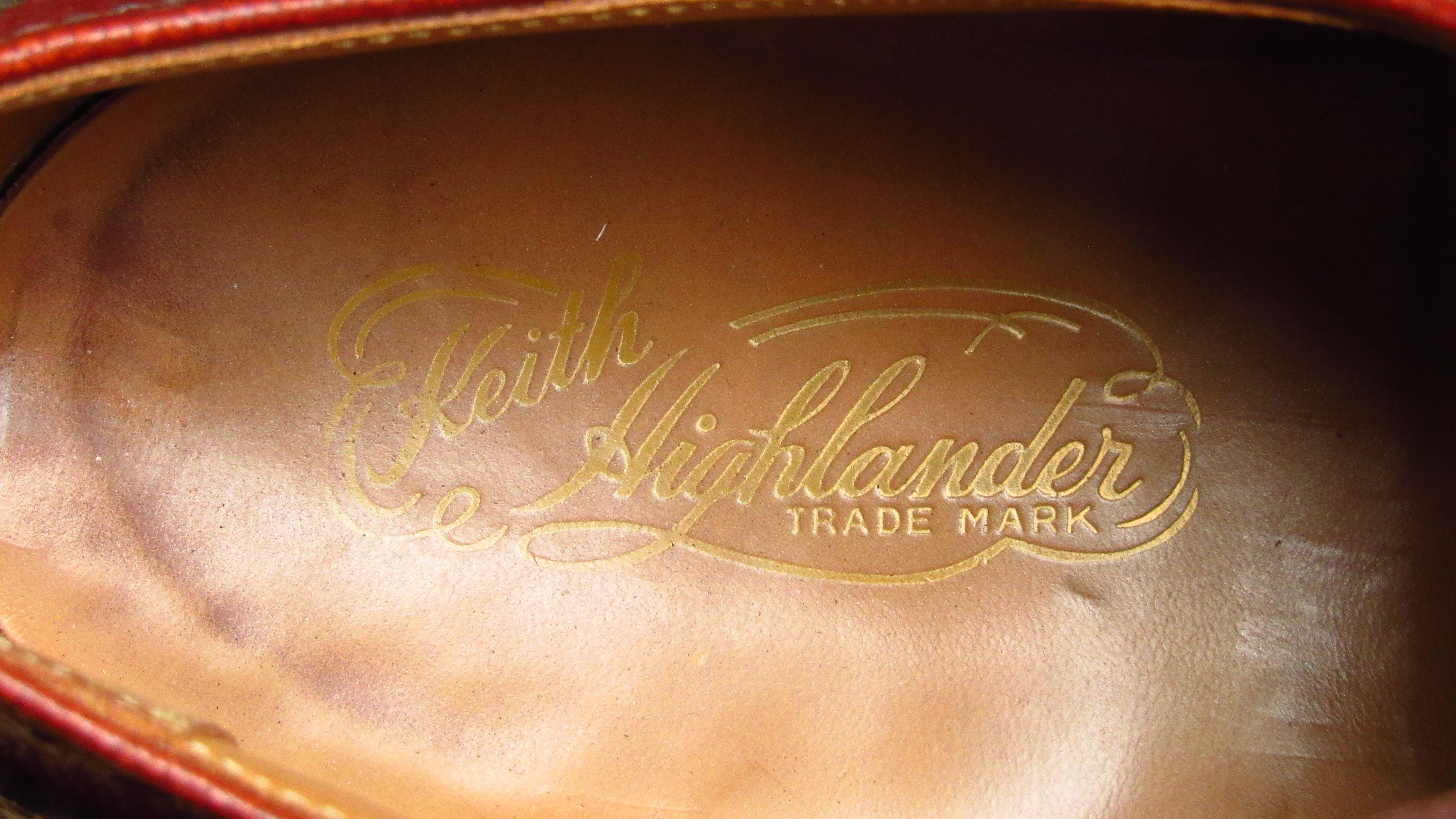 In general, shoes from the 1950s were better than shoes from the 1960s. And 1960s shoes were better than the 1970s. And the 70s better than the 80s. And in the 1990s, most shoes were made overseas. We had smaller feet in the 1940s and 1950s so it is rare to find a 11+ sized pair from that era.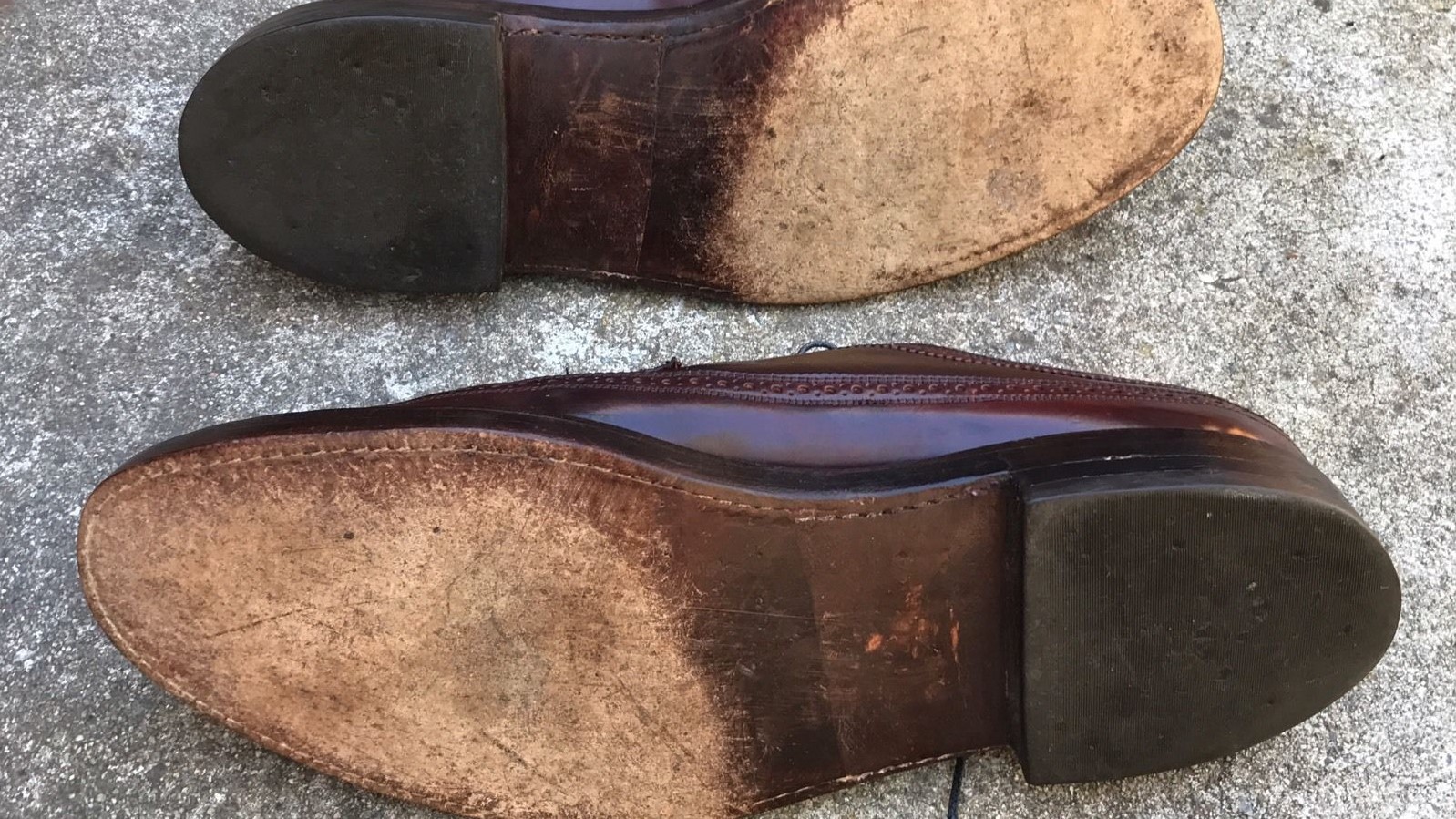 When buying a worn pair, look for shoes with the original sole with light wear. Resoled shoes can be fine but you don't know how many times they have been resoled so I generally avoid them. Shoes having replaced heels can also give a clue to wear. I would never buy a pair with a hole in the sole.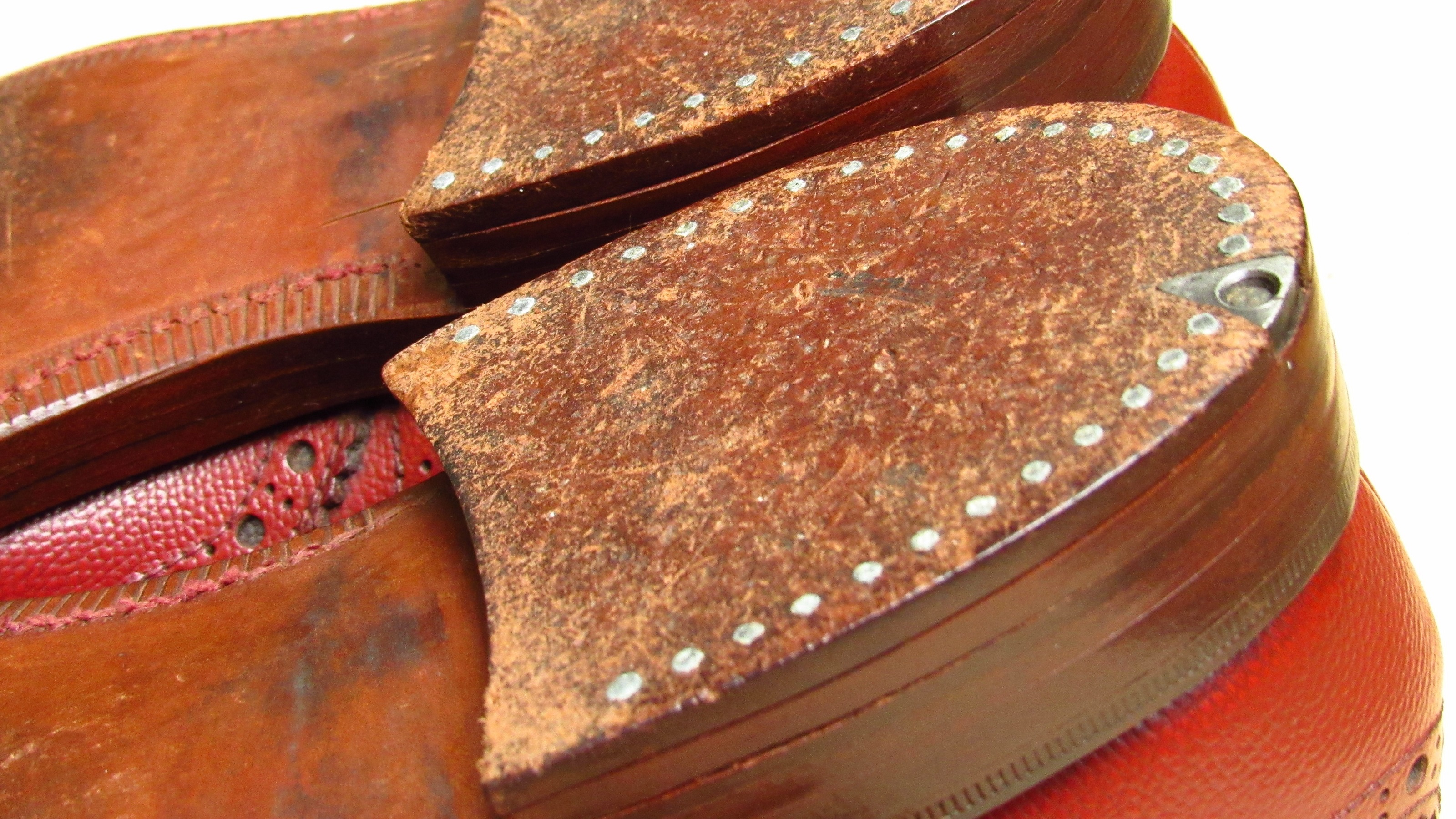 Avoid or don't overpay for shoes with cracks in the upper leather. Upper cracking or tears likely mean the shoe wasn't cared for properly. If the shoes are made from Horween Shell Cordovan, tears in the upper leather are not fixable (see my guide on buying a vintage Shell Cordovan). If the upper leather is calfskin, it is possible to repair a superficial leather crack(s) but its often not worth the time/cost especially if it is a common shoe. Wax or polish will not fix a crack.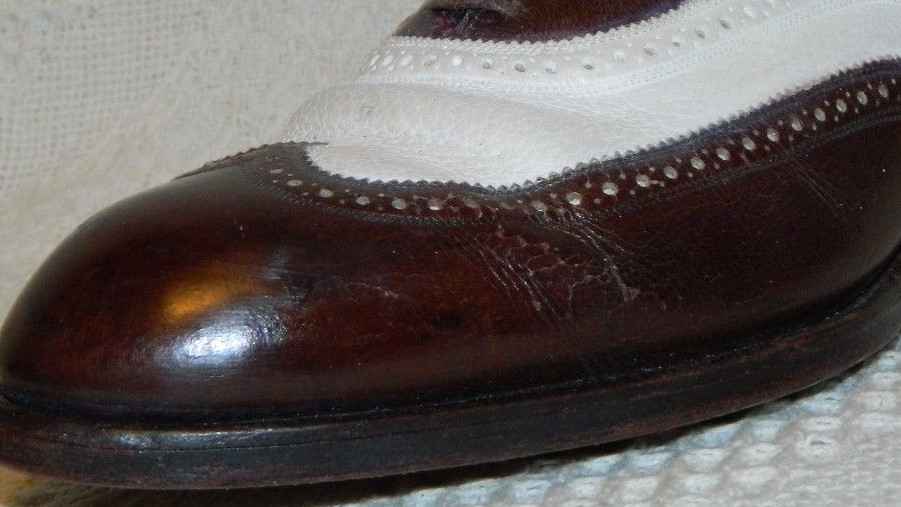 Much of the worn vintage shoes for sale online are in poor condition or poor quality. If the photos or description are poor, hope for the best but be prepared to be disappointed. And be prepared to clean and condition any worn pairs that you buy.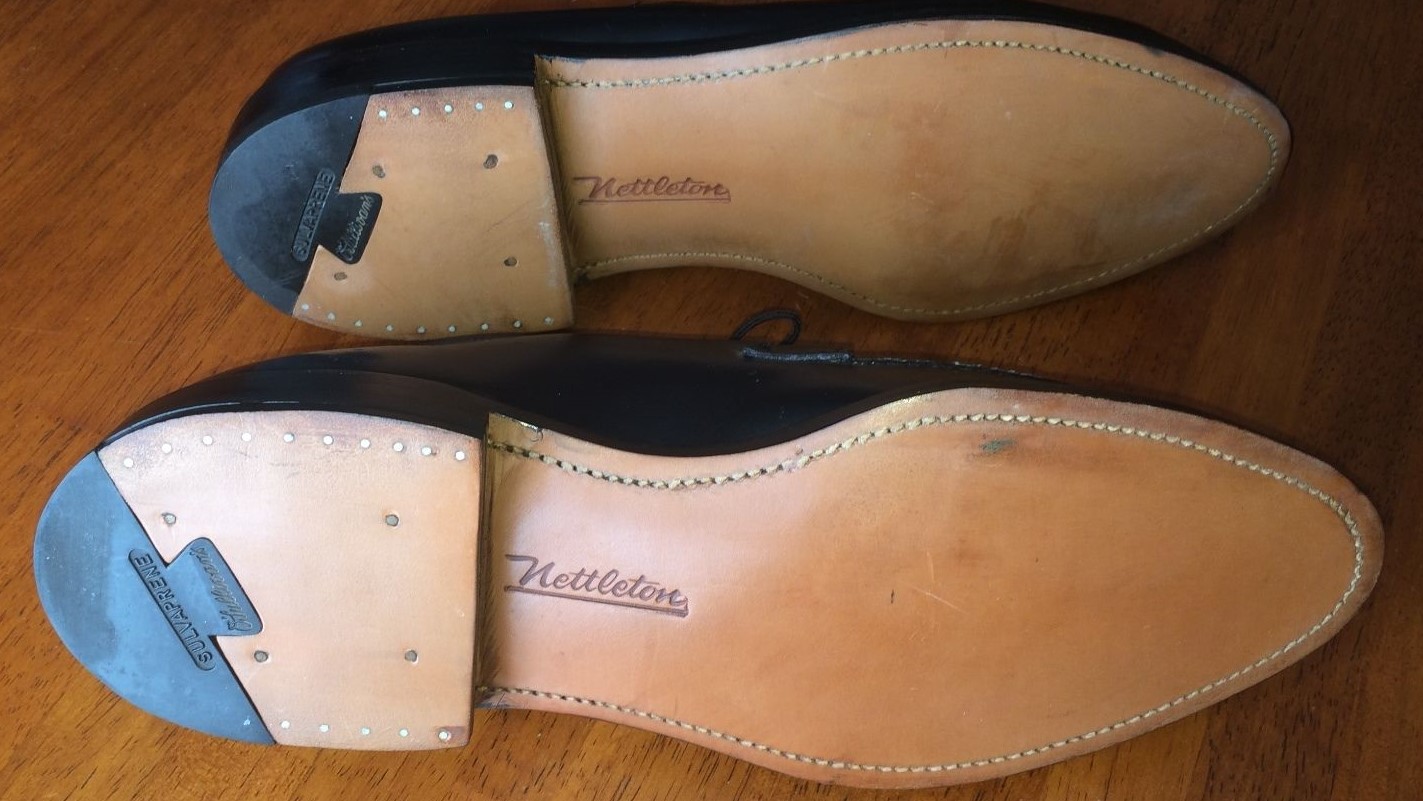 NOS shoes are the best. You usually just need to clean off the dust and give them a few rounds of conditioning before wearing them. The conditioning is important because unworn, dry leather can look good but crack when worn. The leather needs moisture to flex properly. Don't overlook the conditioning step before wearing them. And continue to condition the shoes after wearing them.
Shipping costs are typically between $10 and $20. For cheaper pairs, shipping can be a large percentage of the final price. Usually there is no state sales tax on an eBay item, so that can help somewhat.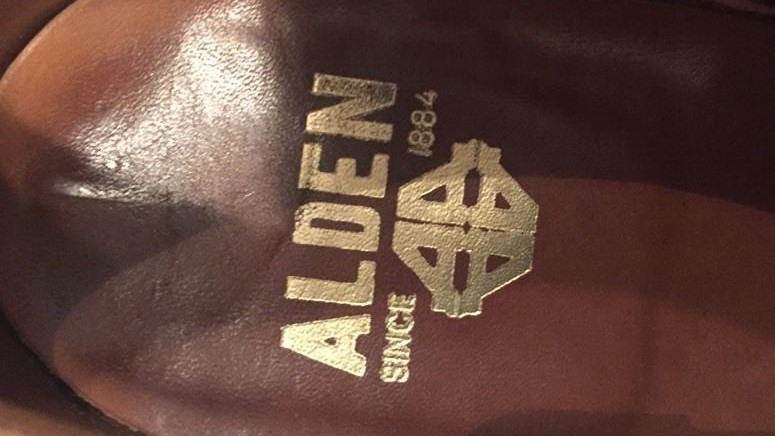 Sizing
Vintage shoe sizing is tough because you usually can't return an eBay purchase due to sizing issues. You need to rely on the seller's measurements (can be suspect), previous experience or advice you find on places like StyleForum. Even then, there are small size variations for the same model and size. This is probably because many of these vintage shoes were hand lasted and not extruded from a machine like most of today's shoes.



There are a few things you can do to remedy a pair that is slightly big (see this shogazing article) but if a shoe is too small or is uncomfortable, I will resell it. Reselling a shoe isn't hard but it takes more effort than sending a pair back to Zappos. Generally, you can resell the shoes for about what you bought it for. If the seller accepts returns, send them back if they don't fit.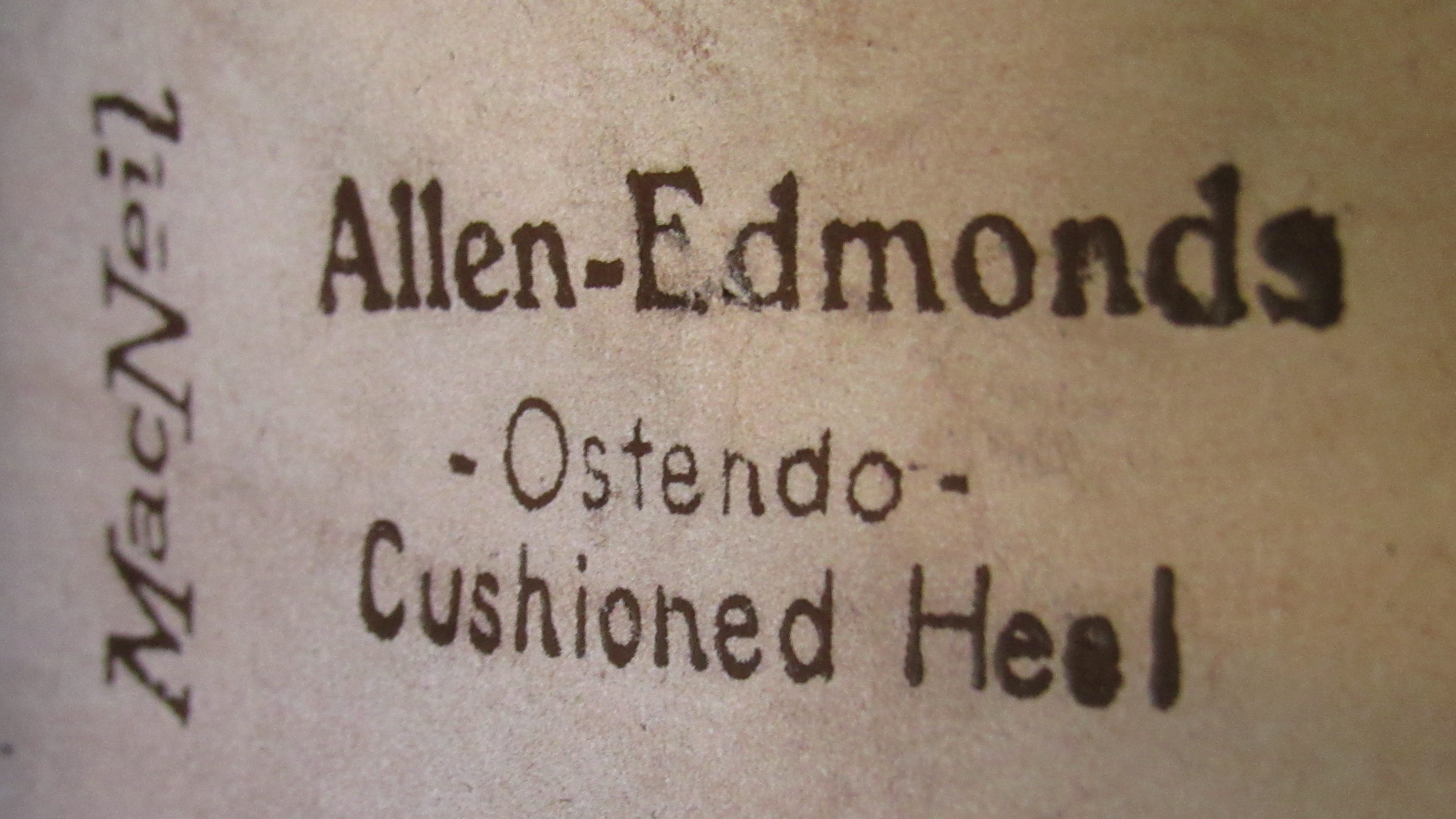 Restoring
After purchase, it generally takes me one to four hours to fix up a worn, vintage pair. This time is spread out over a couple days to a week. Every shoe is a bit different so the time can vary somewhat.
These are the basic supplies I use when restoring a vintage pair: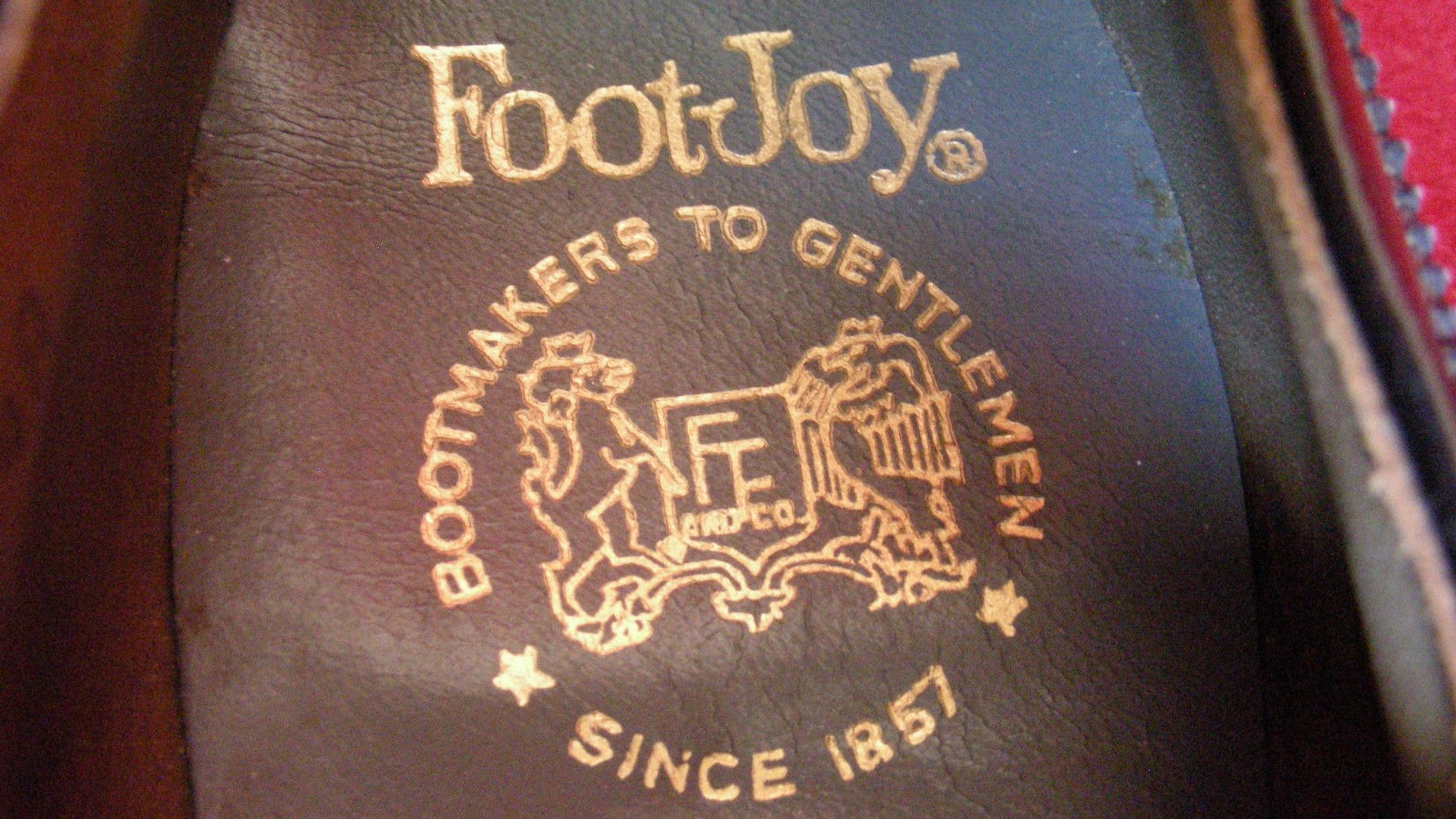 This is my general process for fixing up a pair:
For regular maintainence, the process is less intensive. After wearing a pair for the day, I will put shoes trees in the pair and give them a quick brushing. Shoe trees help to keep the shape of the shoes but in my experience, they mainly help in the first few days after wearing. After the shoes dry, the shoes can be stored with or without shoe trees. You do not need to own a pair of shoes trees for every pair but have at least three or four trees to rotate.
There are a number of products that will both condition and shine the shoes. I have used all of the following products and have had no issues with any of them:
Apply the products every 10 to 20 wears. You don't need to strip the shoes for regular maintainence. I conditon Shell Cordovan shoes more frequently than my calfskin shoes.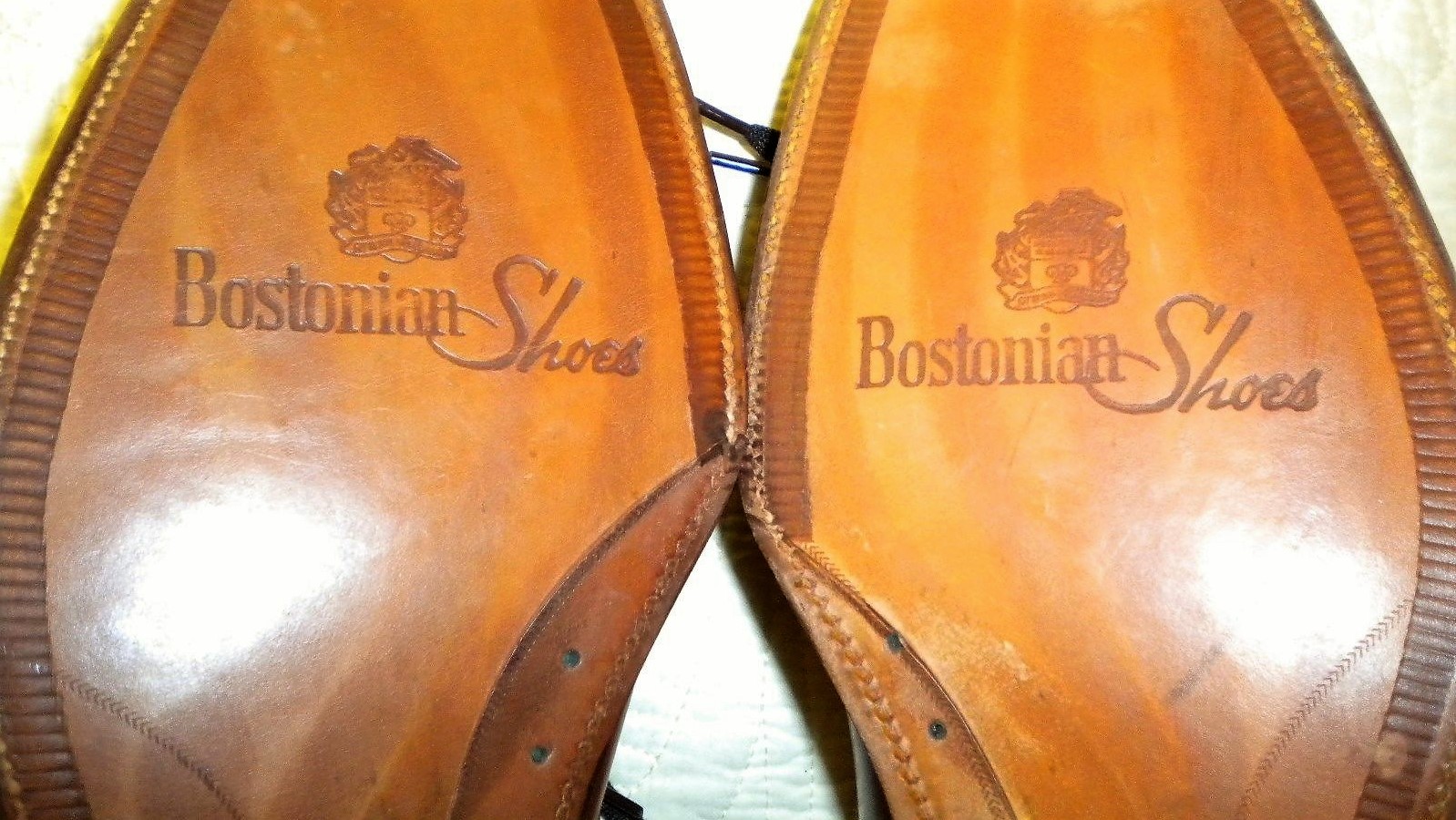 Example
I recently bought a pair of Florsheim Imperial Kenmoor 93602 from Poshmark. The 93602 is a good vintage starter shoe because it is a high quality shoe in a classic long wing style that is readily available online. Florsheim produced the model from 1957 to 1988 and some have said it is the perfect brogue.
The pair had some wear and a bit of curl the but soles were original and the leather looked to be very good condition (see bottom left photo below). These were the photos in the listing.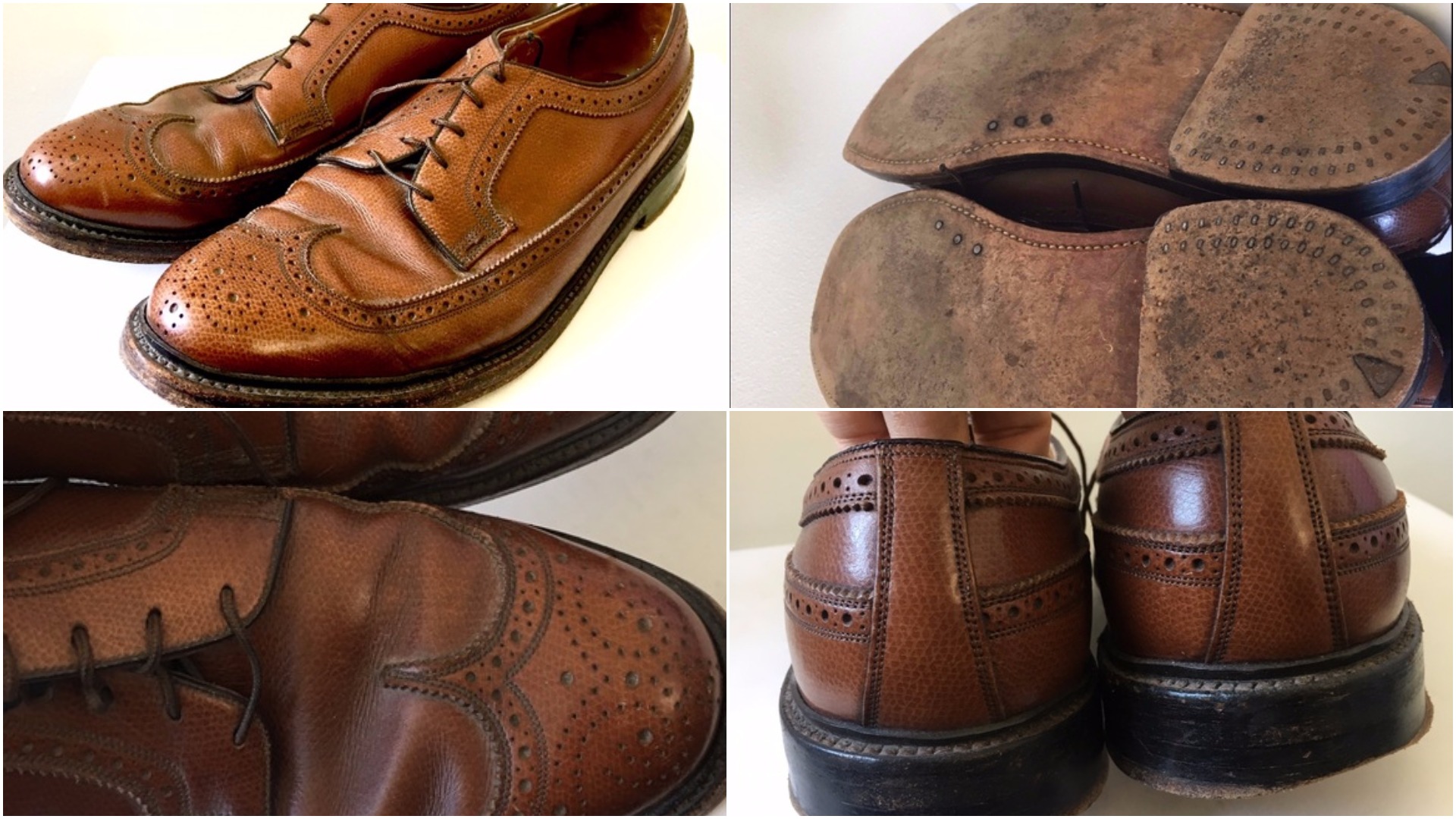 This is what the shoes looked like when I opened the box. They needed some work.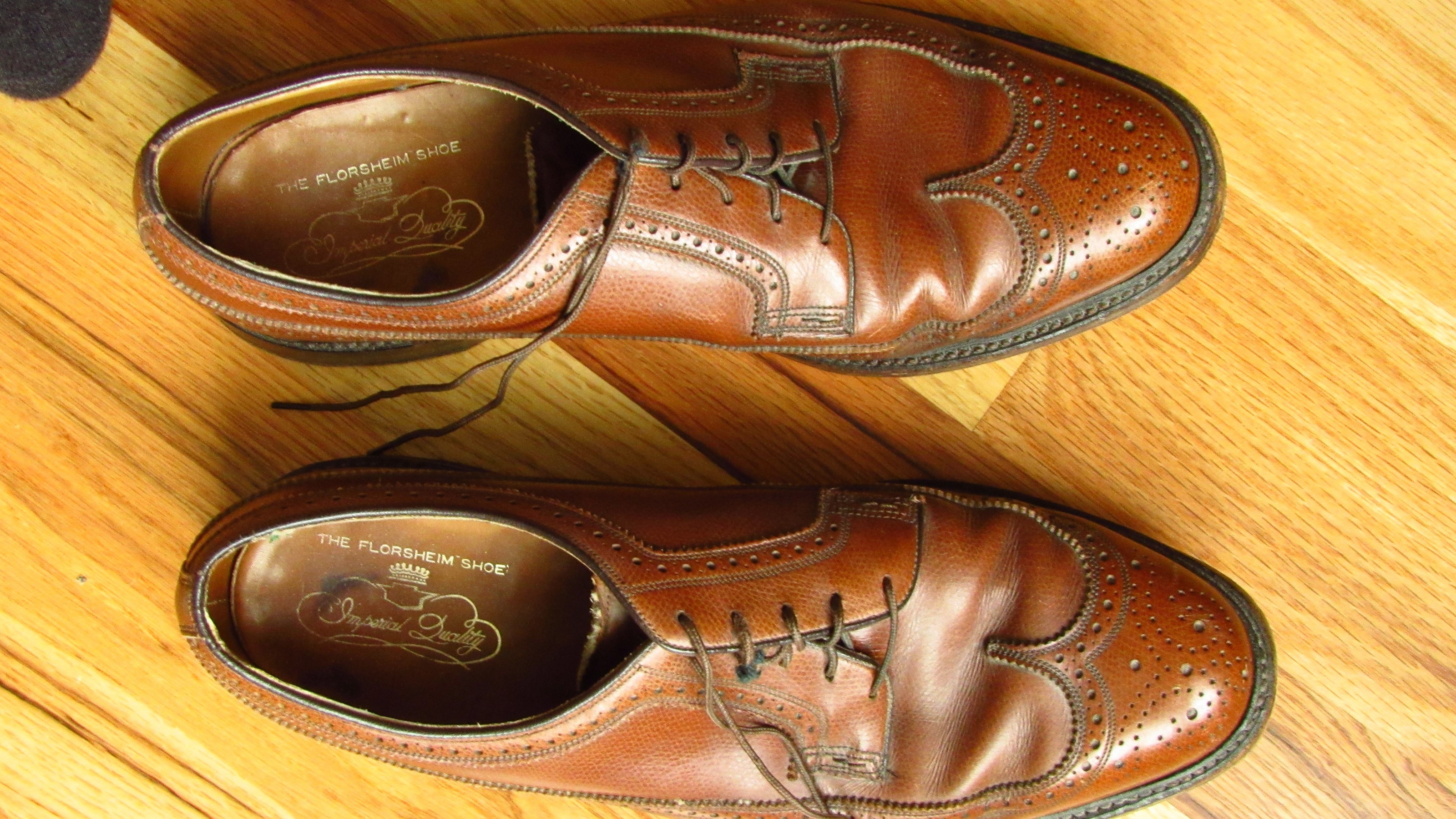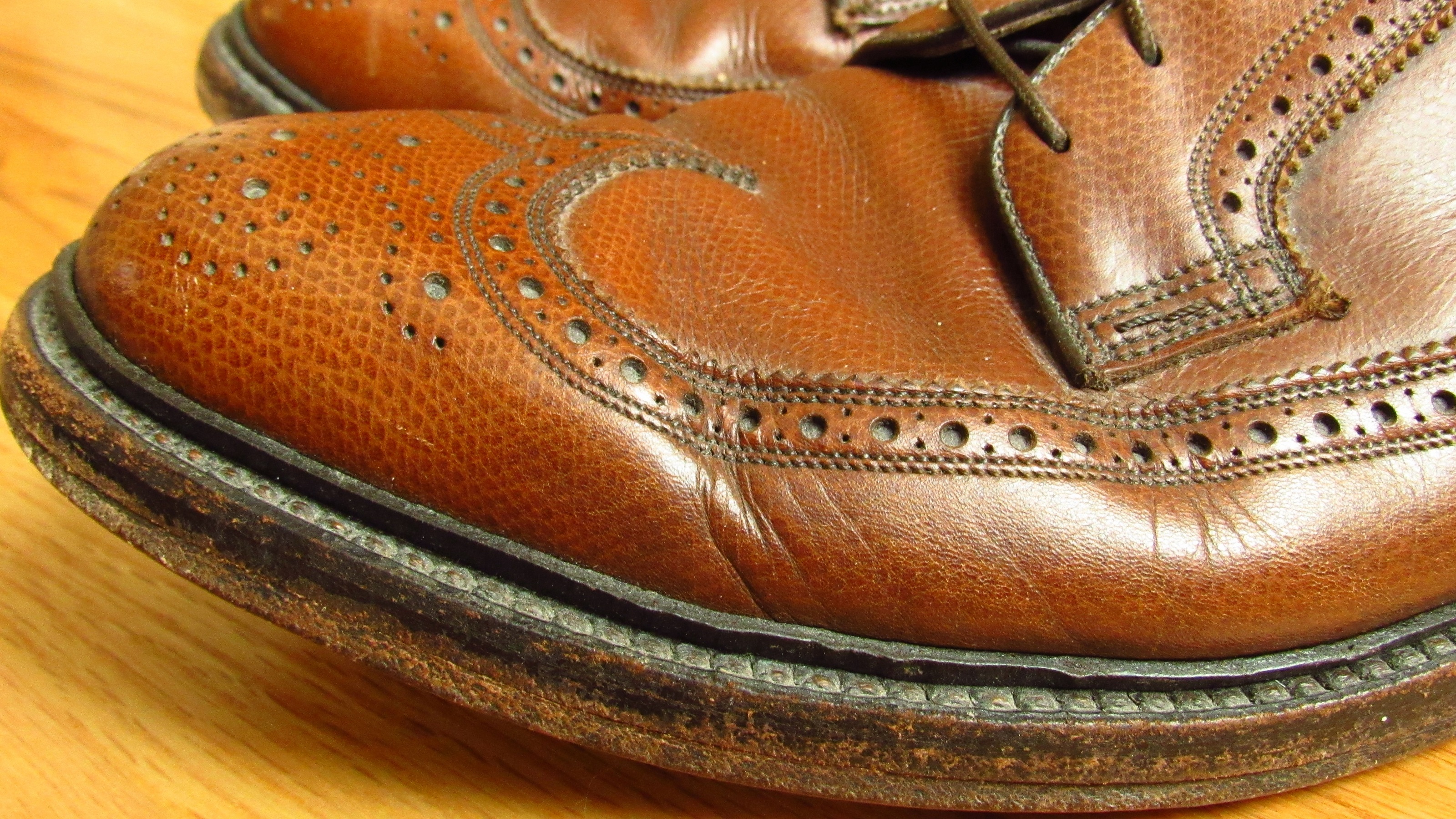 My first steps were to wipe and clean the shoes. Below is the pair the next day after simply cleaning them. Much better.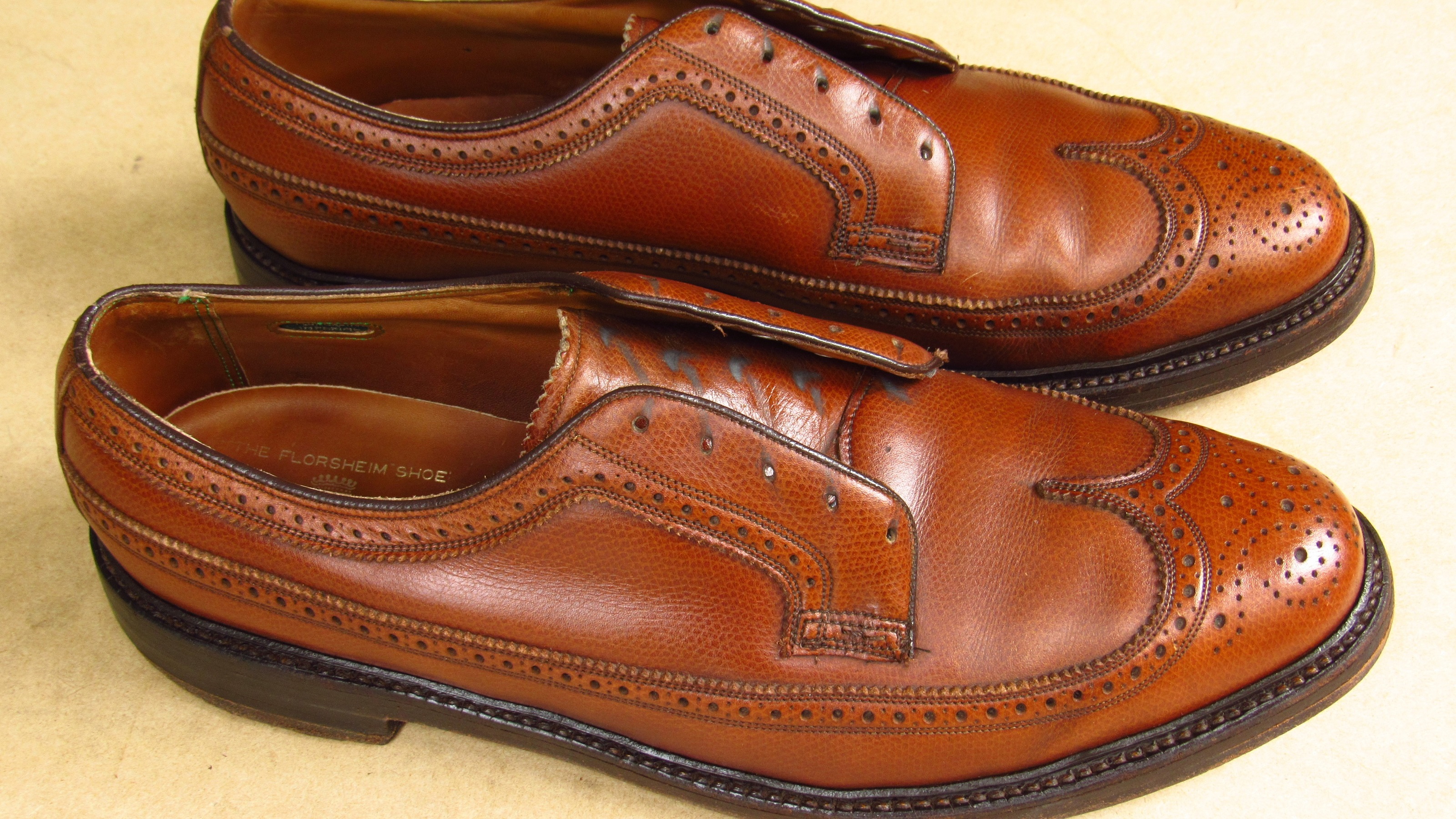 The shoes were a bit curled so I decided to soak them in water for a few hours and let them dry. This process can reshape the leather and lessen some of the creasing. After the soaking, I conditioned them and they were starting to look very good but needed more work.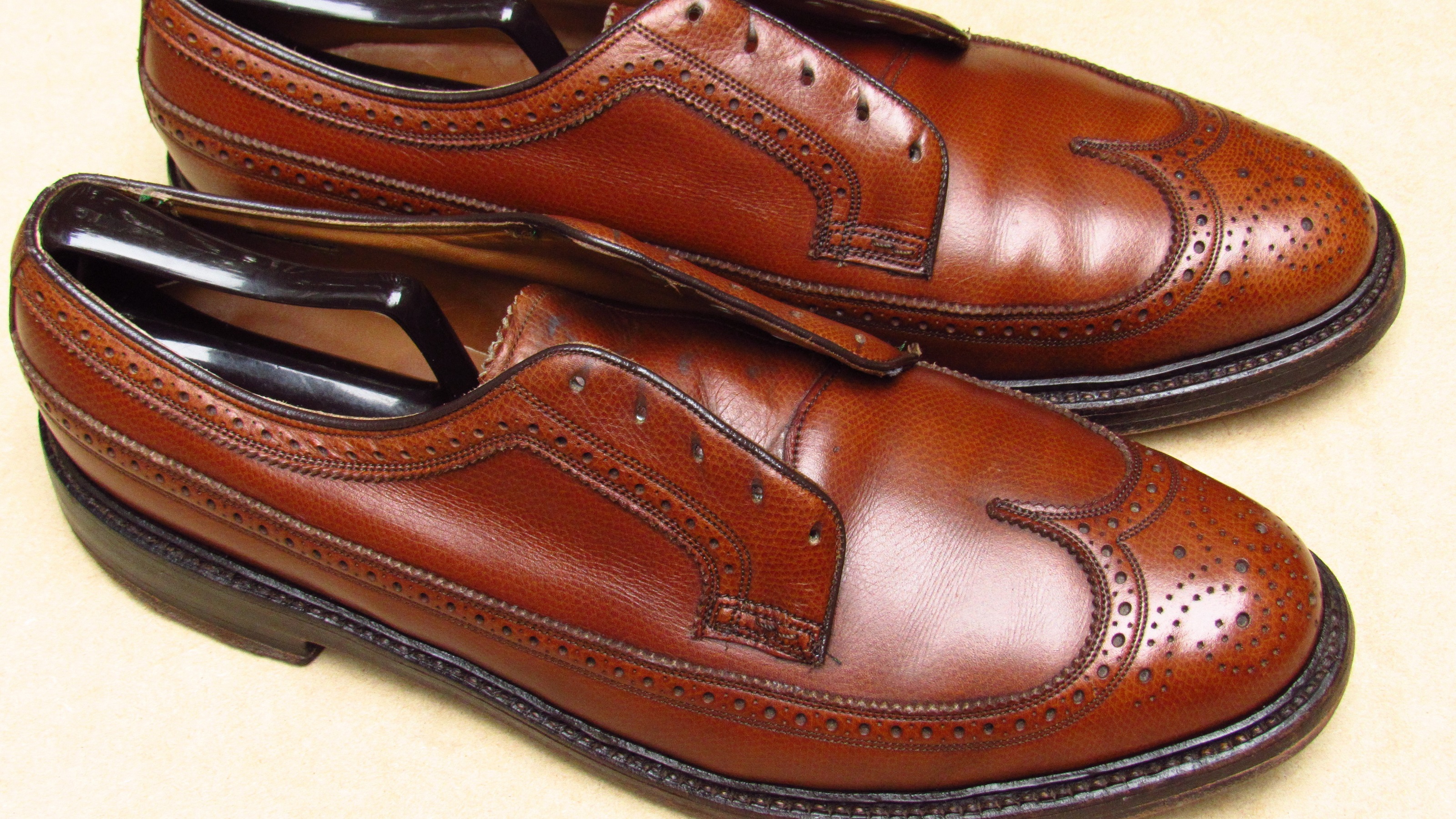 The welt stitching on the shoes was dirty. The Florsheim 93602 often has contrasting welt stitching but it is sometimes hidden under dirt and grim or covered with sole edging.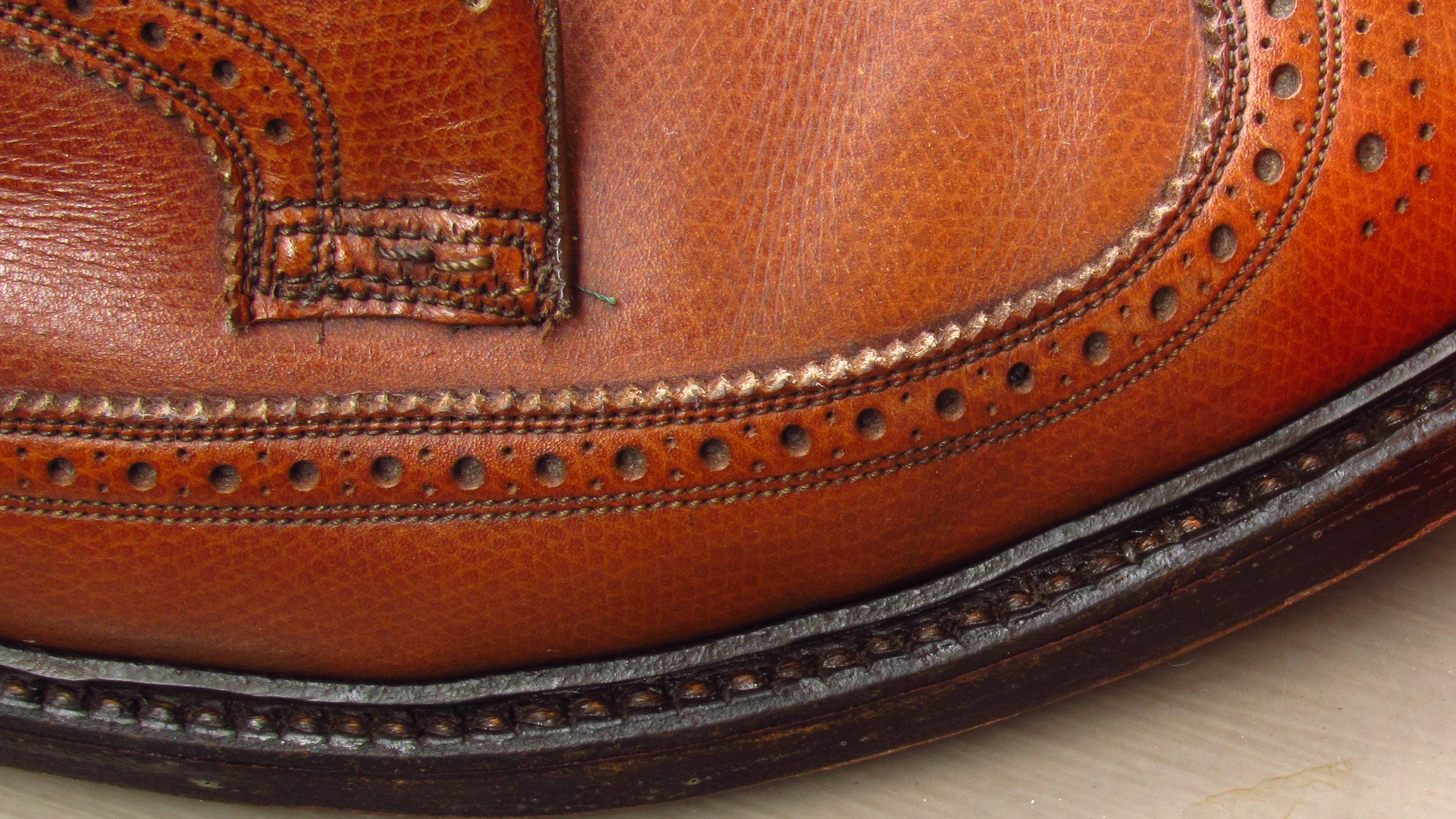 To clean the stitching, I use a bit of Lexol cleaner mixed with water and applied with a soft tooth brush. Once the welt stitching is damp, I wipe it with a soft terry cloth towel. You might need to do a few rounds of this. Don't scrub the stitching too hard. This is the welt stitching once cleaned.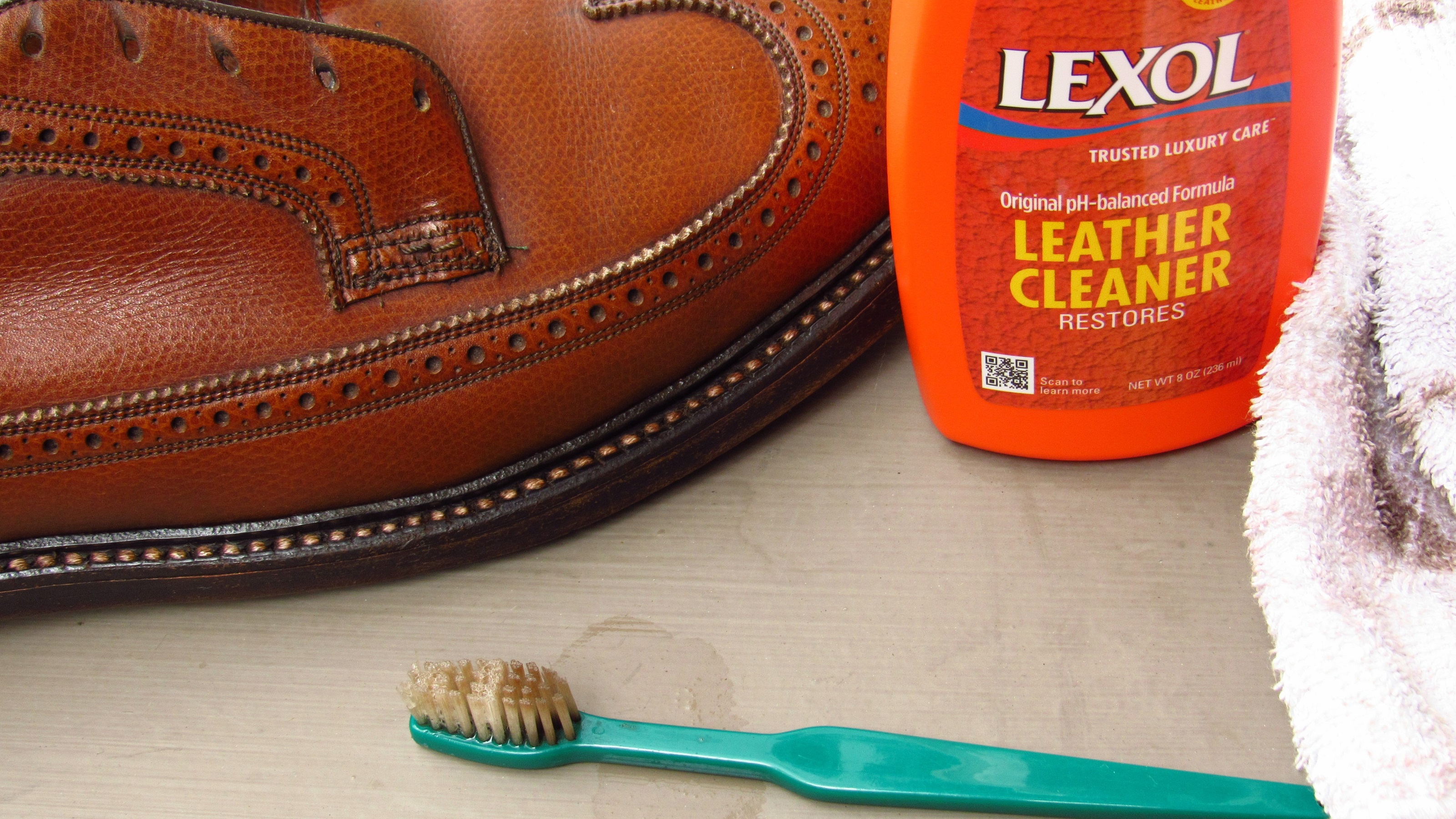 The shoes were now cleaned and conditioned but not polished. And without sole edging. I was happy with the results thus far.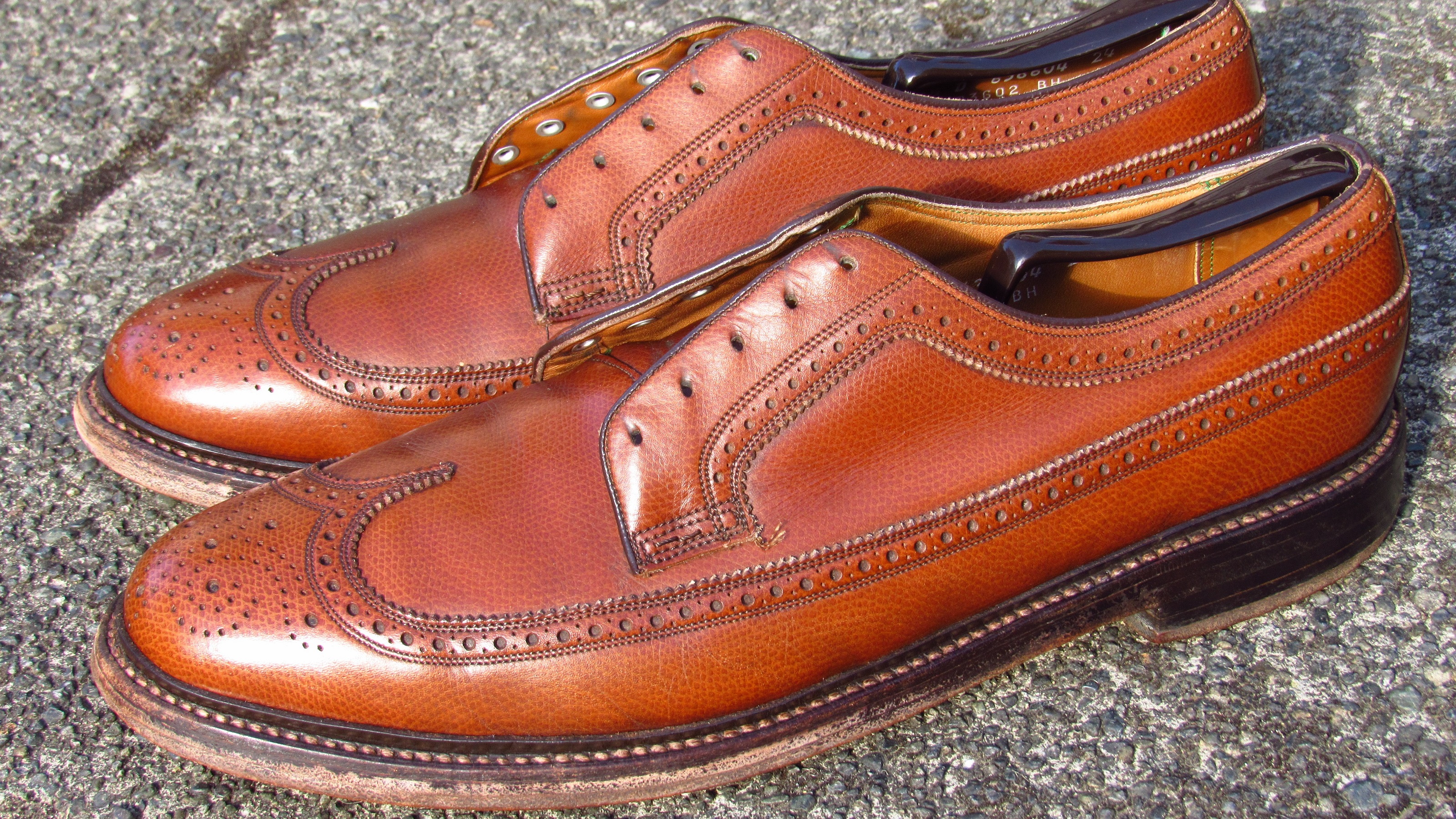 I like vintage shoes when they look vintage. If they have no variations in color, then they look almost modern (the horror!). To give the shoes a vintage look, I applied some dark brown cream to the broguing areas. After application and while the cream is still wet, I wipe off the excess cream. The remaining cream persists in the broguing areas and gives the shoes a subtle vintage look. Don't worry about overapplying the cream, it's not going to ruin the shoes.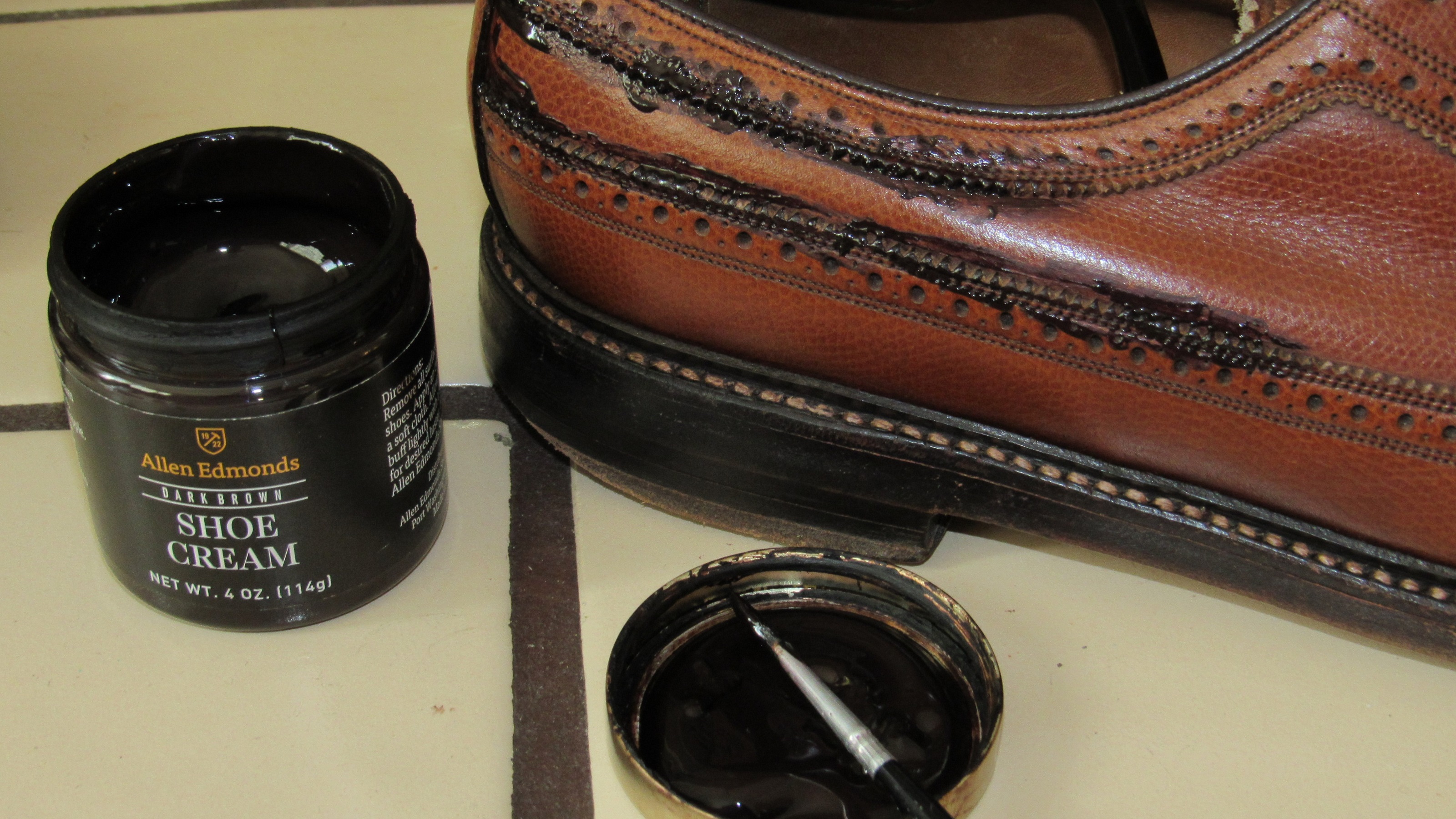 Below are the finished shoes after they had been brushed and buffed. Note the dark brown highlights in the broguing. The last shot is the shoes in full sun (which happens once or twice per year in Seattle). I have worn the pair twice and they fit great. They are keepers (like I needed more shoes).
If you have questions or other tips, leave them in the comments below. Good luck!