Last month I was in the amazing city of Tokyo. It was my first trip to Japan and there was a lot I wanted to do – namely sightsee, eat and shop. One of the shops that was a must visit for me was Super 8 Shoes. The store has been a trail blazer in the retailing of vintage shoes. I have followed the store on the web and Instagram over the years, so it was a treat to finally visit in person.
Originally opened in 2009 as an online web shop, Super 8 Shoes focuses on the sale of new (referred to as deadstock) and used vintage shoes. The majority of pairs for sale are sourced from the US and include brands such as Florsheim, Hanover and Nettleton. The store also sells classic brands from Canada such as Dack's and several UK makers like Church's as well.
With the help of a StyleForum friend (thanks Kevin!) who lives in Tokyo, I was able to arrange a visit to the shop and a chance to meet its hip proprietor, Takashi Horiguchi, who goes by Gucci (of course). My Japanese language knowledge is rudimentary at best but luckily Gucci's English is fairly strong so the three of us were able to converse quite a bit about shoes, brands, the store and the Japanese market. Kevin is fluent in both English and Japanese and was able to bridge any language gaps.
Super 8 Shoes is a small store (like many of the shops in Tokyo), but brimming with shoes. Since the space is compact, the store displays pairs from the floor to ceiling. The shoes are laid out and arranged by style and size. All the shoes had been cleaned and conditioned and were in excellent condition for the most part.
The store primarily stocks men's shoes in the US sizes of 6 to 9 which are the popular sizes in Japan. Gucci has offsite storage as well in case someone is looking for a particular size or style. There wasn't any inventory in my size 11.5 but that's okay, I have enough shoes (I do. Yes. Tomorrow I am going to quit. I swear).
The store drips with nostalgia. Signs and marketing mementos of past shoe companies can be found throughout the store. Many of the items were collected on the various shopping trips Gucci took within the United States. The overall effect gives the store authenticity that is largely absent in modern corporate retail.
Gucci buys most of his shoes in the vintage shoe hub of the United States – the Midwest (did you know that? I did not but I have noticed that my blog gets heavy traffic from Chicago (you know who you are)). Gucci makes two trips per year on shoe buying trips. He used to make four trips, but quality vintage shoes have become scarcer and prices have risen. More on that in a bit.
One of the problems of vintage shoes is that many vintage pairs need some work. So, four years ago, the shop began to do repairs as well. The shop can now resole shoes, put on new heels, repair or replace the welt and even customize the upper.
With vintage pairs, occasionally you will find that the upper leather has become dry and cracked especially in the flex areas like the shoe vamp. Much of the cracking is superficial but it can't be fixed with conditioning or shoes creams. On some of these distressed pairs, Gucci and his team have sanded down the cracked areas to a suede like finish. The leather can be recolored. This process fixes the surface cracking as well as providing a custom look to the pair.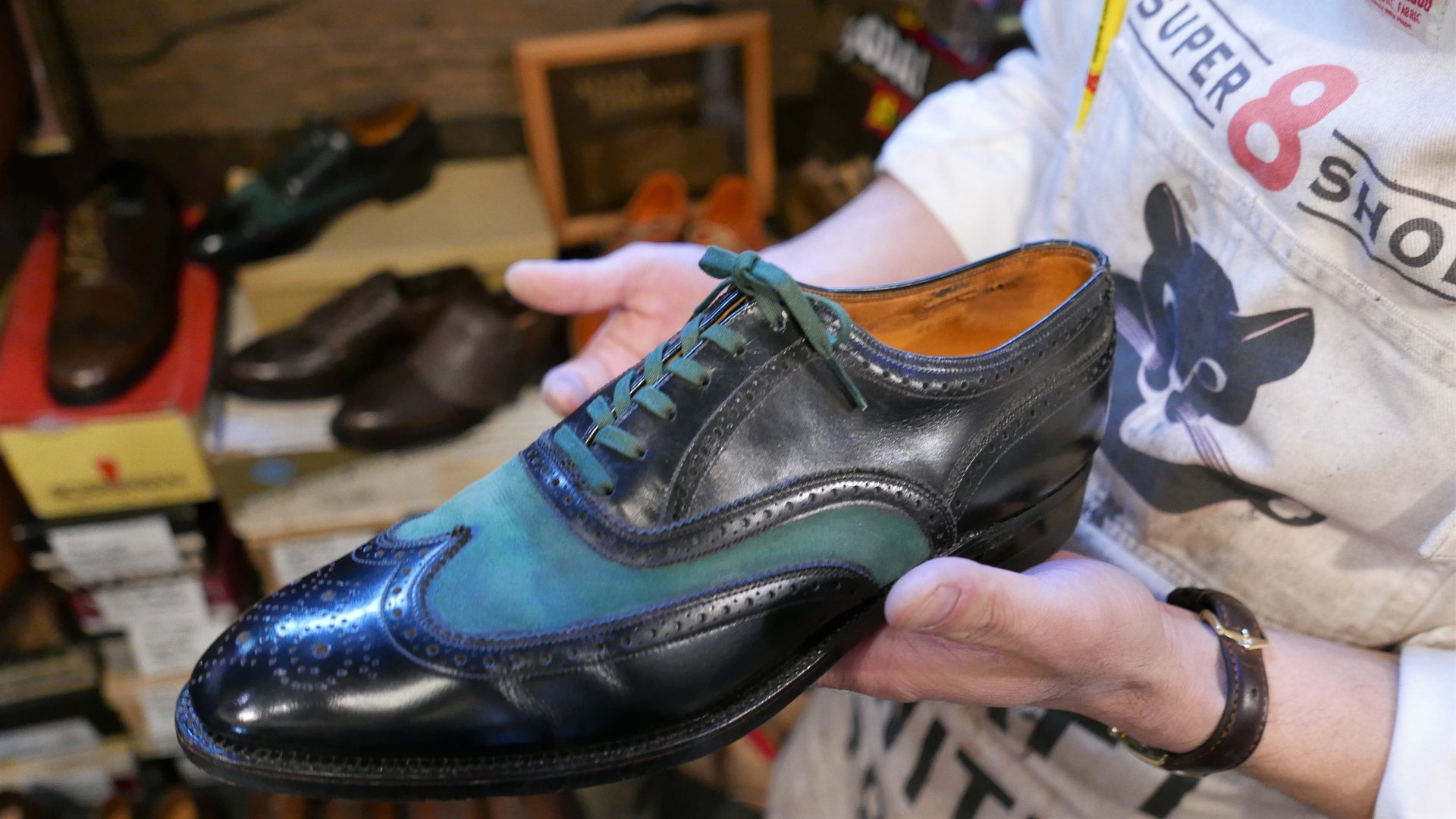 Tokyo has a thriving vintage clothing scene to say the least (but I will say more). Vintage is popular in Japan and Tokyo likely has more vintage shops than any other city in the world (I made up this fact, but it seems true based on my travels). The Japanese are adept in taking modern and vintage clothes and combining them to create uniquely Japanese styles.
Most of the vintage stores I visited were in the Koenji area. Koenji has a Bohemian feel to it and the shops have an eclectic mix of vintage clothing and doodads efficiently packed into their small spaces. There are vintage stores on nearly every block and each shop has a somewhat unique feel which made for a fun afternoon of exploration. Like the rest of Tokyo, Koenji is dense with shops, housing, and restaurants but it's not as frenetic as the rest of the city.
While Koenji is a short train ride outside Tokyo's core, Super 8 Shoes is in the city center and located midway between the popular and crowded Shibuya (home of Hachiko) and Shinjuku wards (where Bill Murray filmed Lost in Translation. Make it Suntory Time).
When Gucci opened the store, he saw a niche to cater to and expand the growing Japanese interest in vintage shoes. Several popular shoe blogs like Europeanblend (NOS w Box) and Hungry Heart popped up in this period and they helped document the brands and models as well as covering various shoe care and restoration techniques. An influential Japanese magazine article focusing on vintage kicks increased the popularity of the shoes even more.
Gucci said this early period of interest and discovery peaked around 2015 and then tapered off. Why? He pointed to my publishing of the 1969 Florsheim catalog online as one of the reasons. Having all this information easily available took some of the fun out of the research of the various vintage models (sorry about that).
But while the intense interest of the early adopters has declined, the popularity of vintage shoes from classic brands such as Allen Edmonds has increased steadily over the years. This has led to more demand and competition for quality vintage pairs and prices have progressively risen over the past few years. Sourcing shoes is now more costly and that negatively affects the bottom line of Super 8 Shoes.
Given his position as status as an elder statesman of vintage shoes, I asked Gucci if there were changes in buyer's habits over the years. He said that when he started out, people were generally interested in vintage shoes for their style or looks. Nowadays, buyers are more focused on quality. Growing interest in welted shoes has led many buyers to explore vintage shoes and brands.
If you get to Tokyo (I hope you do), you should stop by the shop. If you can't make it in person, you can always shop Gucci's impressive collection of shoes online.