The information in this post covers the 1950s to the 1990s. During these years, Florsheim dominated the dress shoe market in the United States. The company produced some great (and not so great), shoes during that period. These vintage Florsheim shoes are sought after by men's dress shoe enthusiasts and are commonly bought and sold on eBay.
I have never worked for Florsheim. I have sold quite a number of Florsheim shoes but all second hand. The info I am providing in this post has largely been gathered from first hand experience and researching the internet. So some of this info may be wrong. But if you buy or sell vintage Florsheim shoes, you should find this information useful. I hope!

Looking for info on Shell Cordovan models? Visit this post which has a complete list of Florsheim's vintage Shell Cordovan models. And read my guide to buying a Florsheim Imperial 93605.

Also view my mostly complete list of calfskin long wing models.
Shoe Manufacturing Codes
So let's start by looking at all the numbers and letters you typically find in a vintage Florsheim. These will be on the inner right side of the shoe.

10 1/2 D – Size information. US sizing
654543 – An order/sequence number but I don't believe the value is unique. The same number should appear in the left and right shoe
15 – Factory/manufacturer code (pretty sure)
93631 – This is the model number (Golden Harvest)
GH – Month/Year code (more on this below)
Date of Manufacture
Florsheim used two letters on the shoes to represent the year and month (see discussion). The first character is the month (A=January, B=February, and so on). The second character is the last digit of the year (A=0, B=1, etc).
So in the example above, GH would be July of the year 7. Is that 1997 or 1987 or 1977 or 1967 or 1957? I am guessing it is 1977. This was a model produced in the 1960s and 1970s and this particular shoe has a post-1973 v-cleat (more on that later).
Unfortunately for us, Florsheim decided to use a single character to represent the year. So its difficult to date Florsheim shoes to the year without knowing the years the model was produced. And that information is hard to come by. I emailed Florsheim to see if they had any vintage model information to share and they said they couldn't assist me with pre-2002 shoes. Thanks! Florsheim should embrace their history, like Allen Edmonds, especially since they put "Established 1892" in their logo.
I made this date calculator to help you decode the possible dates:
Enter Florsheim Date Code (Upper Case):


A few dating clues that can help you (see examples at the bottom of the page):
The Imperial Kenmoor 92604 and 93602 (the two most common Florsheim Imperial models on eBay) were produced from 1958 to 1988
Most of the Royal Imperial models you see on eBay (97623, 97624, 97625, 97626), were made in the 1990s
If the numbering looks old and is black, it is likely from the 1950s or 1960s
In Imperial models after 1973, the v-cleat position is inset within the heel toplift. Before that, the v-cleat was flush with the outside of the heel (see examples at the bottom of the page)
In 1993 and after, some models are labelled "Made in USA". This was probably done to distinguish them from "Made in India" models
Theater like Florsheim corporate logo appeared in shoes ~1992
Rectangle Florsheim corporate logo appeared in 1997
Models labelled with "Assembled in USA" started in 1997
"Custom Grade" models were made in Spain in the 1980s
Model Number Details
From 1957 to 2002, the model number was a 5 digit code. The first reference I saw for this 5 digit number system was in a February 1957 ad, but it may have started in late 1956. Prior to those years, the models usually started with "S-" and were followed by 4 digits. So if you find a shoe with that pattern of model number, you know it is 60+ years old. Nice find.
For non-Imperial line models, the first digit of the model number signifies the color if the digit is 2, 3, 4 or 8. For Imperials, the second digit is the color code. I see no pattern for models starting with 5, 6, or 7. Here is what I have gathered:
2

nnnn
Black, Gray

3

nnnn
Brown, Wine, Tan, Gold, Burgundy

4

nnnn
White

8

nnnn
Blue

92

nnn
Imperial Black

93

nnn
Imperial Brown (not black)

96

nnn
Royal Imperial Black

97

nnn
Royal Imperial Brown (not black)
What about 1? I haven't seen any models starting with 1. Modern Florsheim shoe model numbers (2002+), usually start with a 1 though. Maybe that's why they chose it.
The third digit is a style code. Again, this what I have seen in the wild:
nn

0

nn
Loafer, Monk
nn

1

nn
Loafer, Boot, Monk
nn

2

nn
Loafer, Boot
nn

3

nn
Balmoral
nn

4

nn
Loafer, Boot
nn

5

nn
Loafer, Boot
nn

6

nn
Blucher
nn

7

nn
Blucher
nn

8

nn
Blucher
nn

9

nn
No pattern
With this information for example, you can categorize the handsome 20305 as a Black Balmoral: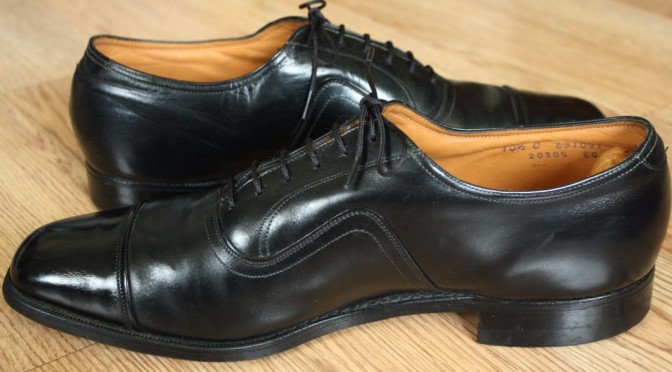 What about the shoe last? Allen Edmonds encodes the last into the model number, did Florsheim? I don't believe so. I have found no mention of lasts in any Florsheim ads/materials.
This numbering schema was fairly consistent until the early 1990s. There was probably some guy on the product teaming making sure the model numbers conformed to this system. In the 90s, older model numbers started getting reused, Royal Imperials became Imperials. Model number anarchy! Why? I assume it was because that "guy" was probably laid off.
Country of Origin
Where was this shoe made? There is no "Made in…" label on the inside. If the shoe doesn't have a country of origin, the shoe was most likely made in the USA. Made in India shoes will say "Made in India". Florsheim also made shoes in Canada, Italy, Brazil, China, Australia, and Spain. So if you are listing a Florsheim shoe on eBay to sell, enter "United States" as the country of manufacture when listing a shoe without a "Made in …" label. Canadian Florsheim shoes have a maple leaf on the insole.
Names and Custom Model Numbers
Very occasionally you might see names and non-standard model number numbers in Florsheim shoes. These are made to order (MTO) models and are unique in some ways. I once purchased a split toe Imperial model with the model code of "3F-2397X" and the seller told me it was a special order from the Chicago Florsheim store.
If you know more details about vintage Florsheim shoes, email me or leave a comment below. Thanks!
Examples
Shoes from the 50s and 60s had this style of print. This example is from a Florsheim Varsity 20686 produced in October 1965 (JF)

If the v-cleat is flush with outside of heel it was produced before 1973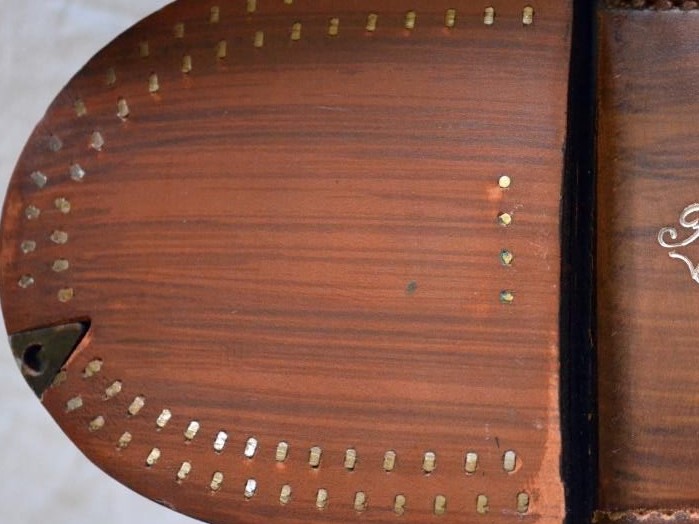 Inset v-cleats indicate the shoe was made in 1973 or after. Florsheim Imperial 93602 from March 1980 (CA):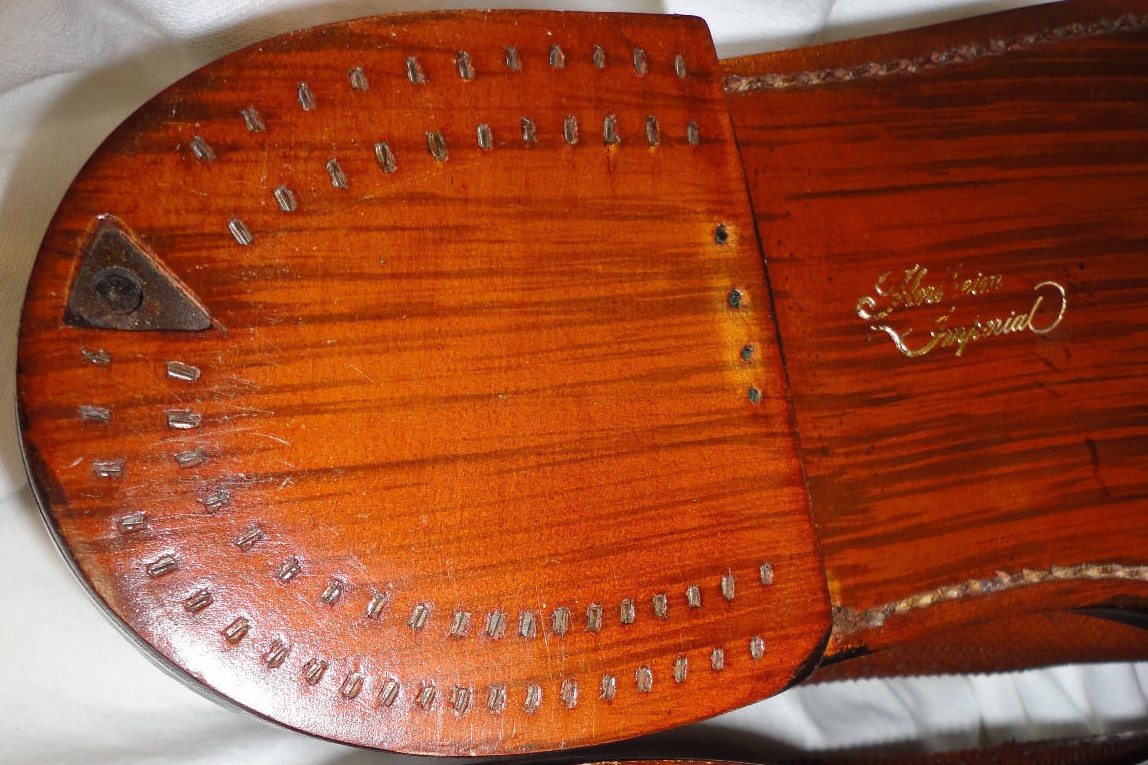 If your shoes have this theater like logo, they were produced after 1992. Florsheim Imperial 97625 from May 1996 (EG):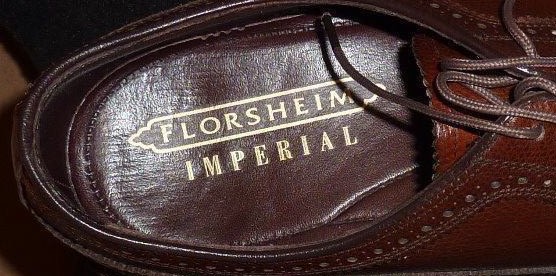 "Made in USA" started in 1993. This Florsheim Imperial is from January 1997 (AH):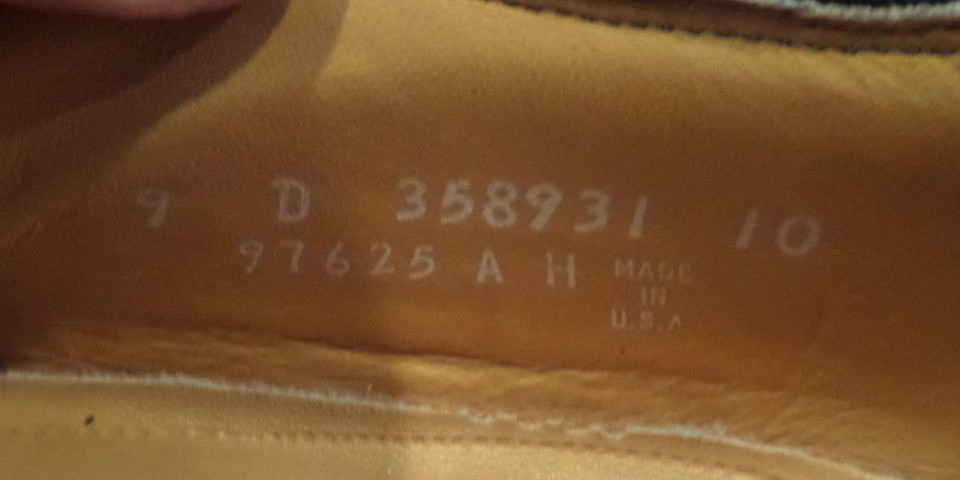 "Assembled in USA" started in 1997. Florsheim Imperial 97625 from December 1998 (LI):


This logo and heel construction was introduced in 1997. Florsheim Imperial 97626 from August 1997 (HH):