Sometimes writing about vintage shoes reminds me of grade school show and tell – "These are my shoes. And I like them". But its my blog, a blog about shoes, so why not write another shoe story? Maybe I will write about Trump in my next article. Or not. You'll just have to wait. I know waiting is hard though. But you'll make it.
But enough of waiting. In this post I am covering a pair of vintage Florsheim Imperial 93606 shell cordovan plain toe bluchers with an unusual and cool patina. You can't buy a shoe like this new. But you can buy these shoes when I sell them on eBay. But you'll have to wait for that. Yes, lots of waiting.
The photo below shows the shoes condition when I started on them. The leather was dry and a bit rough but without any cracks or rips. The shoe shape was good too. From the date code in the shoes, they were manufactured in 1963. Old shoes.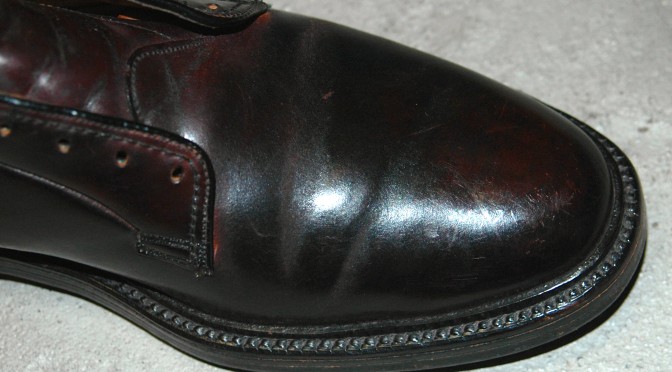 To clean the shoes, I first wiped them down with a damp cloth and cleaned the shoe interior width 70% Isopropyl alcohol. I followed that with two rounds of Lexol NF over the course of 3 days. I have found that the oils in Lexol NF penetrates the shell cordovan better than other conditioners. I would recommend Lexol NF Neatsfoot for older, dry shell. For newer shell, you can stick with Venetian Shoe Cream or Saphir Renovateur. Both are very good products.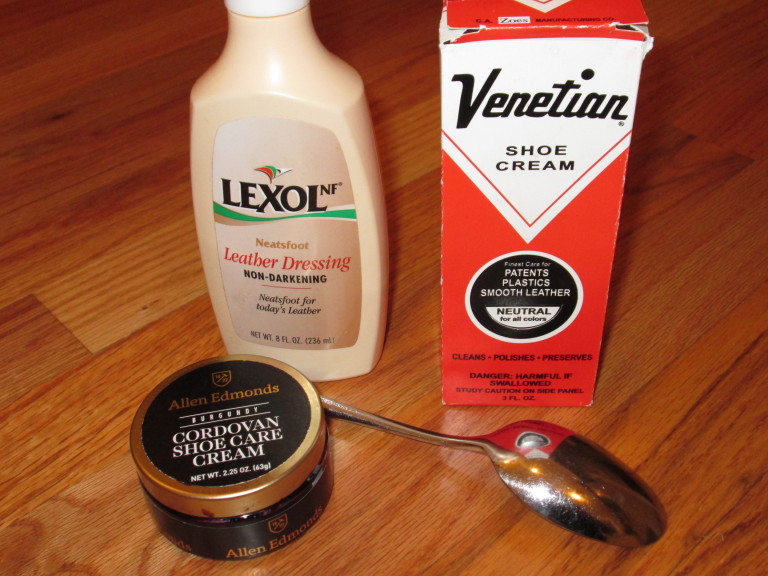 When I applied the second round of Lexol NF, I smoothed the leather a bit with a spoon. To do this: insert a shoe tree; apply the Lexol NF to the shoe; and with the backside of a spoon, gently apply some pressure and move the spoon over the leather in a circular manner. The oils get pressed into the leather and the oils provide lubrication for the spoon. I haven't used a deer bone but I believe this is essentially the same process. But temper your expectations when using the spoon, its not going to fix most scuffs and scrapes.
I let the shoes sit another day and then applied one round of Venetian Shoe Cream. I followed that with a small amount of Allen Edmonds Cordovan Shoe Care Cream and just to the front of the shoes. The Allen Edmonds cream can be a bit sticky if you use too much and it needs to be worked into the leather. So start with a tiny amount. Like miniscule. After a good buffing and a new pair of Cordo-Hyde shoe laces
, the shoes were done.
I took the photos a couple days later. The sun really brings out the patina. Click the photos to see enlarged photos.