I have been travelling much of the last couple of weeks. First to Cleveland (work) and then to San Francisco (friends).
Travel gives me time to ponder major issues such as these:
• When are the airlines going to start charging for soft drinks?
• What kind of "duty" am I free from on that bag of M&Ms?
• Who is responsible for the unfortunate TSA uniform?
If you read this blog, you may have noticed that I try to focus on objective topics rather than subjective ones. Facts not opinions. Usually. But I feel that saying the TSA uniform is awful is more fact than opinion. The bright blue and black combo … blue stripe down the black pants … the baggy unisex shirt with military shoulder tabs labeled "TSA". Wearing blue latex gloves doesn't help. Why not a solid navy blue uniform? With a pair of PTBs or long wings. Yes.
Buying vintage long wings might not scale well for the number of TSA employees but they work well for me. I picked up this pair of vintage Florsheims on eBay for $25. The price of one checked bag. Or the combined onboard price of a cheese plate, a beer and a "snack pack". An exit row seat costs more than these shoes.
Maybe for exit row price I could have bought a pair in perfect condition. This pair was not perfect. Here is how the pair looked when I got them.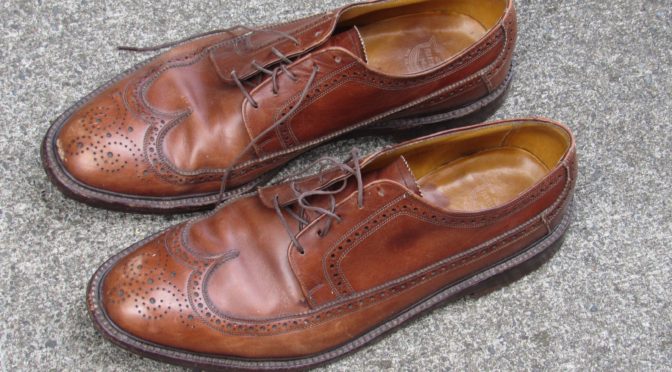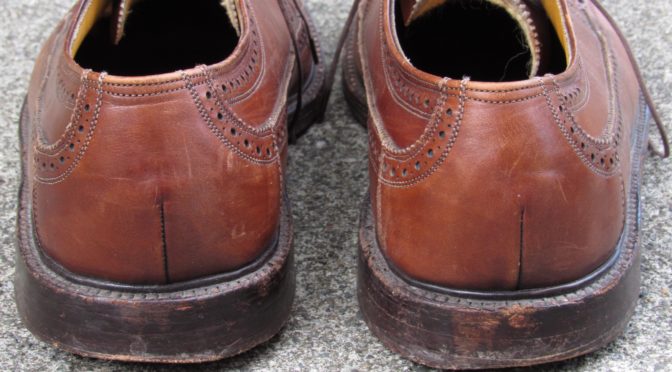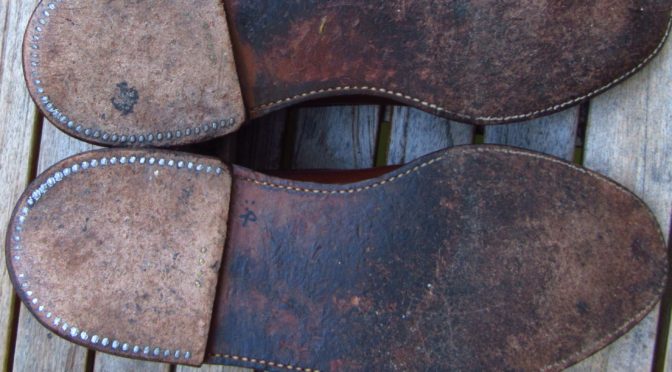 The 30679 is a cousin of the Weathered Moss 30678 that I covered in a previous post. Its basically the same shoe except for the color. Florsheim described the 30679 color as "Bourbon". It's a nice shoe but not as nice as an Imperial. It's missing the Imperial's double leather sole, full leather lining and v-cleat. This pair was made in June 1968 (date code FI). It's not uncommon to find a couple pairs for sale on eBay.
Below are two photos of the shoes after I cleaned them with good brushing, a damp cloth, Lexol leather cleaner and Saphir Reno'Mat. I also conditioned them with Bickmore Bick 4. There was stain on the outside of the left shoe I couldn't get out. Also there was a deep gash on the front of the right shoe. The leather was buttery soft though.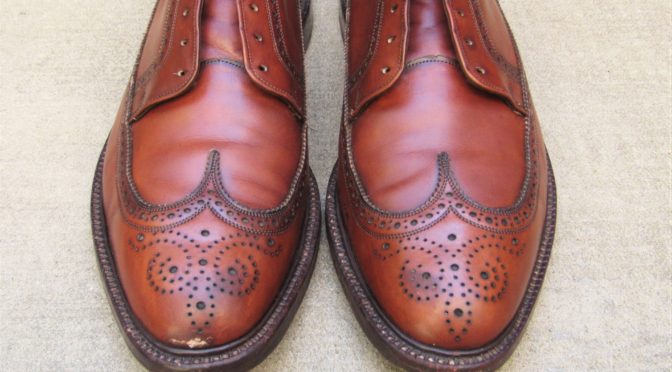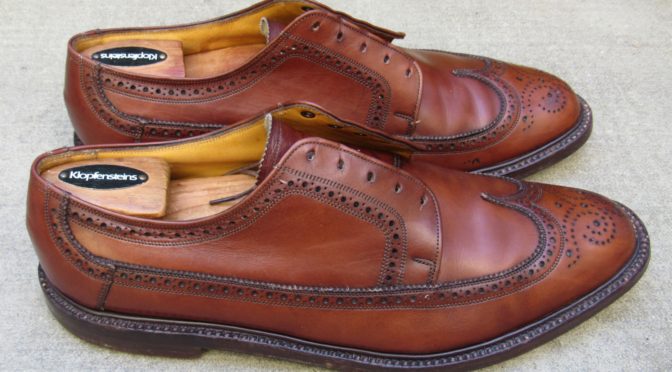 I finshed the shoes with Collonil 1909 Medium Brown cream. I considered trying to buff or sand out the gouge on the right shoe. But didn't. Maybe next time. Overall, I was happy with the results. The whole process took a two or three hours over a couple days. I have worn the shoes around (that's their purpose, right). They fit well. The size was accurate. And comfortable.
Below are the finished shoes.