I was in Vancouver, British Columbia for a week last month. Work. Vancouver is an easy trip since its about a two drive from Seattle. The border might add anywhere from five minutes to one hour depending on the wait. I make multiple trips to Canada each year. Primarily to Vancouver and Toronto. I go through the border so frequently that I know all the questions the border agents will ask. Sometimes I will answer the agent's questions before being asked, "I will be in Vancouver for four nights. I leave on Friday. I am going for business. I work for a software company. I am not bringing any goods for sale. I have no tobacco or alcohol or firearms. I live in Seattle. USA. Poutine is the greatest dish ever made and the reason God invented potatos, cheese and gravy." I am sure they appreciate my prologue. "Sir, pull over to the lot on the left for secondary inspection".
They let me into Canada. And then they let me back into the USA. When I got back, I celebrated my successful journey by buying a pair of John McHale wing tips that were made in Canada. The shoes were in decent shape when I bought them. They weren't new but had limited wear. The shoes mainly needed cleaning and conditioning. I can do that. Yes.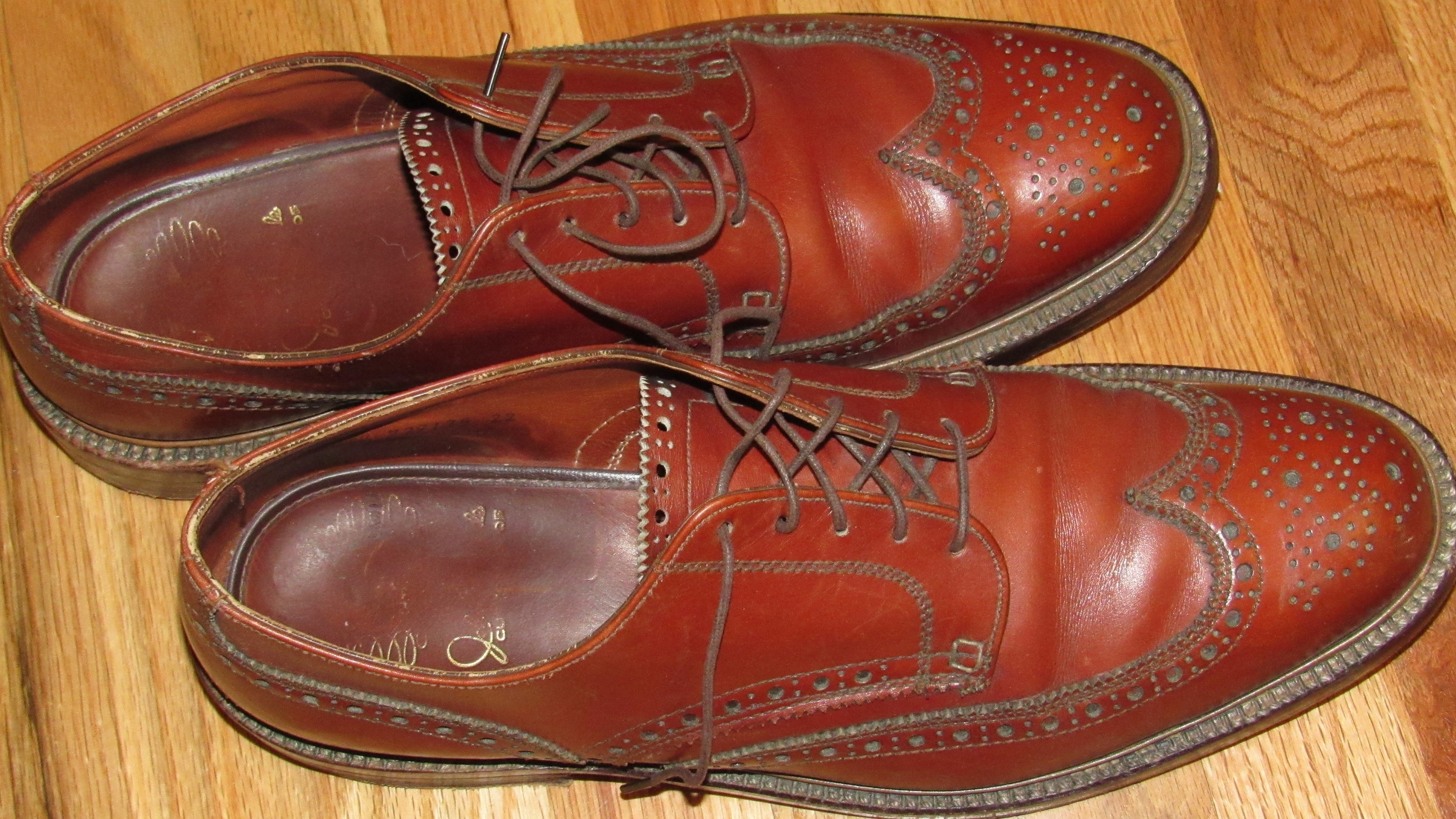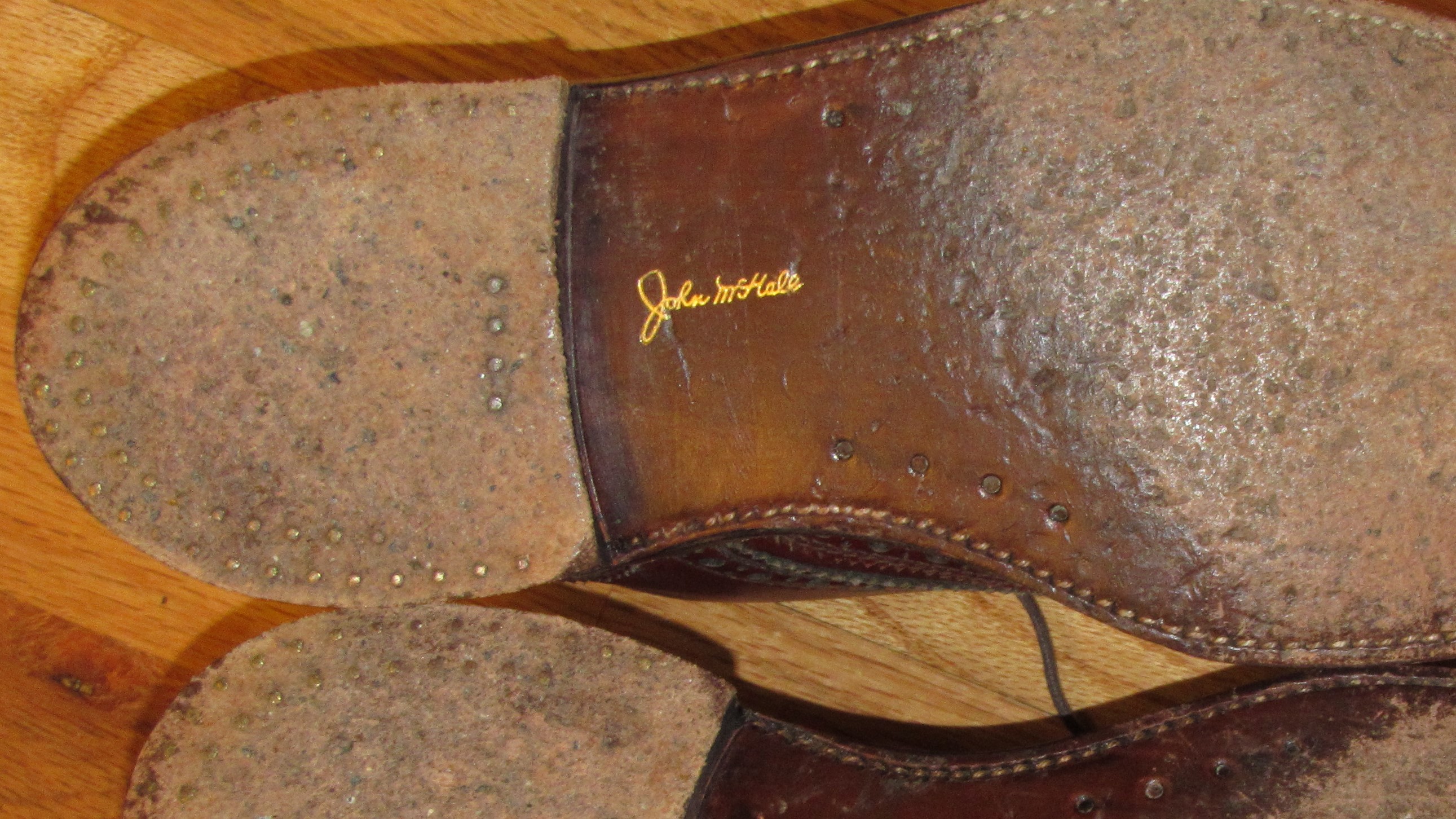 I started the restore process by giving the upper and welt stitching a good brushing and then a wipe using a damp cloth. I cleaned them with Lexol leather cleaner and did my first round of conditioning using Lexol NF. They already looked much better.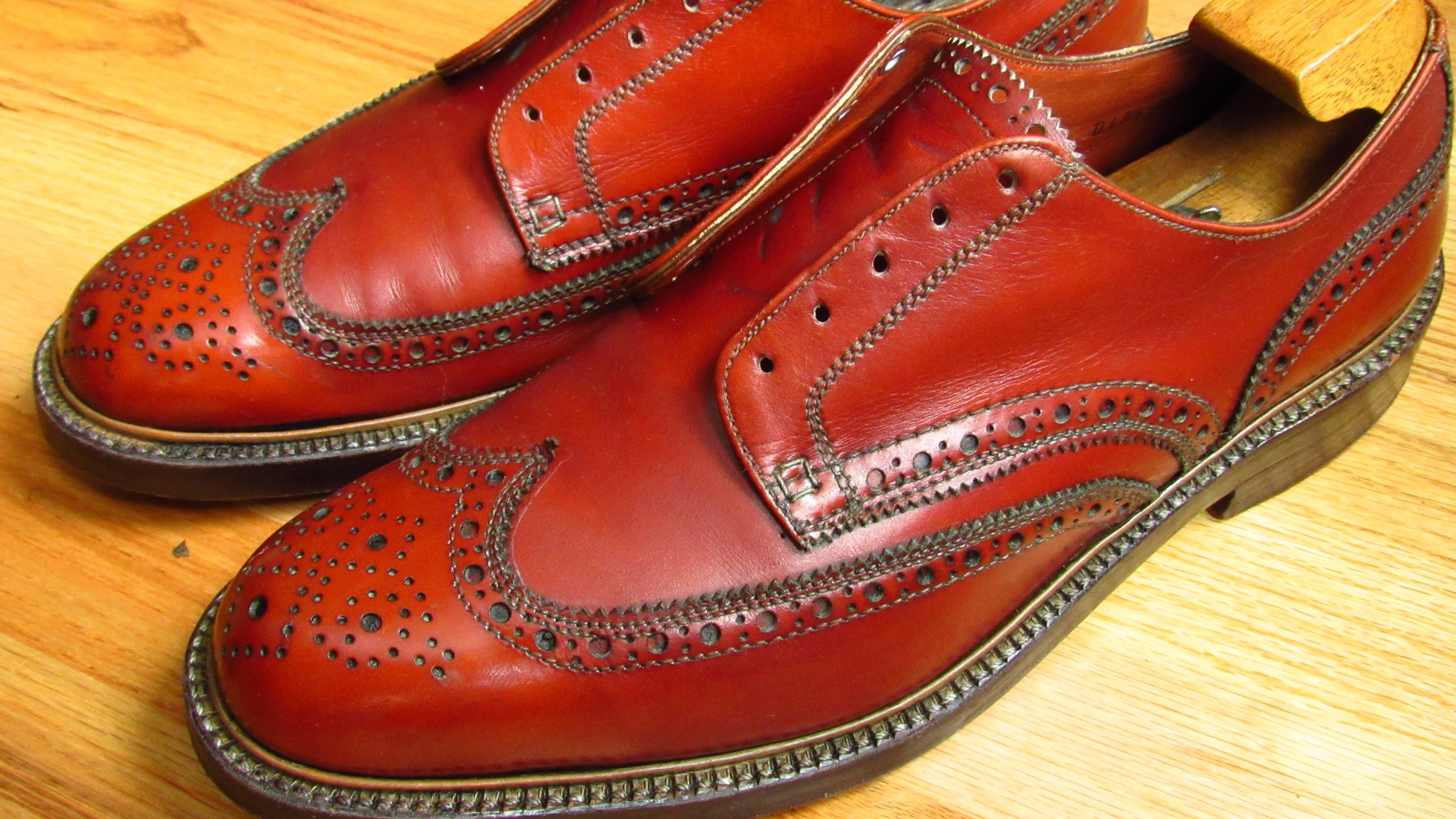 The interior of the shoe was given a wipe with an alcohol soaked cloth and then UV treated.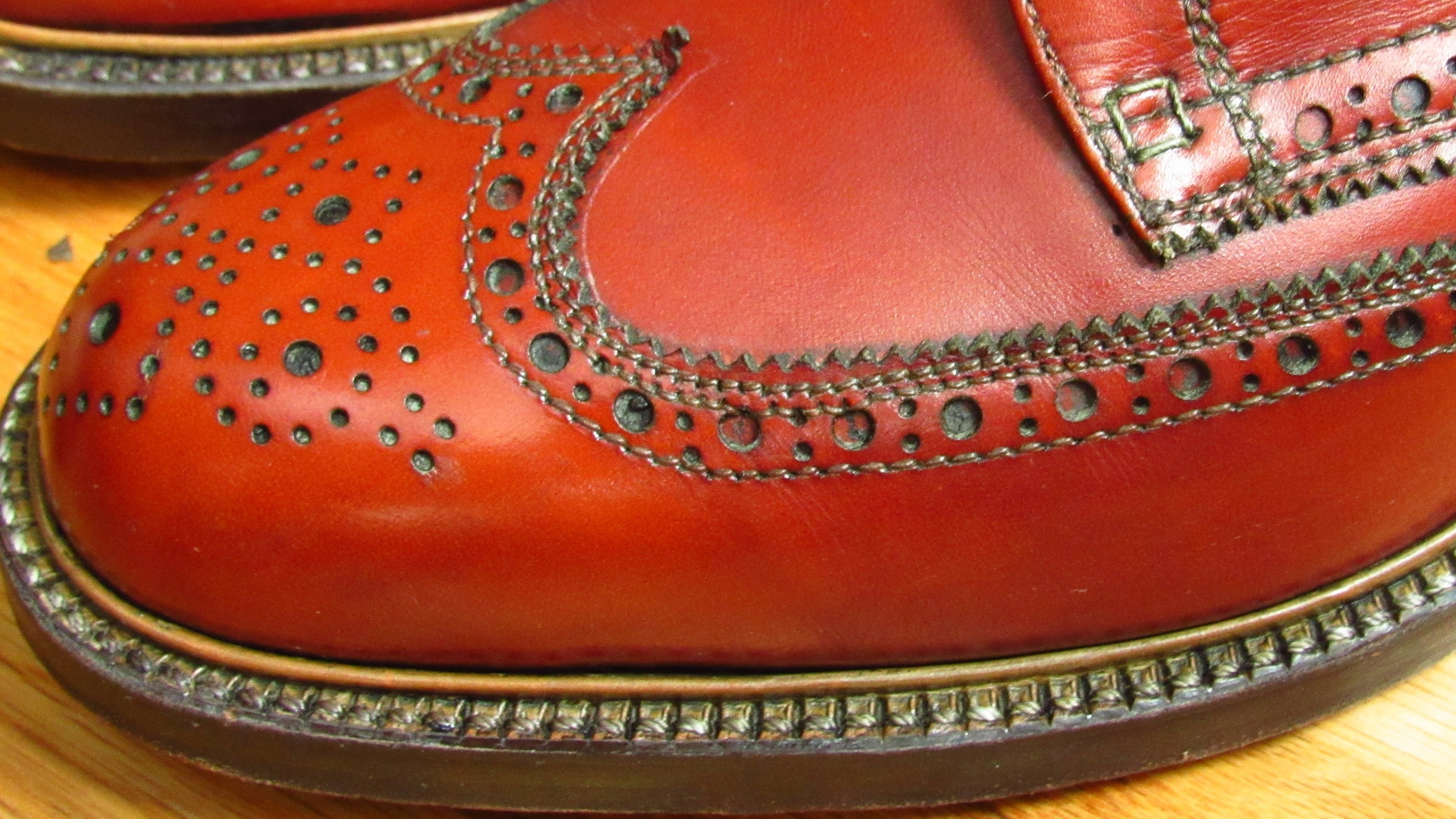 I gave the shoes two more rounds of conditioning with Bickmore Bick 4. When conditioning the shoes, I usually give the pair a few hours or a day between treatments. I have liked the results of using Bick 4 after an oil based conditioner. This was the pair fully conditioned.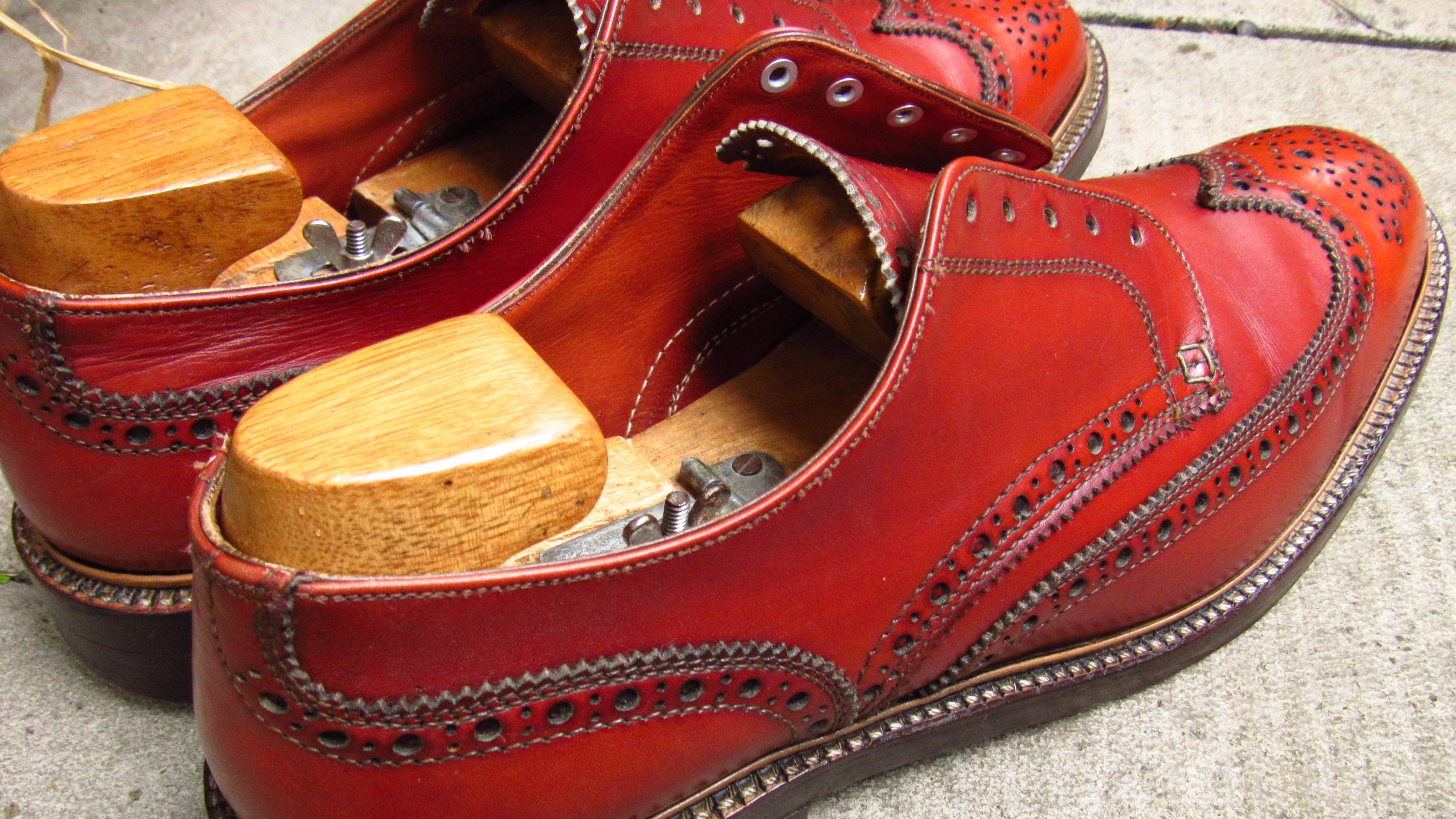 The shoes were bright and didn't need any additional color but I gave the upper one round of brown Collonil 1909 Supreme Cream. To accent the pinking and broguing, I applied a bit of Allen Edmonds Dark Brown Cream with a paint brush. I wiped off the cream while still wet but some of the color gets left in the perforations.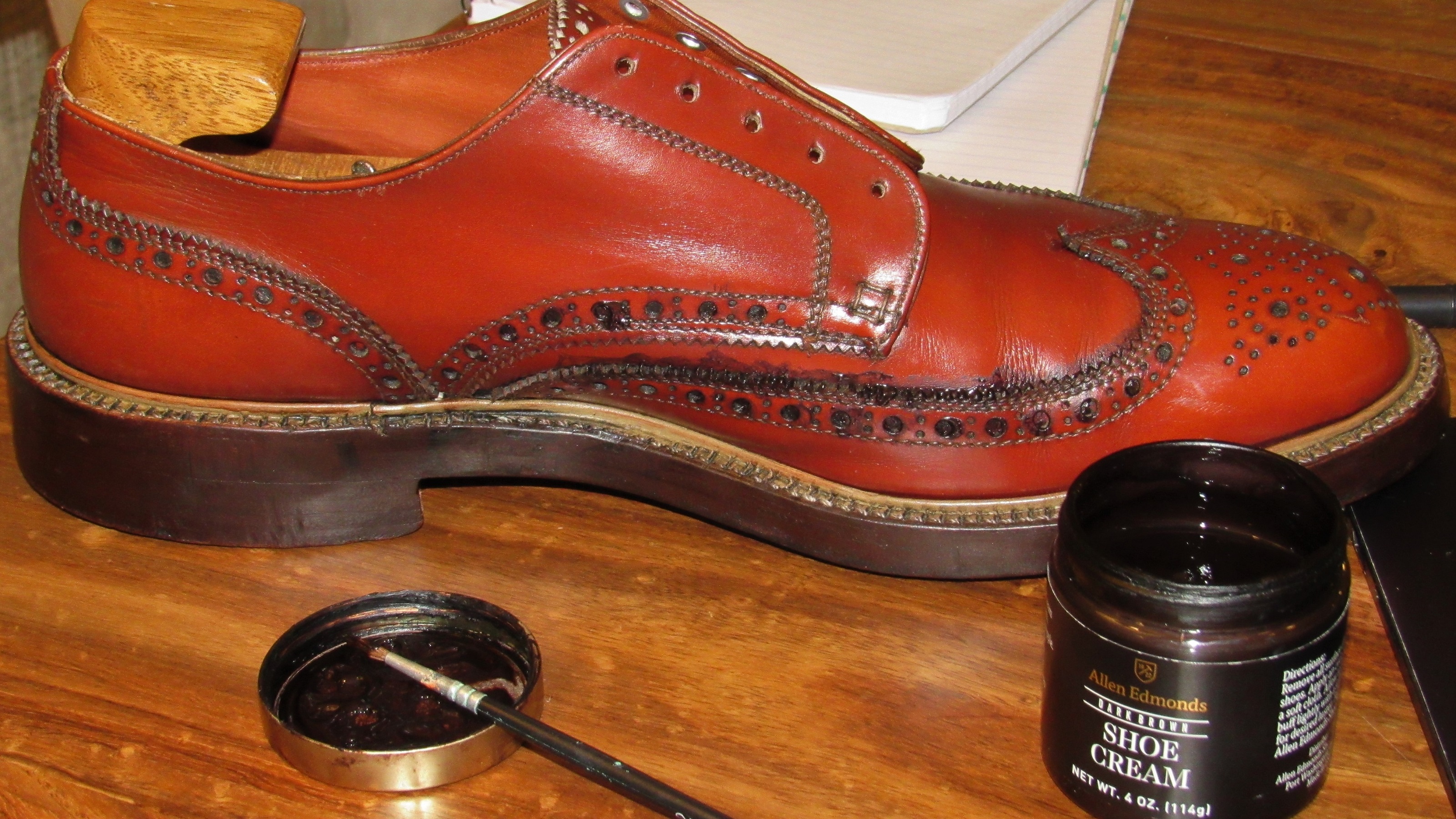 Oh Canada – what a mighty pair of shoes. Each shoe is nearly two pounds (.85 kg). They easily outweigh my Florsheim, Hanover, Alden, FootJoy and Nettleton pairs. These are big, loud GUNBOATS. The orange-red leather with heavy pronounced broguing ensures you won't get lost in the crowd. The reverse storm welt is gold in color. Gunboat bling.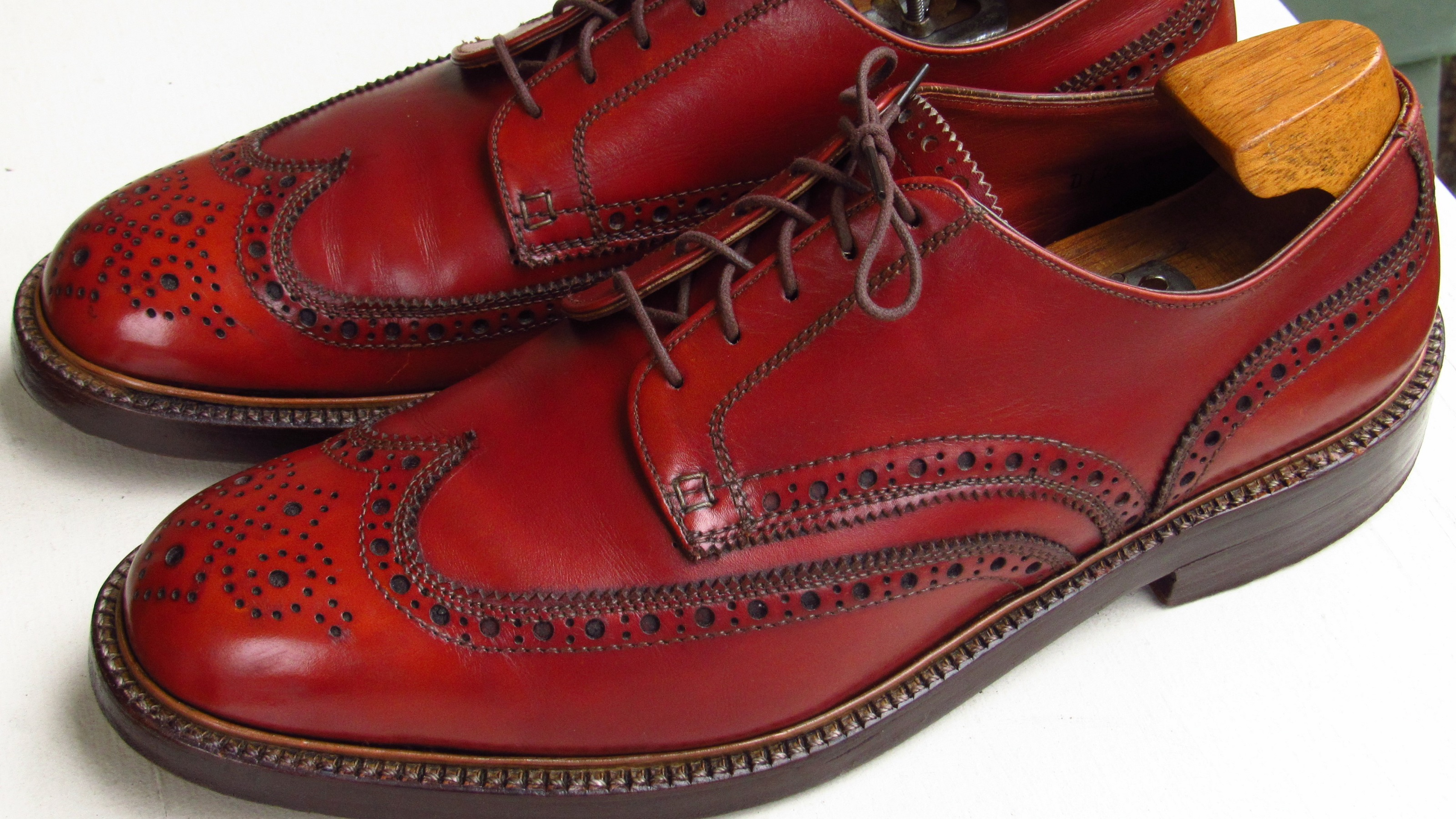 The leather heel is 1.25″ high and the soles are over 0.5″ thick. Not to be out done by the Florsheim Imperial Kenmoor 5 nail sole construction, the John McHale has 10 nails – Seven nails midsole and three nails in the front. There is no v-cleat but the heel has 50+ brass nails to hold it together and ensure a long life. These shoes are indestructable. Well almost.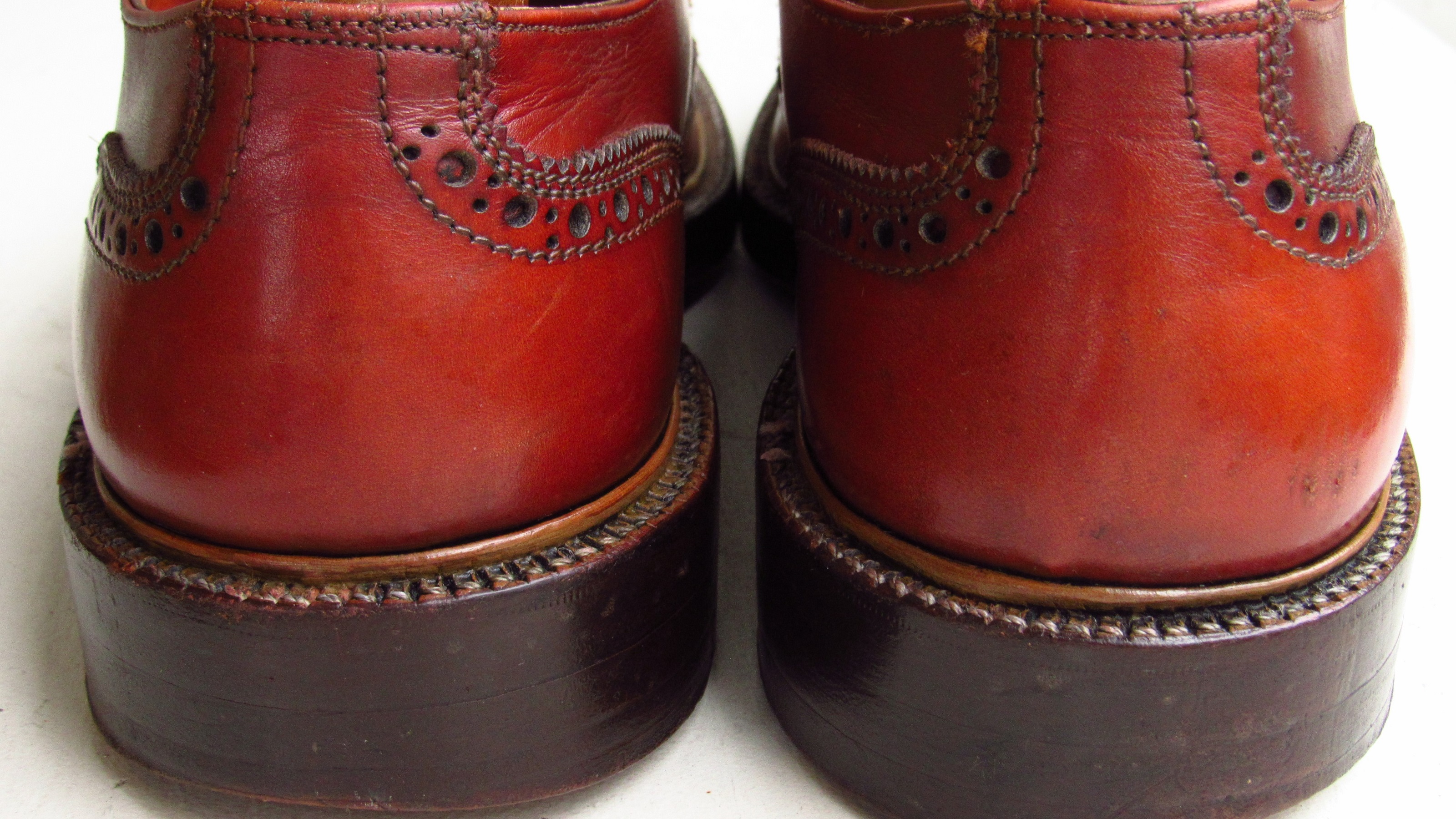 The John McHale upper leather is thick and buttery soft. The constasting stitching is nice but a bit eratic in some areas. The shoes are fully leather lined.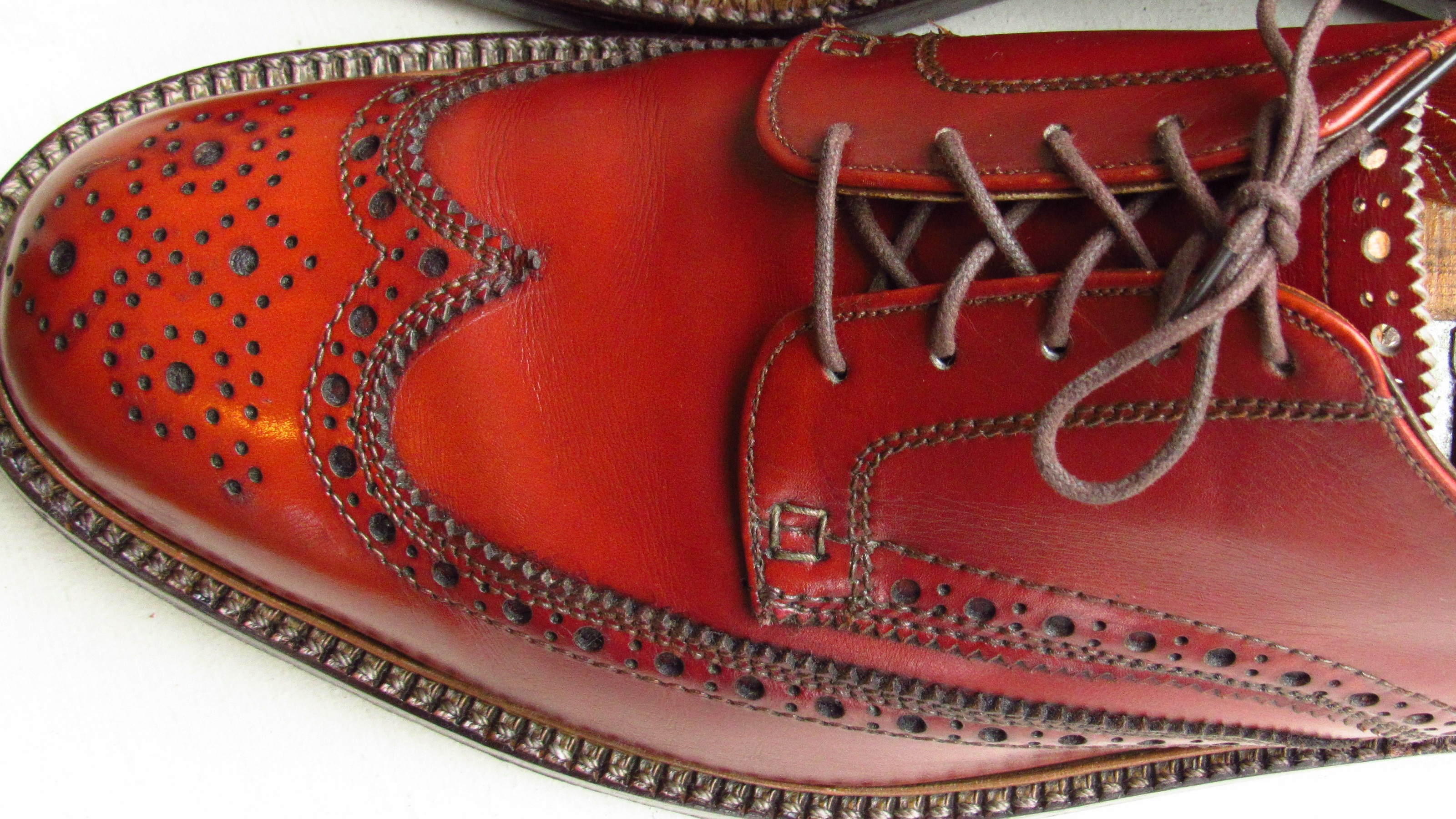 If you didn't know, there is a bit of a rivalry between Vancouver and Toronto. The rivalry might be one way though, Vancouver (like much of Canada), seems annoyed with Toronto but when I am in Toronto, they are indifferent to it all. They have Drake and Blue Jays. Of course. But Vancouver has the awesome scenery. People in Toronto complain about the Maple Leafs. A team, given the wealth of Toronto, should be the New York Yankees of hockey but instead are more like the New York Jets.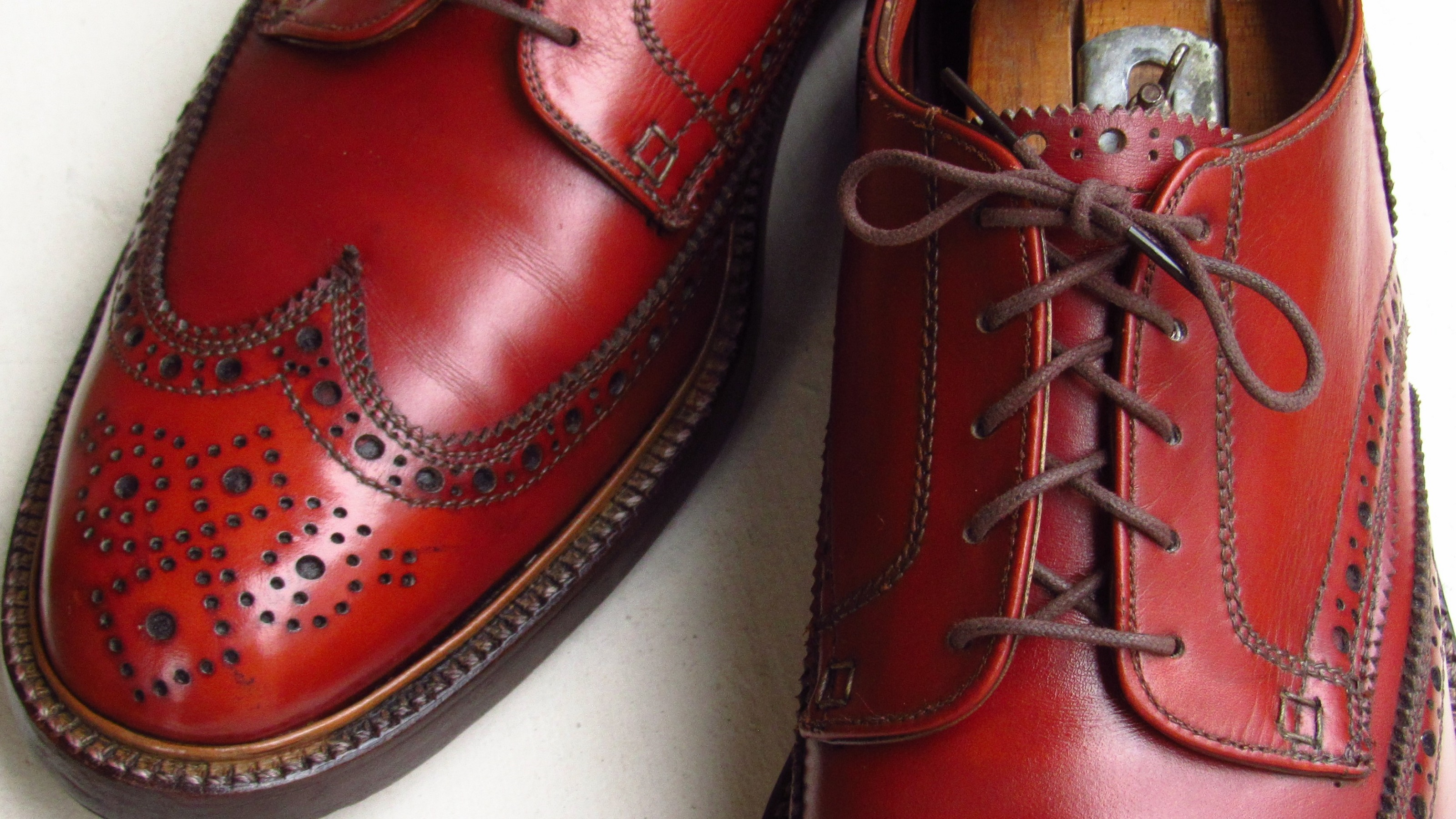 I have not been to London, Ontario which is where these shoes were made. From what I have read, John McHale and his partner Francis Stuart Scott started making shoes in London in 1909. The firm produced premium shoes and continued to do so until the 1950s when the company was purchased by International Shoe Co (Florsheim's parent), in the late 1950s or early 1960s. Like other Interco brands, the quality of the product diminished over the years and by the 1980s, production was moving overseas.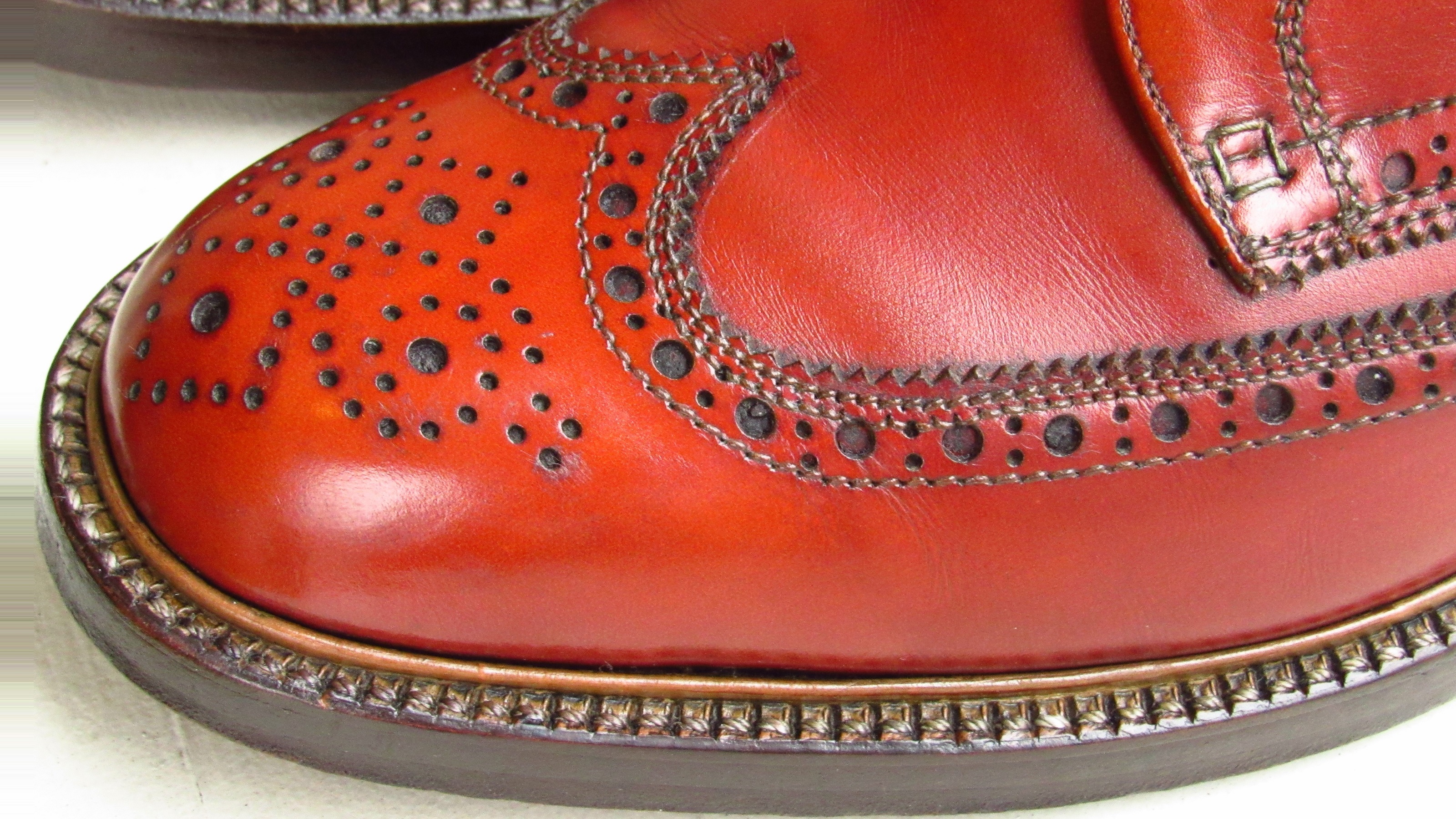 I believe this pair was made in the late 1960s but I have no clues on how to date the shoes based on the numbers inside the shoe. I have seen others claim this model was made in the 1940s or 1950s. They could be right but its rare to find any shoes from the 1940s or 1950s. I have no idea what John McHale charged for this bounty of leather but I am guessing they weren't cheap.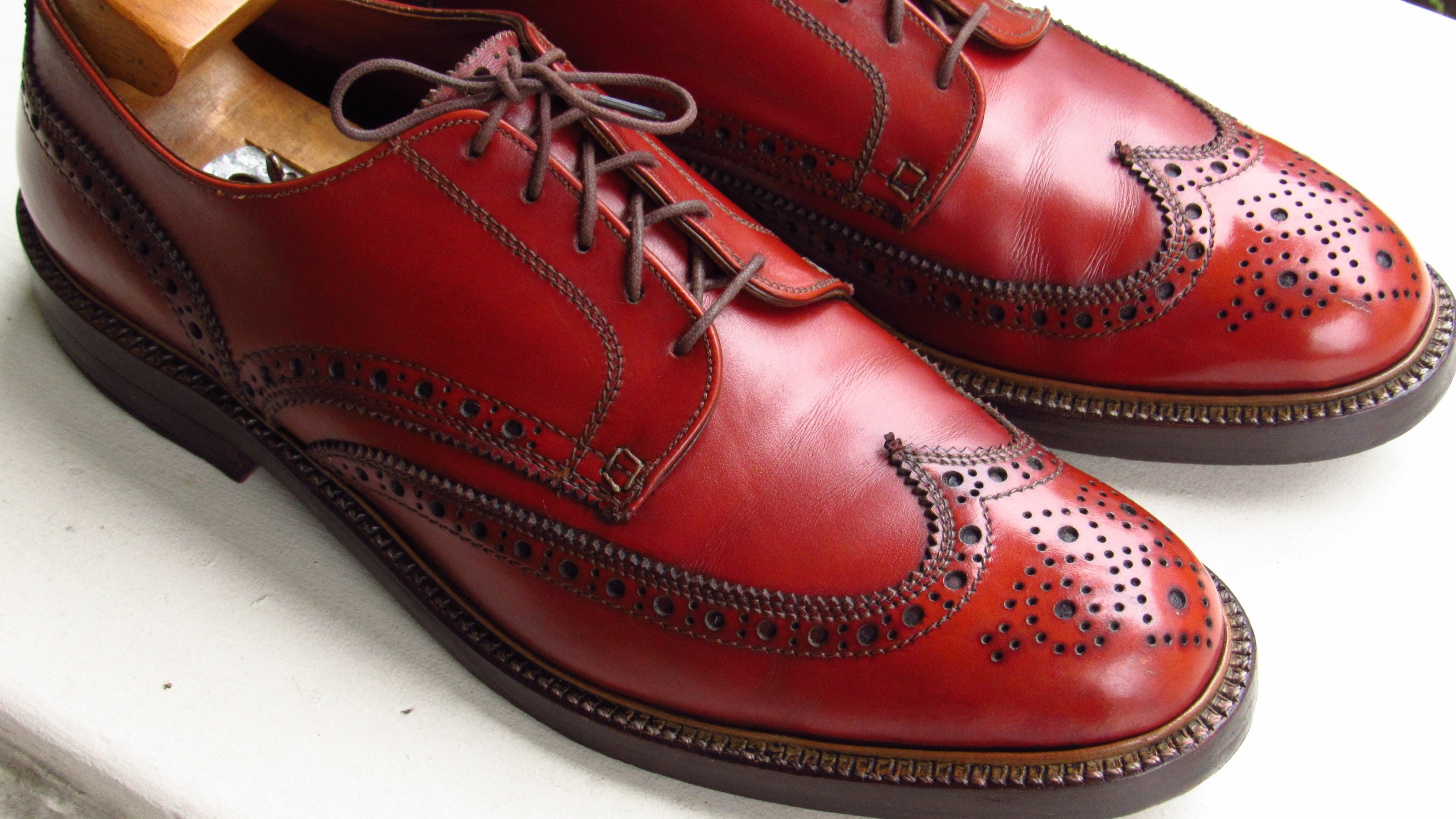 I have seen the same model in other sizes. It does not scale down elegantly. Here is a similar Hartt model in size 7 being sold on eBay.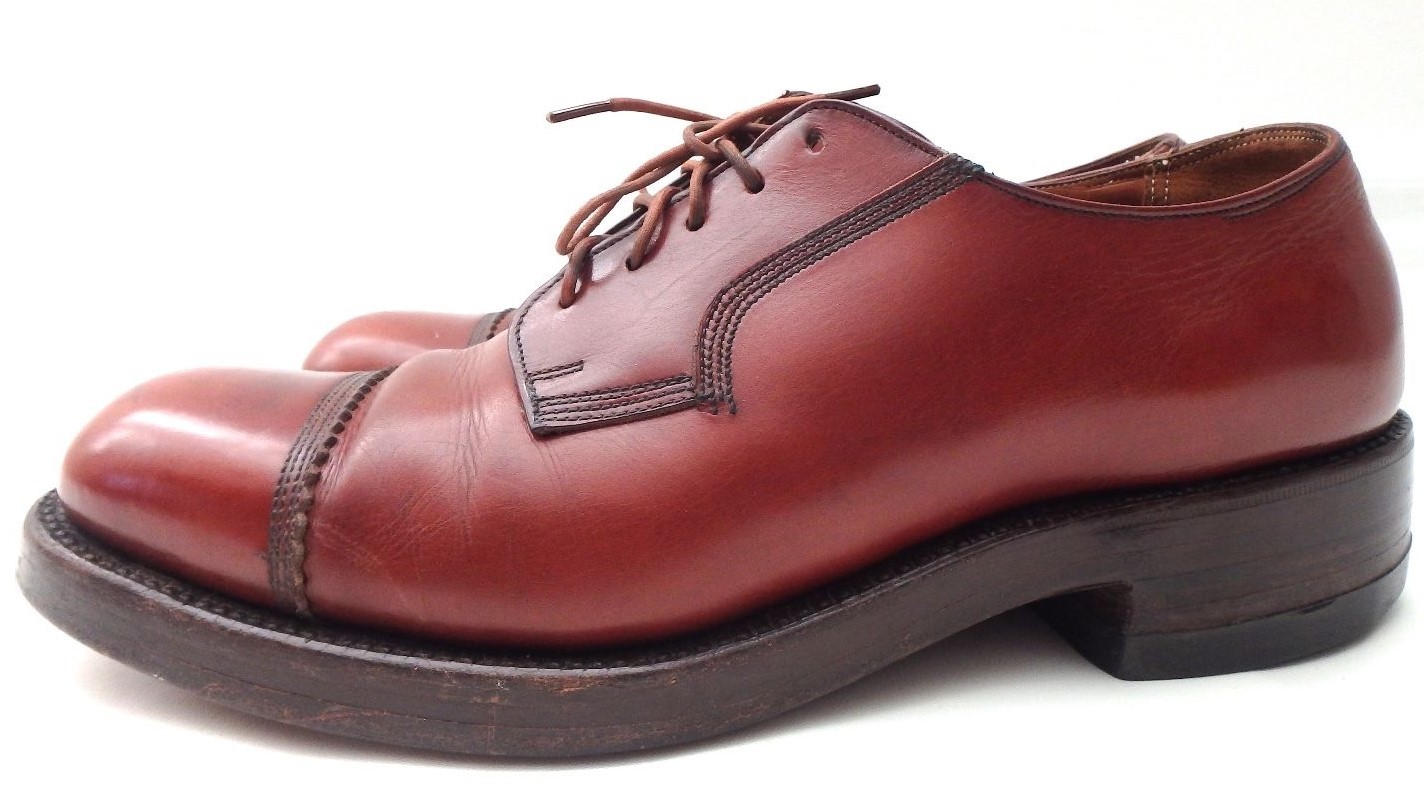 Need a pair of John McHale gunboats? Currently there are a couple for sale on eBay and I tagged them in my WatchList.
See an update on the pair in this post.