Last week, the US government released most of the remaining JFK files. Back in college, I was interested in Kennedy and read a number of books on the subject. I can't remember some of them but I am fairly sure Oswald was the shooter and acted alone. Occam's razor.
The other day I spent a couple hours searching the Kennedy files. Mostly what I found was the mundane: uninteresting accounts of Cubans, meetings notes, expense reports, and brief biographies of unremarkable people. Why was some of this top secret? After a few hours I became bored (two hours is long for me and my ADHD), and I started searching the records for other conspiracy theories and urban legends: "Rafael Cruz"; "Keith Richards Blood Transfusion"; "Area 51"; "Alien Visitors"; "Alien Abduction"; "Demonic Possession"; "Aliens Abducting Demons"; "Demons Possessing Aliens; "Dr. Zaius". But I found no results. So back to shoes.
This Alden pair might have been made during the Kennedy administration. Below is a photo of the shoes when I received them.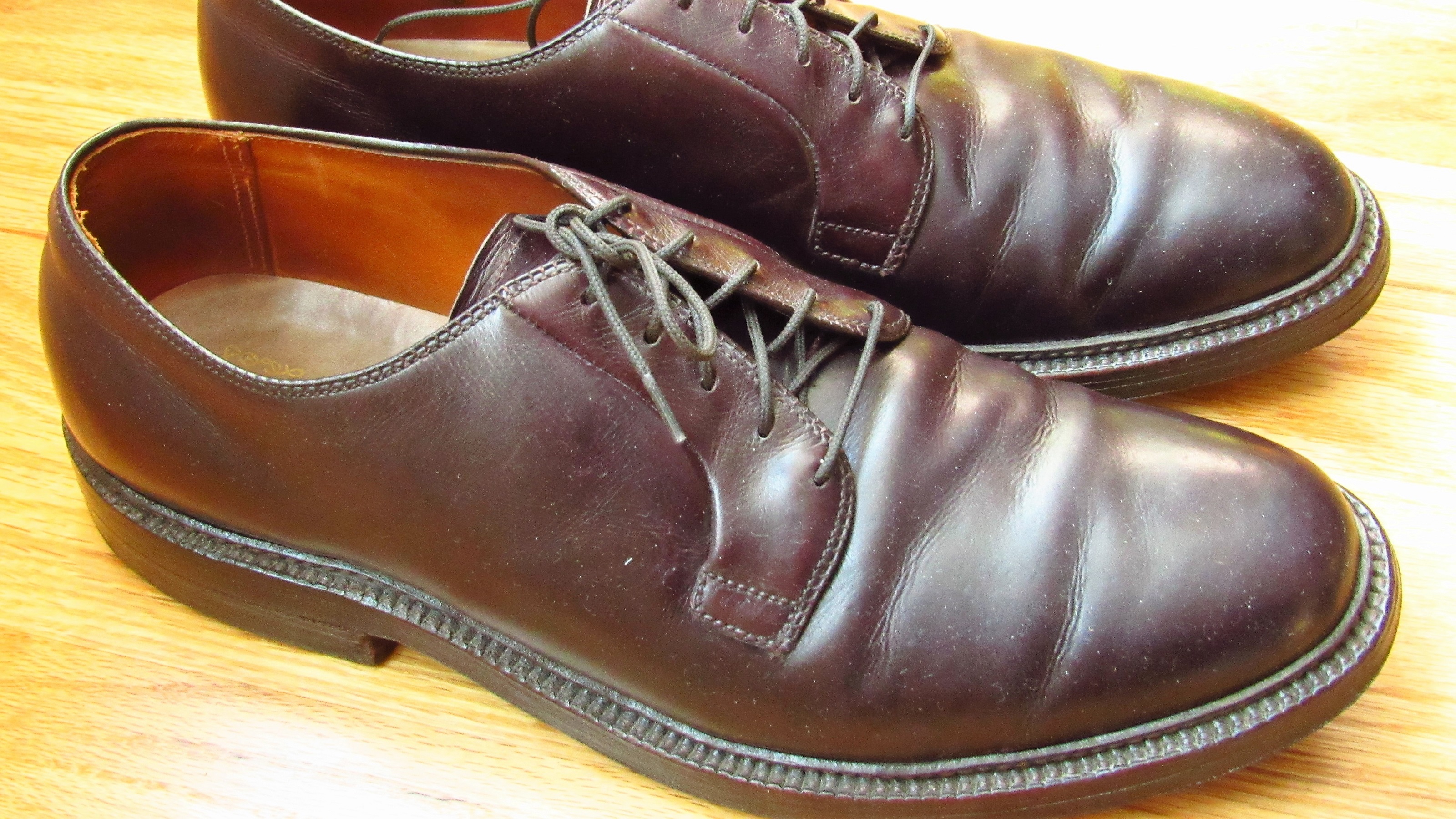 What was unusual about these Alden shoes is that they had an original v-cleat suicide heel. So I had to buy them. Because. You know.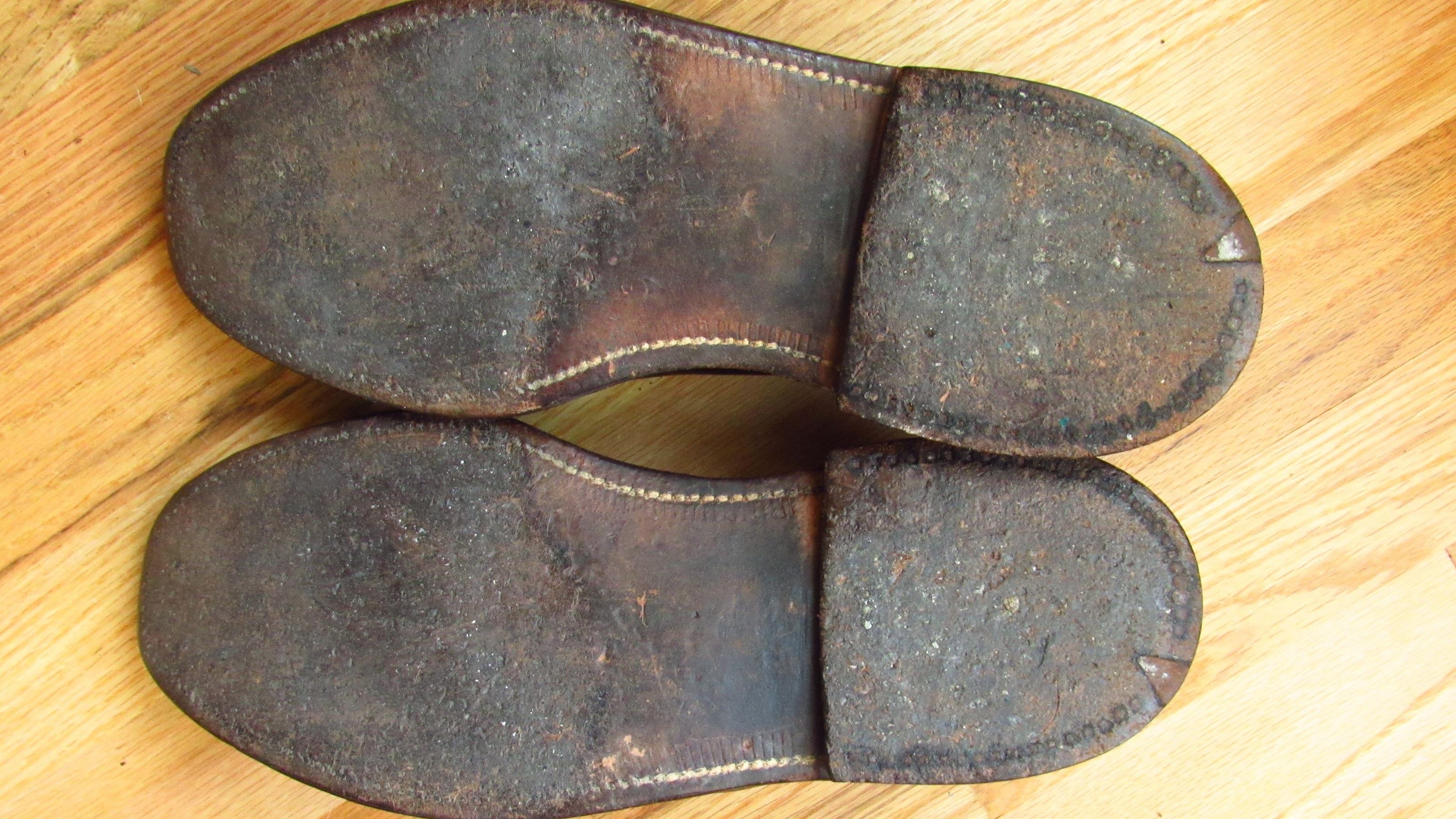 They also had a filthy welt.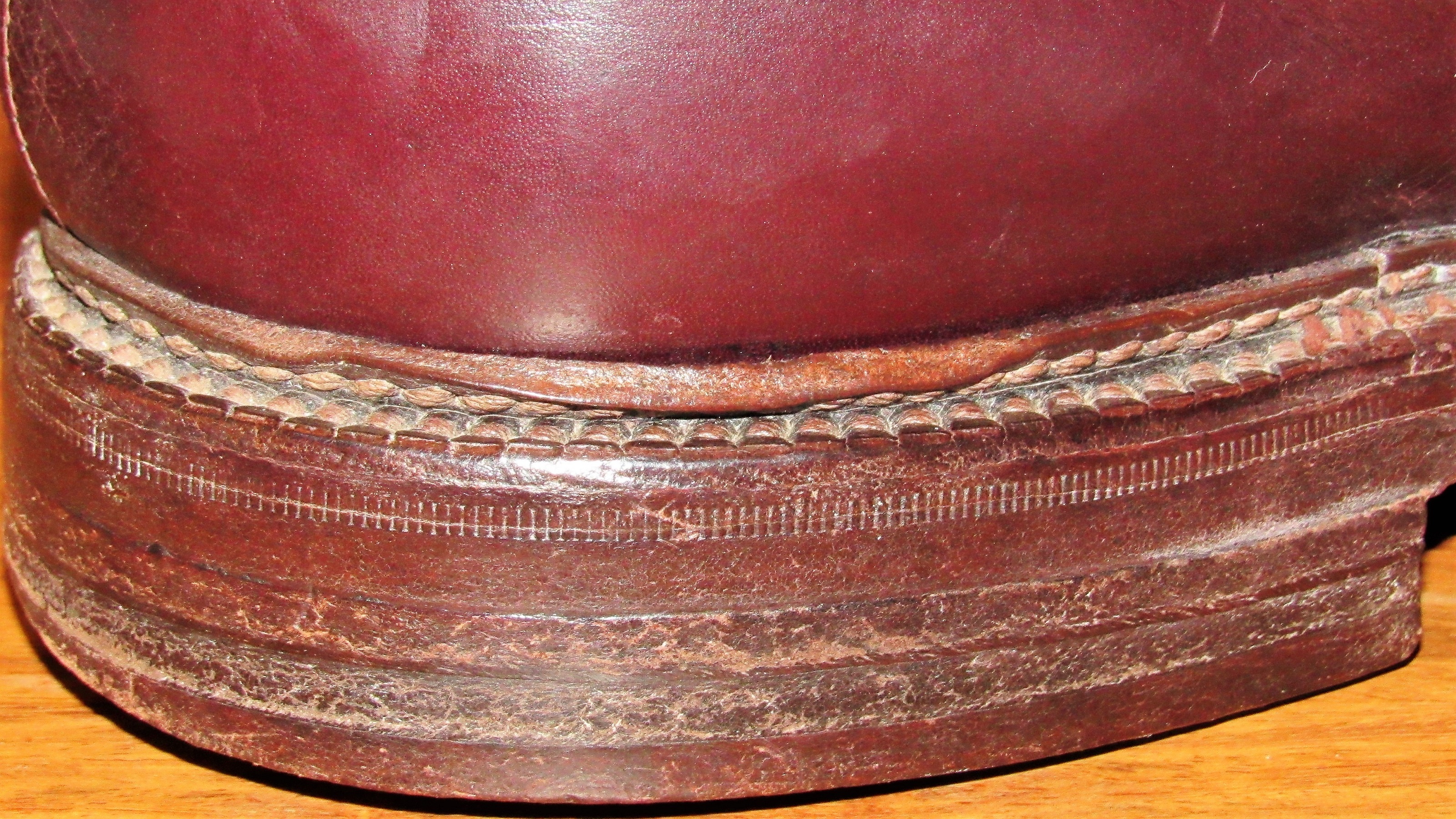 This model was a custom order for a San Francisco store called Robert Kirk Ltd. I did a bit of research (I google'd it), and found that Robert Kirk Ltd was founded in 1939 and purchased by Cable Car Clothiers in 1972. Cable Car Clothiers features classic British men's styles and is still in business today. Amazon hasn't killed them off yet.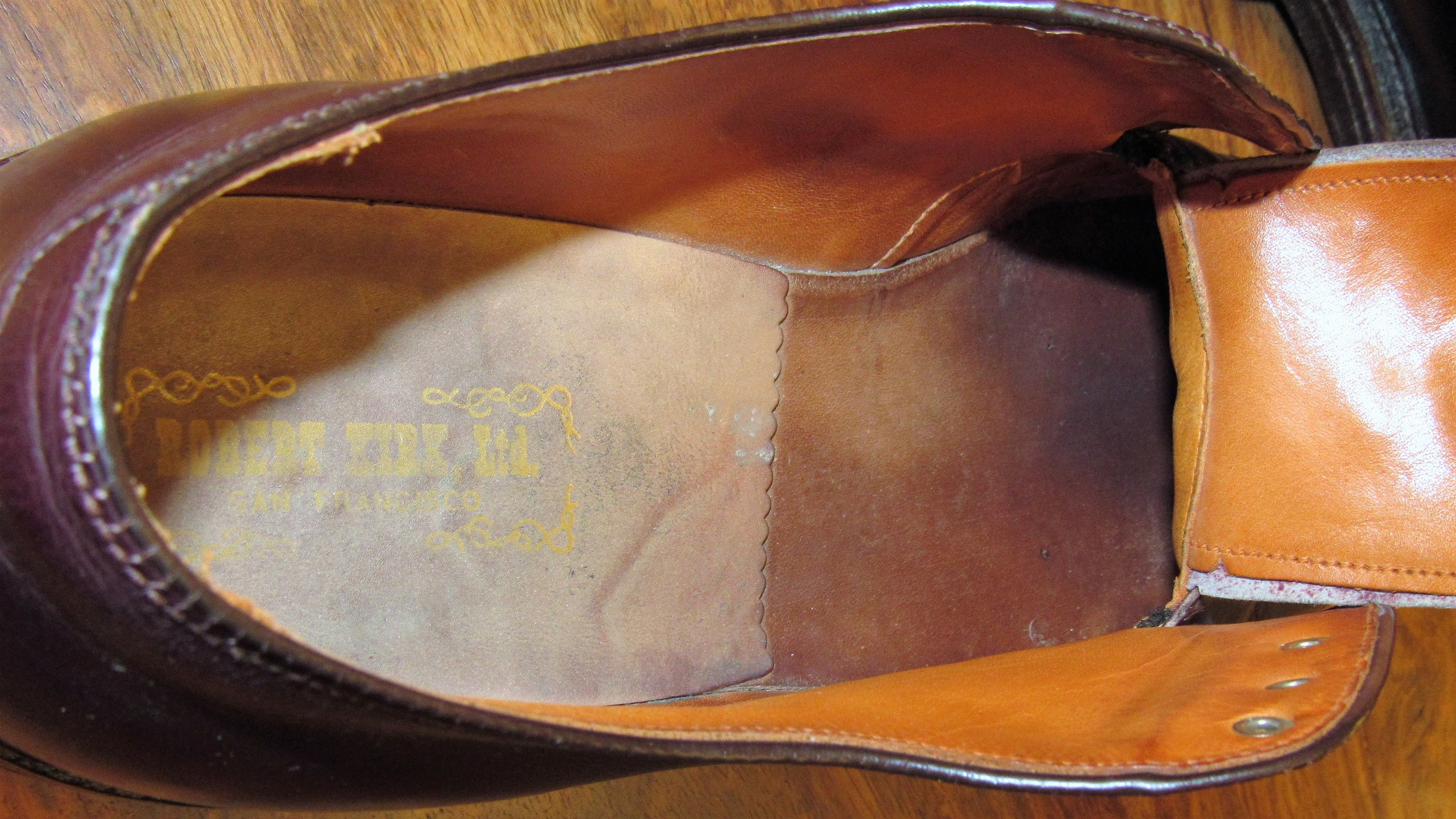 Since Robert Kirk was acquired in 1972, I figured the pair was older than that. The date code in the shoes is listed as "1J". Alden date codes use the first digit as the year and second character as the month. So this pair was likely made in either October 1961 or 1971. I am going with 1971 since newer is generally the right answer.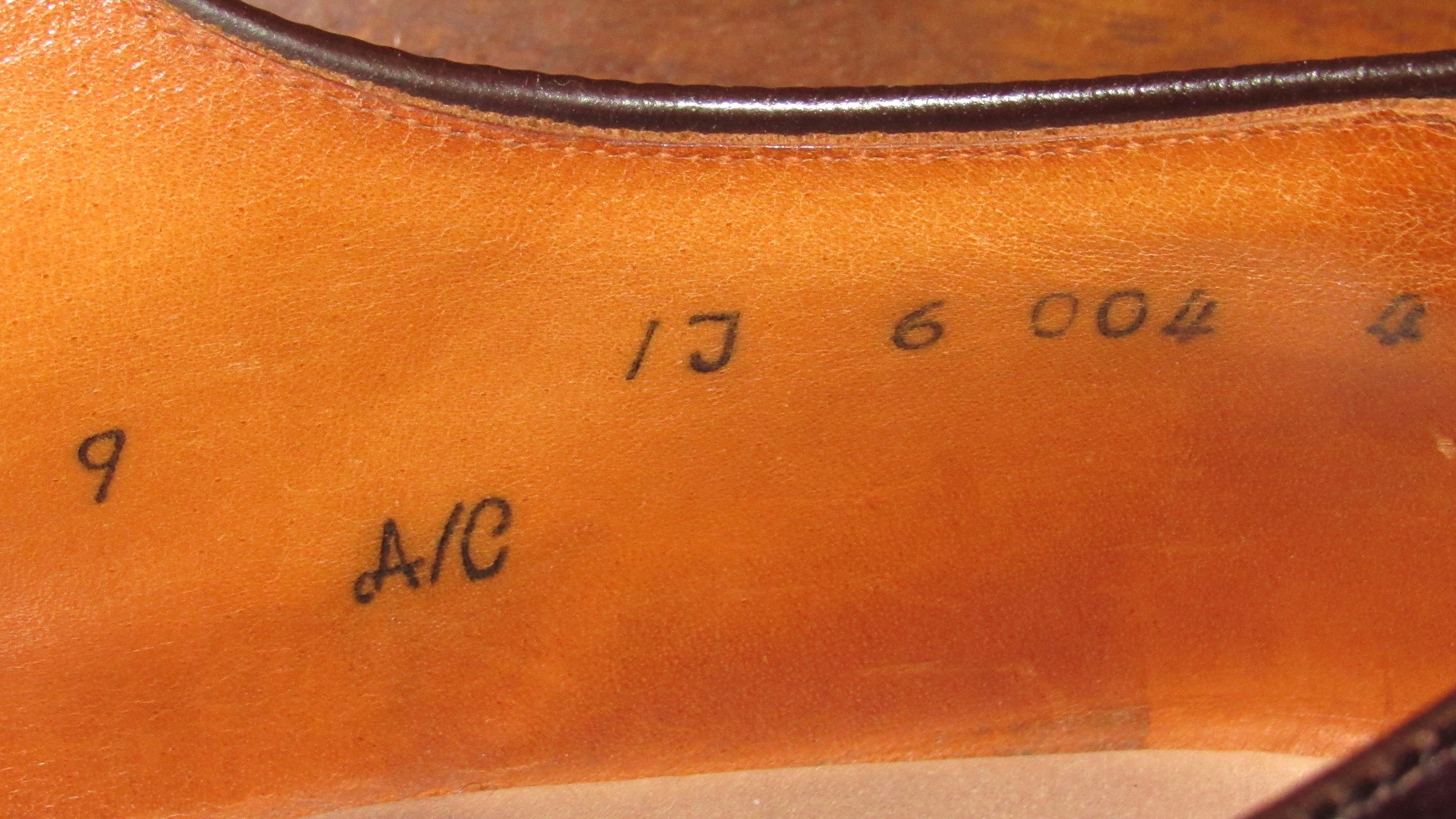 Is the heel original? Or is it a replacement? I believe it is original. Again, Occam's razor. I have seen lots of replacement v-cleats and none look good save the amazing work of Bedos Leather Works. Its time consuming and expensive to get right. Also, earlier this year there was another Robert Kirk Alden and it also had a v-cleat heel. See photo below.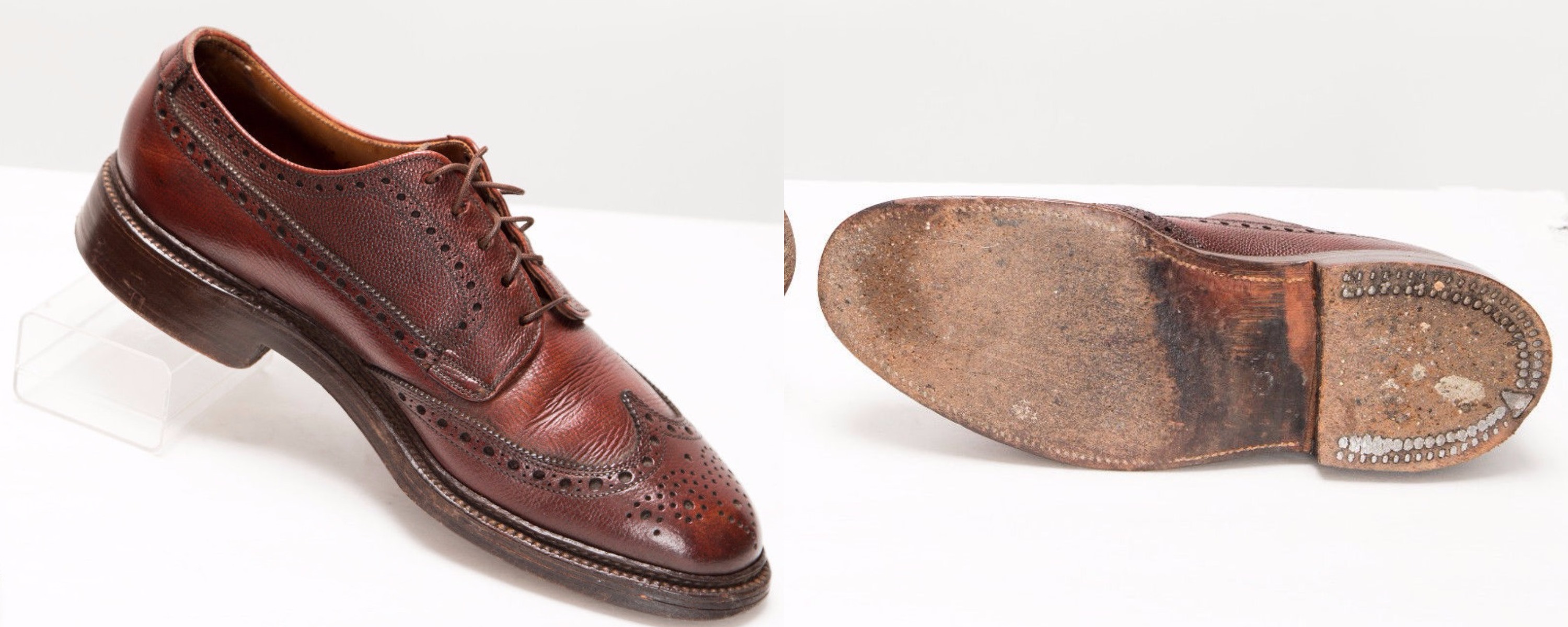 The upper leather was creased but was buttery soft. The color was a brownish burgundy. The leather sort of looked like it might be Chromexcel. I wasn't sure but kind of doubted it. But it gave me pause for about nine months. The shoes just sat on my work shelf. I would pick them up, look at them and then put them back down. Eventually, I decided to simply clean the leather with Lexol Leather Cleaner. This removed a fair amount of old polish. And maybe some stain. They didn't look so great.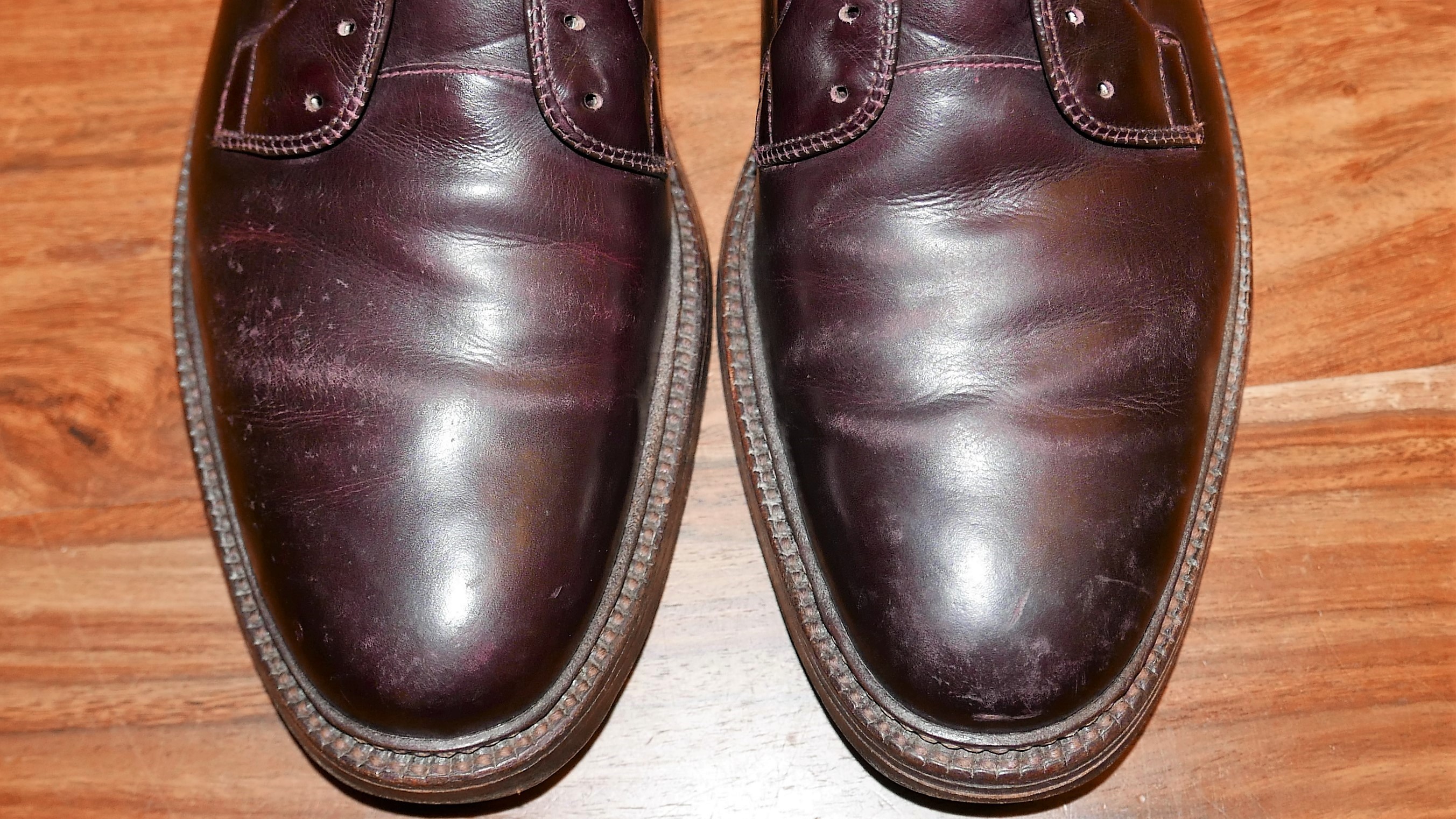 I conditioned the upper leather with Lexol Neatsfoot. I built back up the color of the upper by doing one round of Allen Edmonds Dark Brown Cream. That was followed with a round of burgundy cream. The end result was a bit dark but in range of what I believe the original pair looked like.
The welt stitching was caked with dust and gunk. A reader recommended to me recently cleaning the welt with a Sonicare tooth brush. This was obviously genius. I, for one, (you for two), am glad he is using his brain power thinking about the cleanliness of welt leather. And not Ponzi schemes. Although Ponzi schemes tend to be more lucrative than welt cleaning. He is now the vcleat.com Director of Welt Cleaning Research and Development. He might not know that. But knows it now. The former director has been demoted to vcleat.com JIRA administrator. That was tough.
For some reason, I actually had an old Sonicare base and brush. Just because. I must be a hoarder. To clean the welt, I dipped the brush head into a mixture of water and Lexol Cleaner and then ran the brush slowly around the welt of the shoes. After sonicare-ing, I wiped the welt with a soft cotton towel.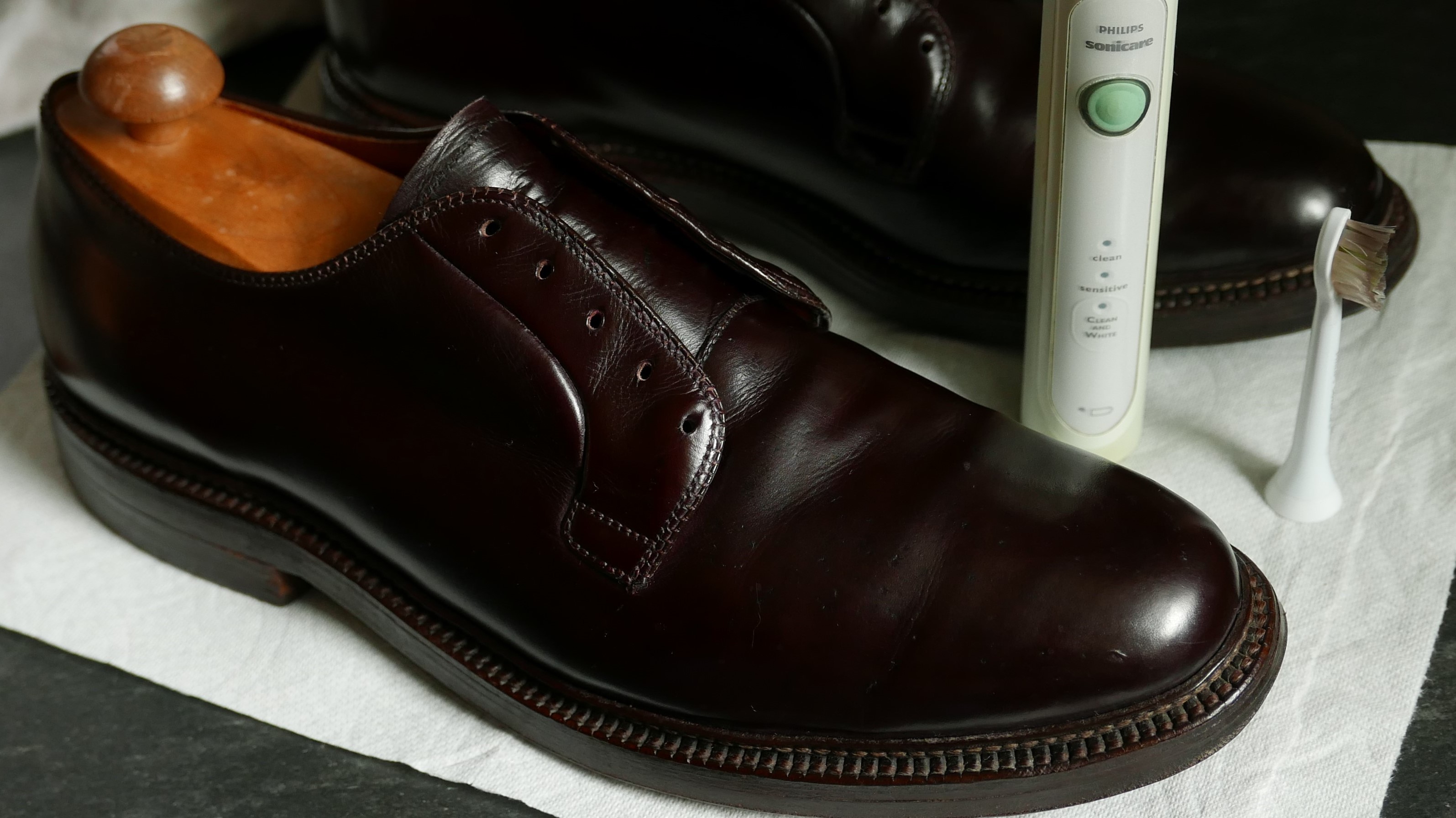 After a few hours, the welt was clean but looked dry. I took some Venetian Shoe Cream and rubbed it into the welt. Then brushed the welt vigorously with a welt brush. That improved the situation.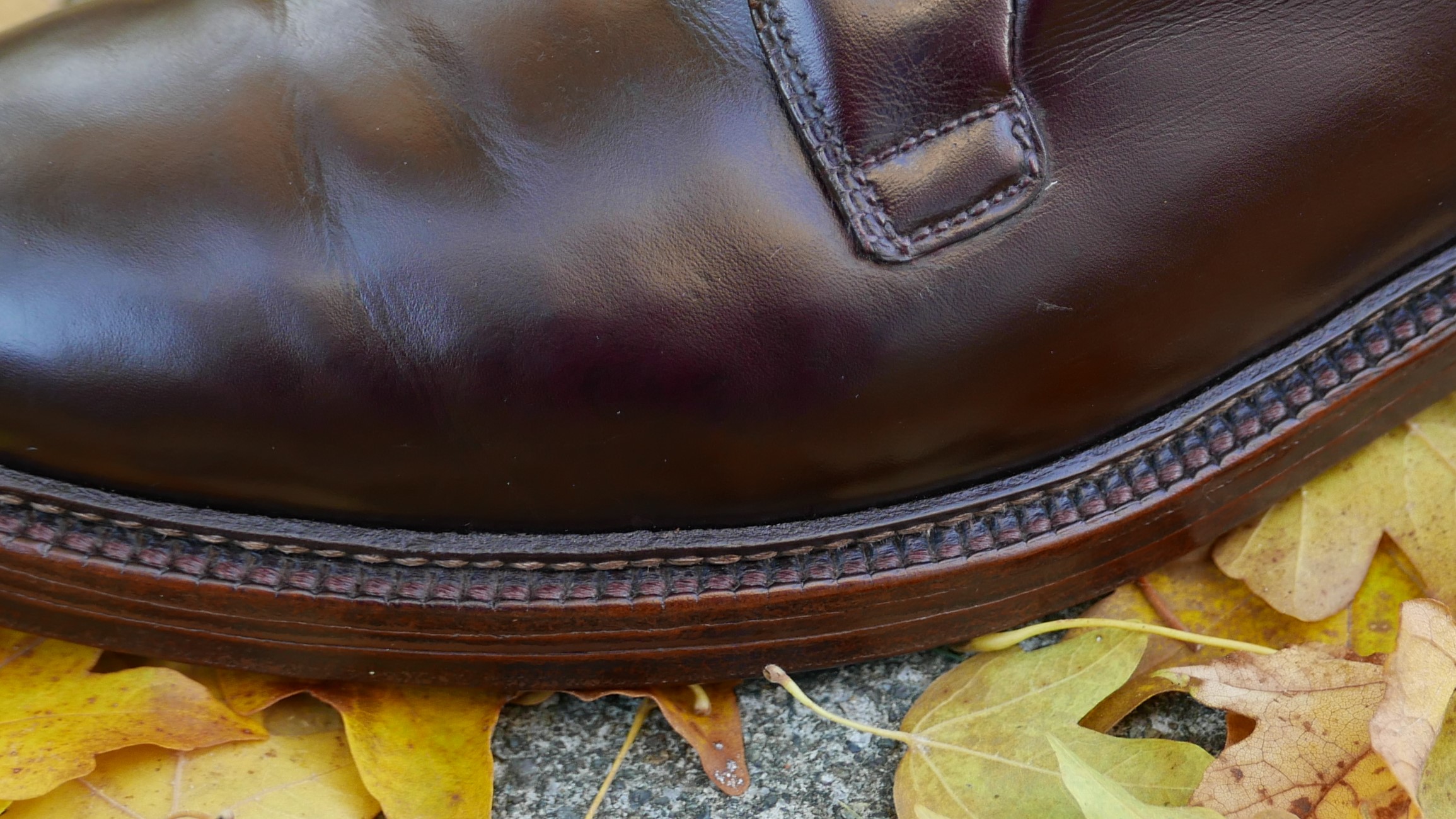 I bought and tried brown Fiebings Sole Edge and Heel Polish. I didn't like it. It was like a light brown paint. I let it dry and then sanded it off with a 1800 grit sandpaper. The sanding left the sole leather somewhat raw in spots. I applied a light brown cream to the edge followed with some neutral wax. That gave the sole edge an antique look.
I finished the shoes by replacing the original round laces with a pair of vintage burgundy wide laces. Much better.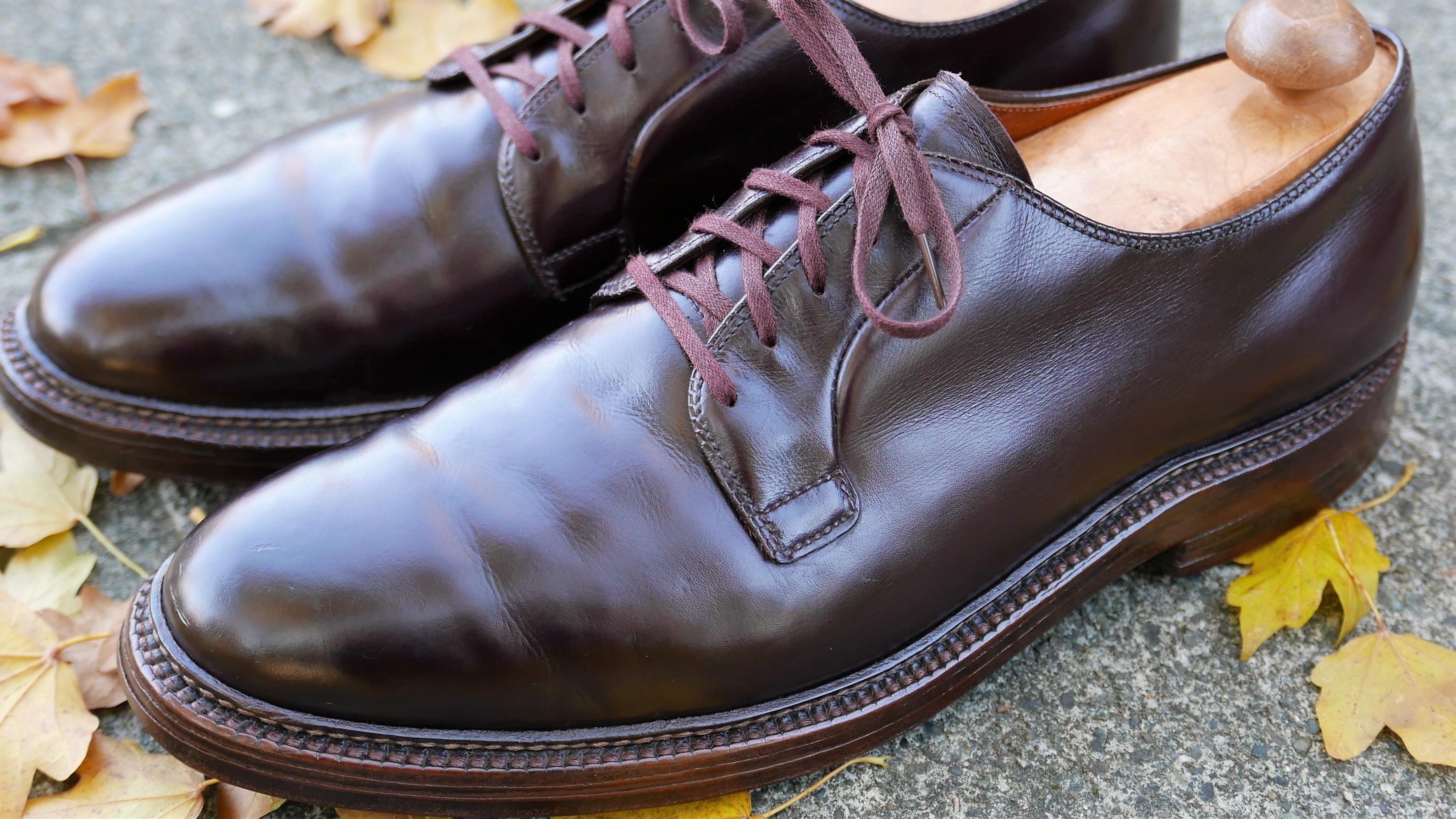 I am still waiting for the full Kennedy file release. That will be the good stuff. No doubt. In the meantime, below are a few more photos of the pair.