I rarely go onto Facebook anymore to connect with current and old friends, but for some reason, I do regularly look at other people's shoes on Instagram. Maybe I prefer shoe photos to photos of someone's dinner. The other night I was travelling home and checked out my Instagram feed. I was amazed with the photos of the work people had put into their shoes. It was inspiring. Also inspiring are the entries on the StyleForum 2018 Shoe Revival Challenge. A lot of passion and talent on display there. Check it out.
This post is a bit more mundane and covers general shoe maintenance. Unlike my pair of Nike running shoes which I can wash in the washing machine, my leather dress shoes require regular maintenance after periods of wear. I usually brush a pair after each wear but every 10 to 20 wears, I give them some extra care which is generally:
Insert shoe trees
Brush
Wipe with a damp cloth
Condition with a neutral conditioner
Polish with a colored cream
Edge dressing
And the not-so-vintage shoes in this article are a pair of calfskin Johnston & Murphy Crown Aristocraft Georgetown II cap toes. Model 24-4971. I am going to go ahead and admit that this pair was made in 2012. Yes, the 21st century. "But … but … this is vcleat". I know. But it's true. Deal with it. I regularly wear the pair on my business trips. This was how the pair looked at the end of a recent trip. Tired.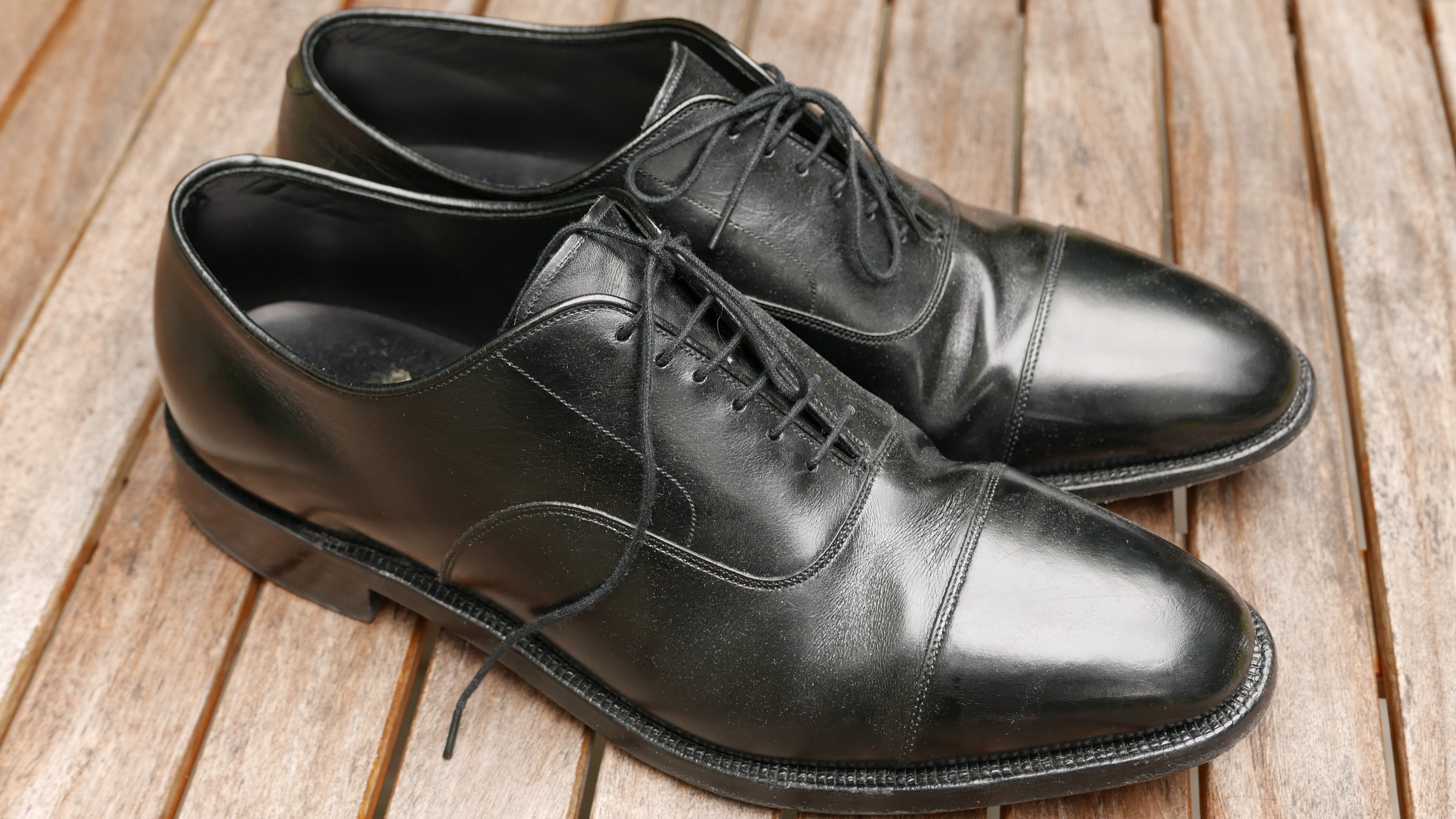 Evidently, I have trouble walking. Check out the self-inflicted damage on the insides of the shoes. Maybe there was some drinking involved. Entertaining customers is tough work.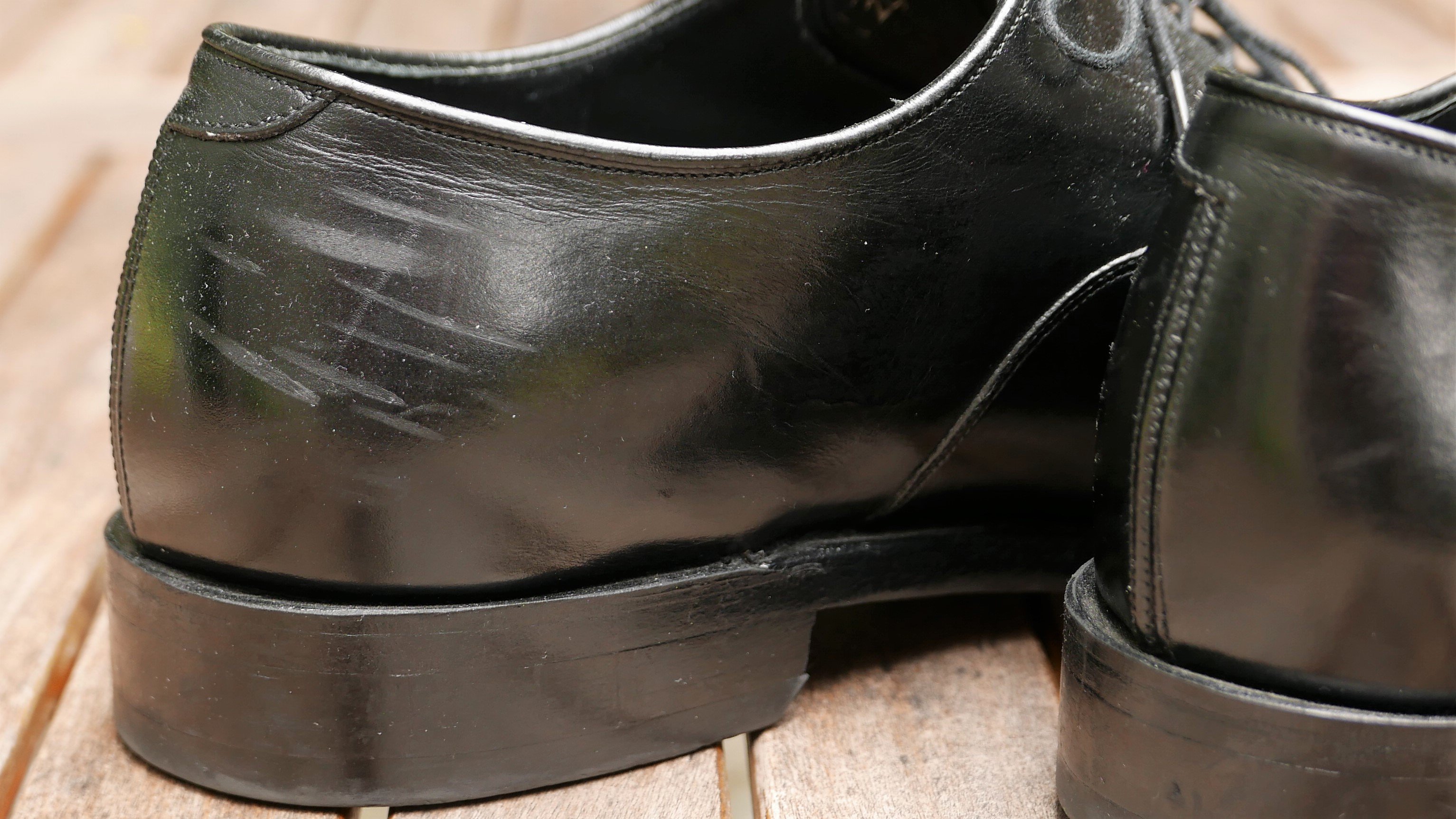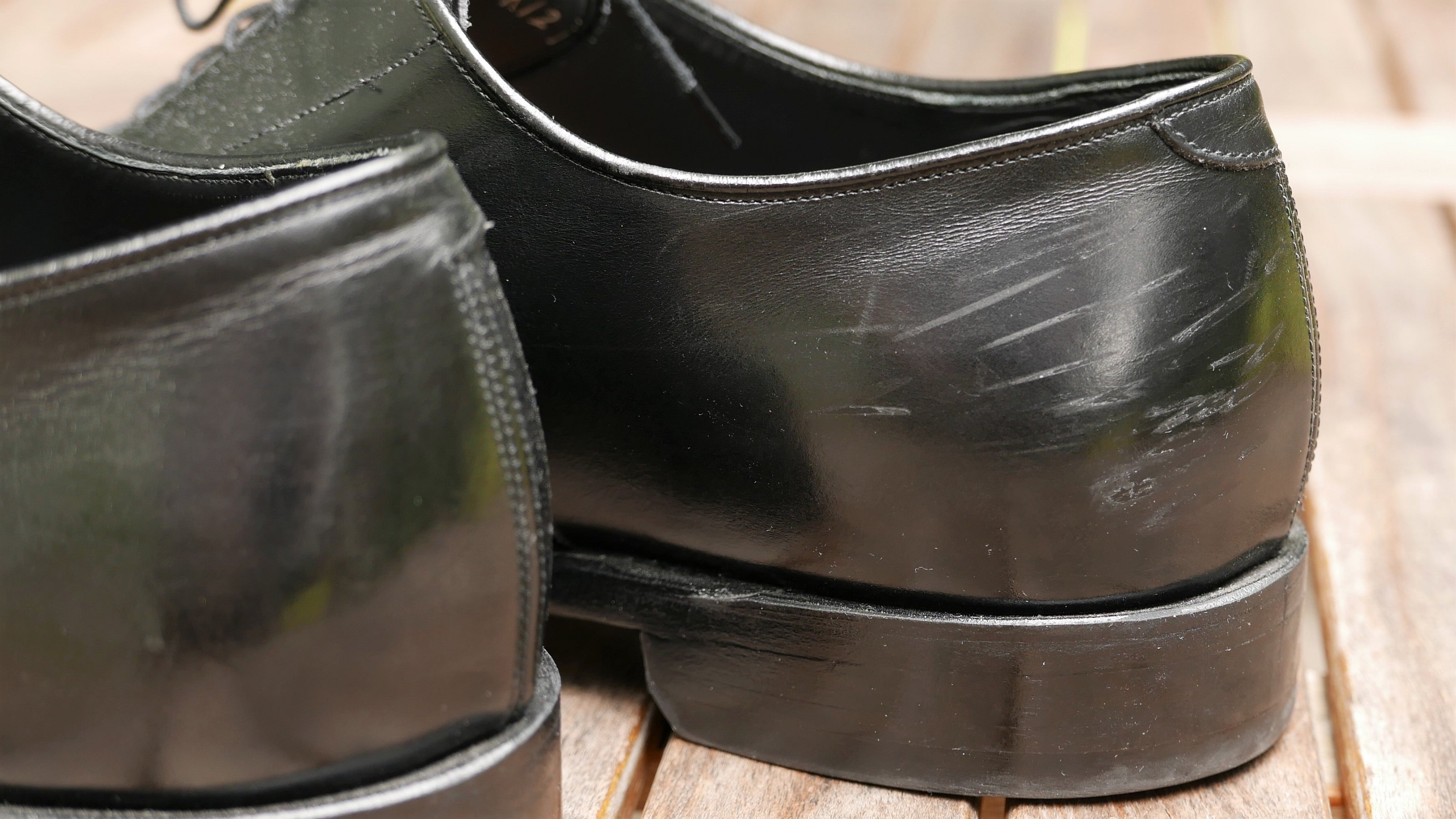 Just giving the pair a brushing and wipe made them look much better. But why stop there?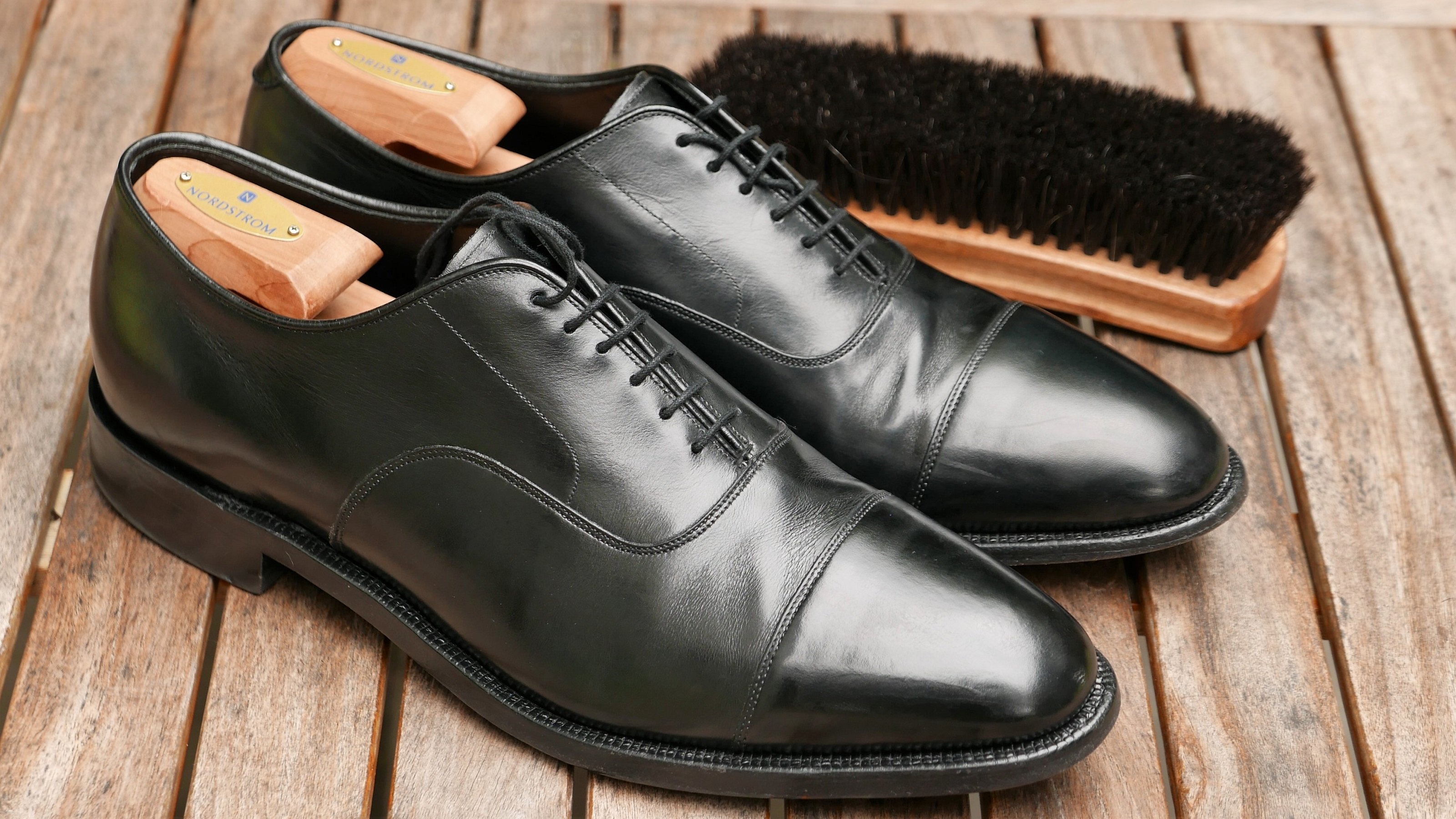 Bickmore Bick 4 is my go-to product when it comes to calfskin. And many other leathers. It's an easy product to use and works well. It gives some shine as well but it's not a polish.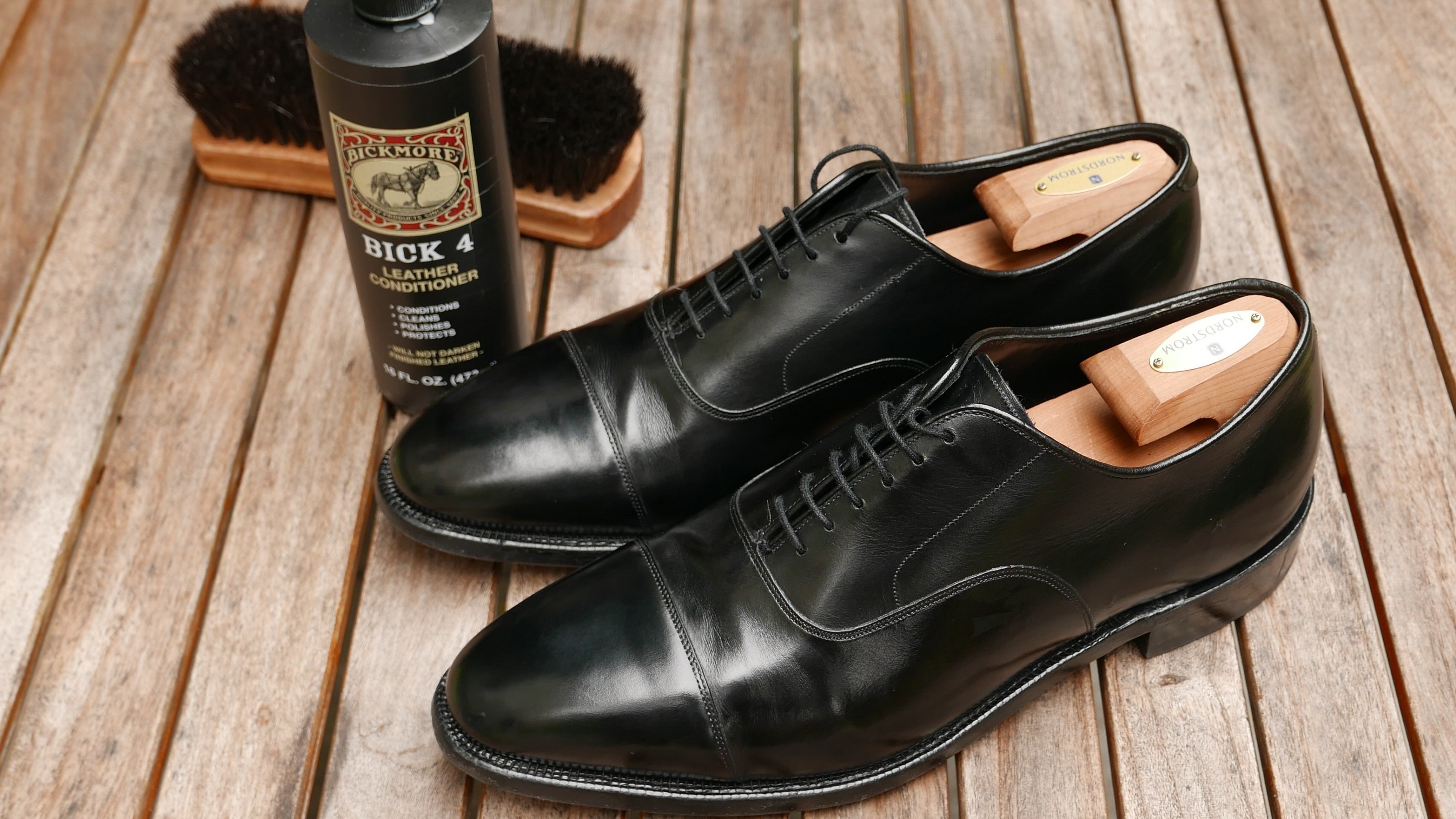 I also like the Allen Edmonds premium shoe creams and I gave the pair one round of black shoe cream. I hate the sponge applicator on the AE creams though. It is awful. Or I am awful using it. I open the cap and apply it with an old t-shirt. Slack challenges me as well. Doughnuts do not.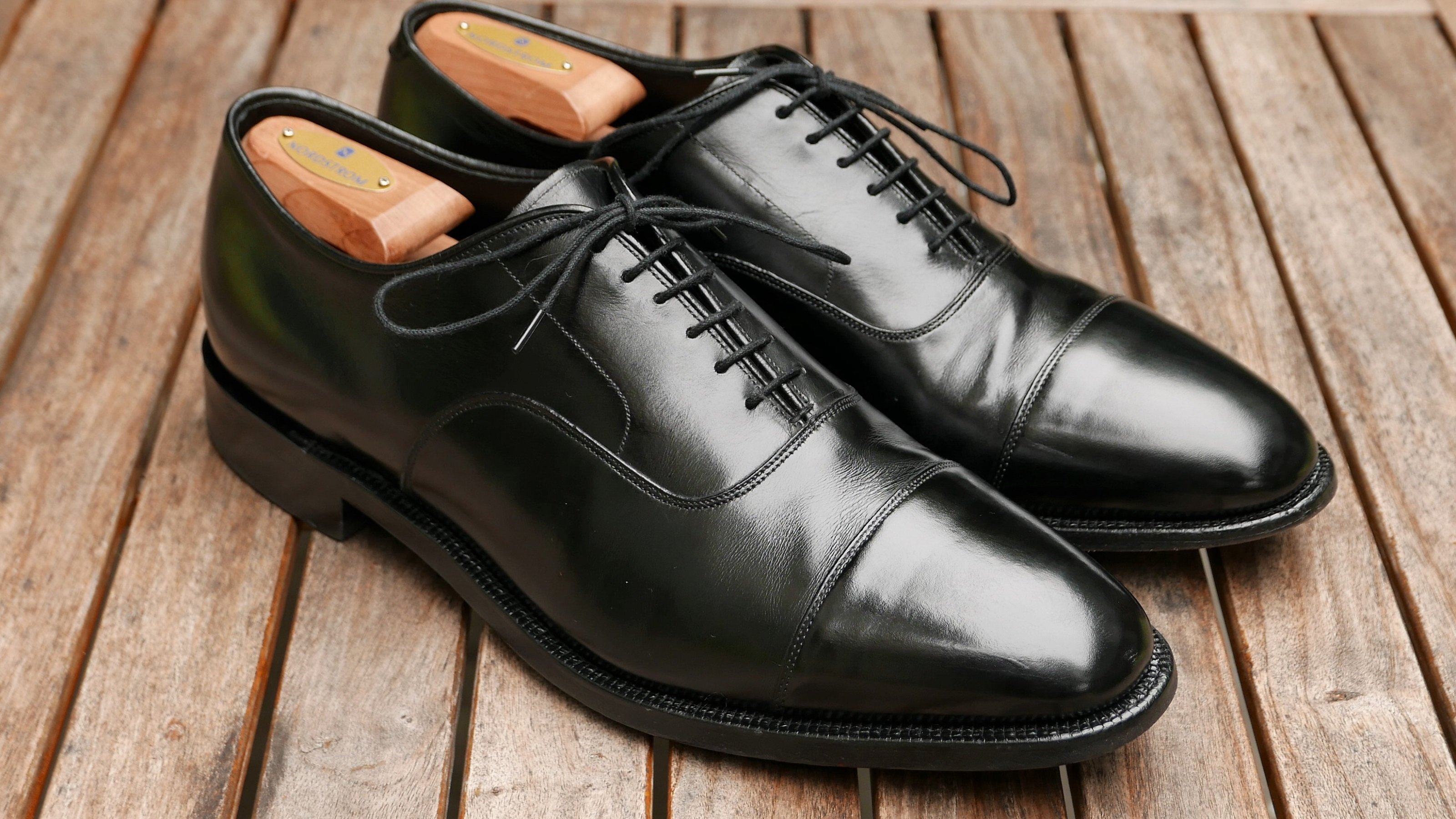 To fix the roughed-up areas on the inside of the shoes, I gave the leather a wet sand using 3600 grit sandpaper with Bick4 as a lubricant. I buffed the areas and followed it with black cream polish. Smooth black calfskin is probably the easiest leather to fix with this wet sand method.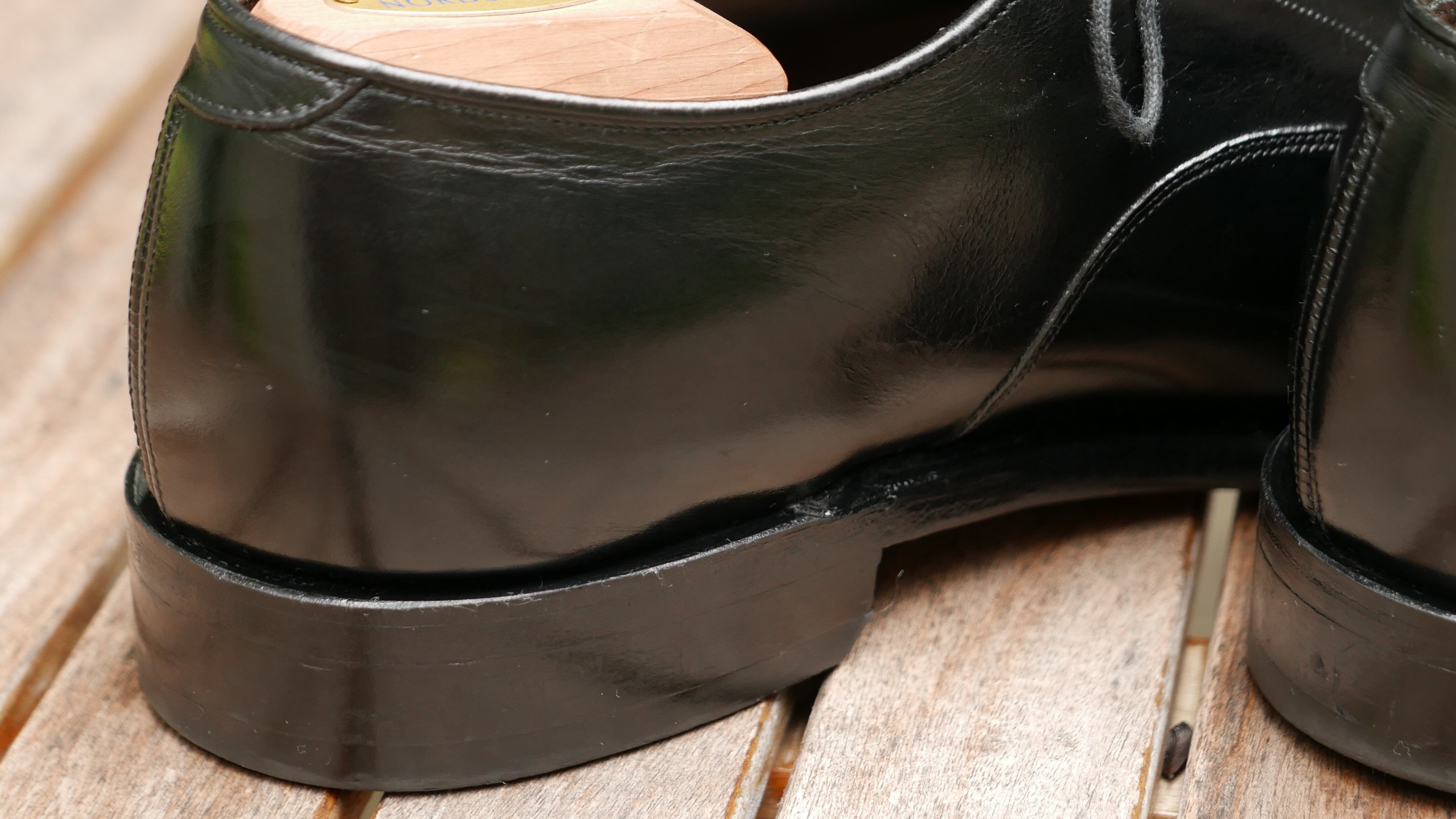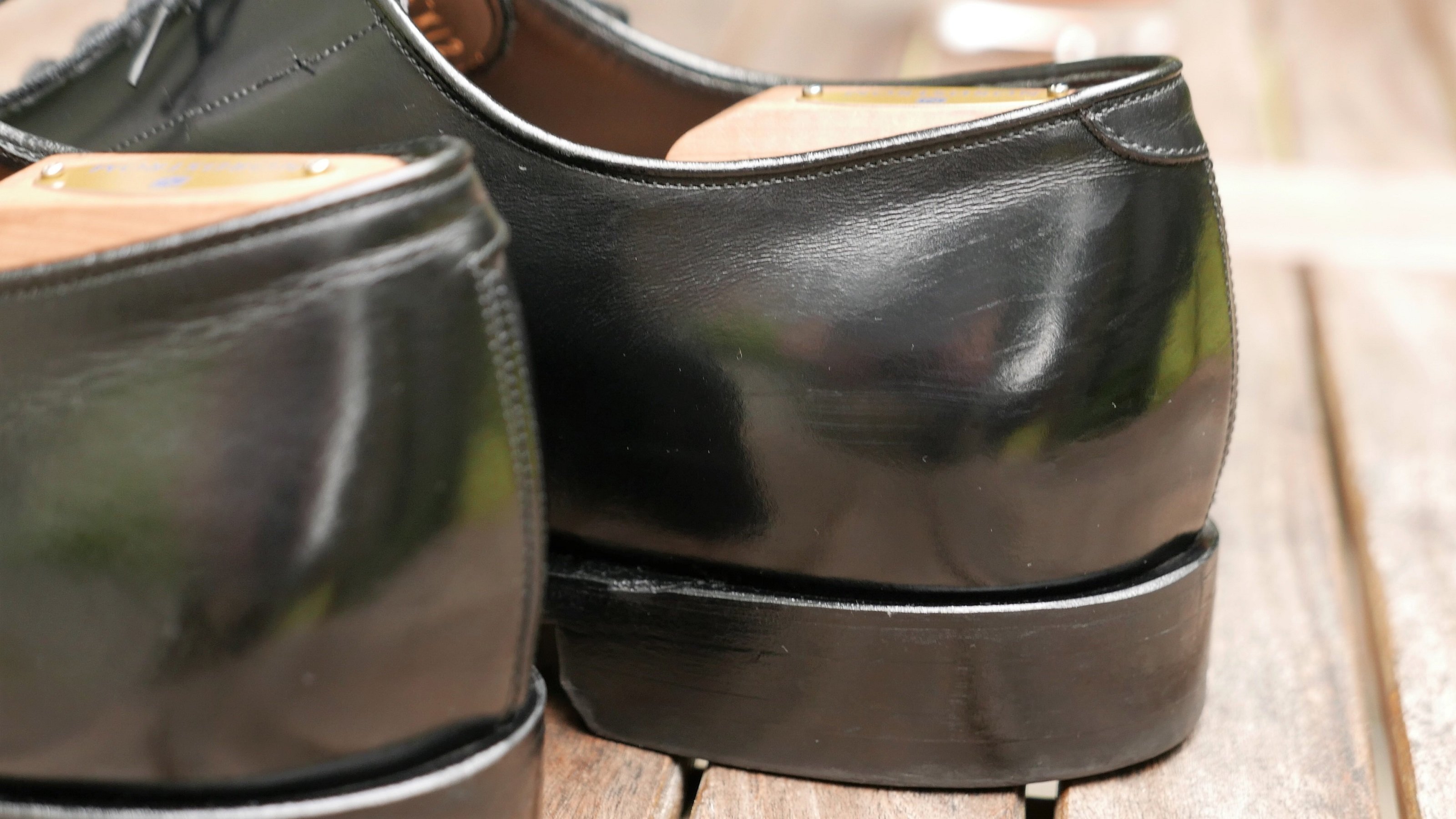 I followed all the polishing with edge dressing. I did not do a mirror shine but a cap toe is a perfect shoe for it. A mirror shine is just too much bling for me. I am getting old. Or less young. Either way, the shoes are ready for another trip.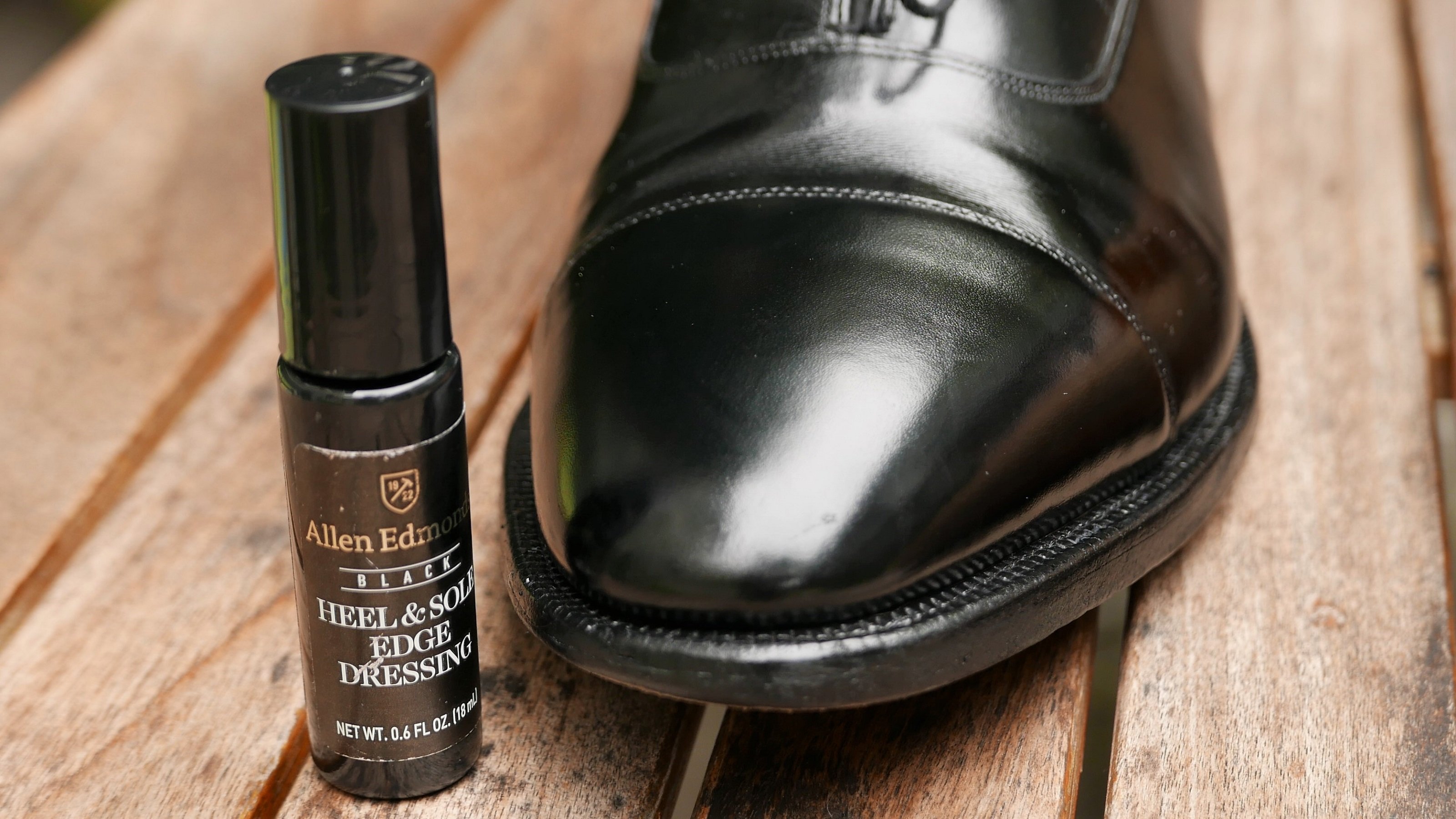 Don't have a pair of black cap toe dress shoes but are thinking of buying some? Take this test:
Do you prefer to look like a well-dressed adult?
Do you believe Lee Harvey Oswald acted alone?
If you answered "yes" (or "yes!"), to either question, then you passed. Congratulations. Now you must buy a pair. Black cap toes are the perfect business shose and appropriate at any event outside of aquatic facilities. If you do a bit of research (Google it), you will find many articles listing a black cap toe as one of the five shoes every man should own. You will also find that all these articles are plagiarized from each other. Their collective bibliographies would be like an Escher drawing. And the articles are click bait. If I was smart, I would have titled this article, "Top five shoes every man must own. You won't believe number four!". That would bring in the traffic.
This Crown Aristocraft pair is my favorite cap toe. I prefer the shape and design over the Allen Edmonds, FootJoy and Alden cap toe pairs I have owned. The length of the cap toe in proportion to the rest of the shoe seems perfect to me. And having six eyelets instead of five gives it a more formal appearance. The pair is Goodyear welted and fully leather lined. Of course.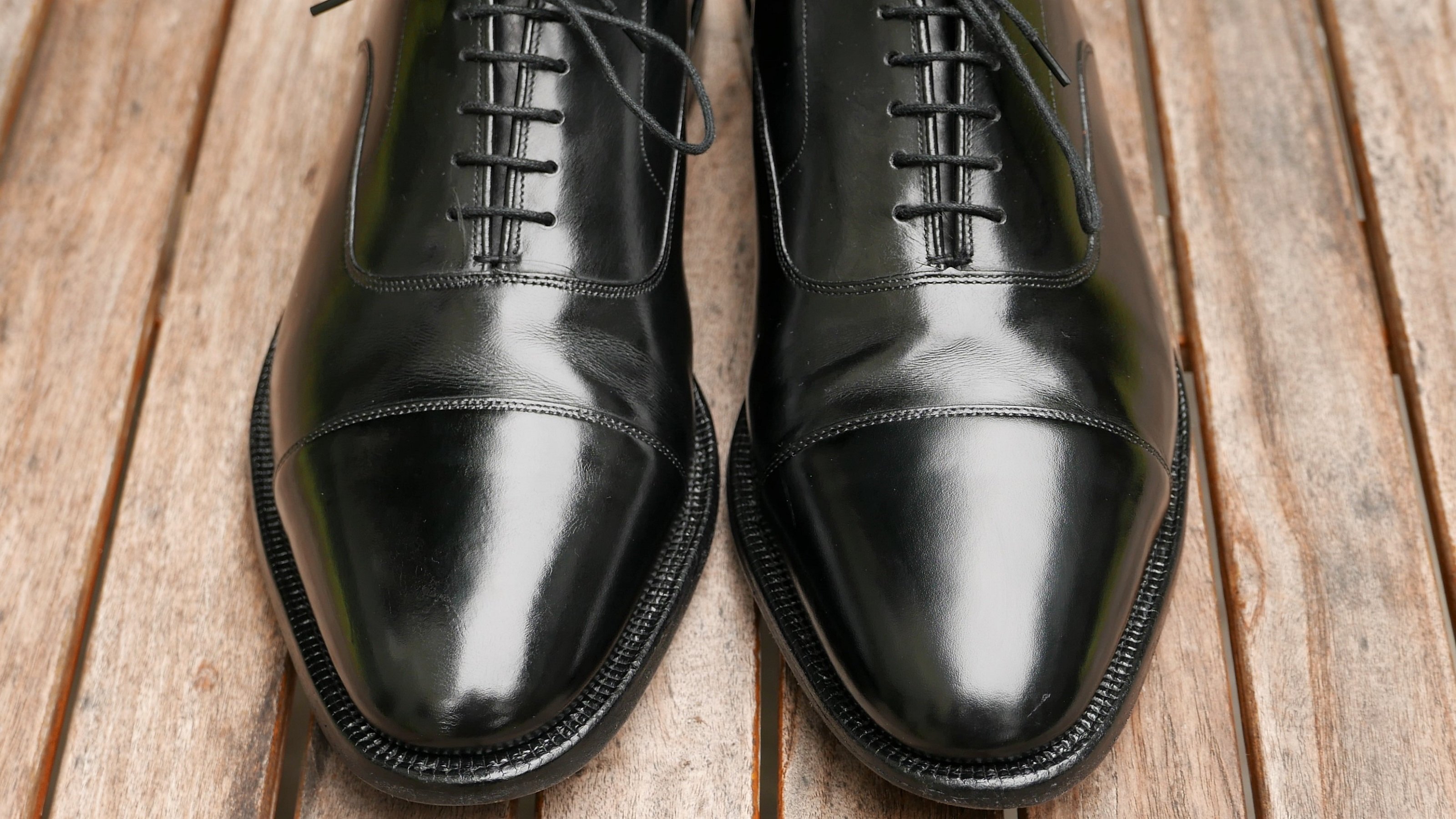 Johnston & Murphy has been making the Georgetown II since the 1980s. What was the difference between the original Georgetown and the Georgetown II (other than the cool Roman numerals)? I don't know but probably not much. The Georgetown II is one of the few remaining made in USA models. I had heard Johnston & Murphy was ending production of the Crown Aristocraft line but as of today, I still see pairs being sold on the J&M website.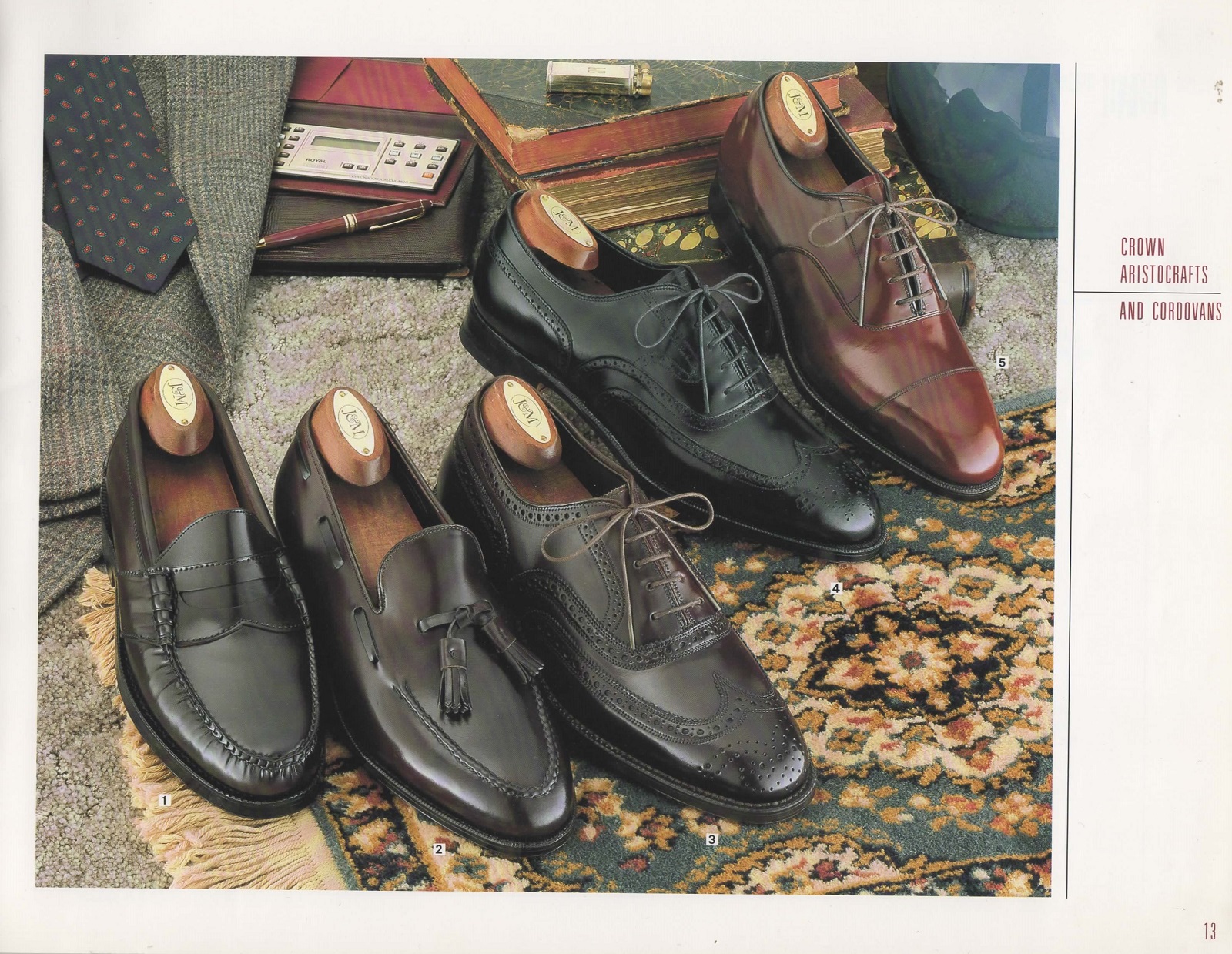 Below are a few more photos.